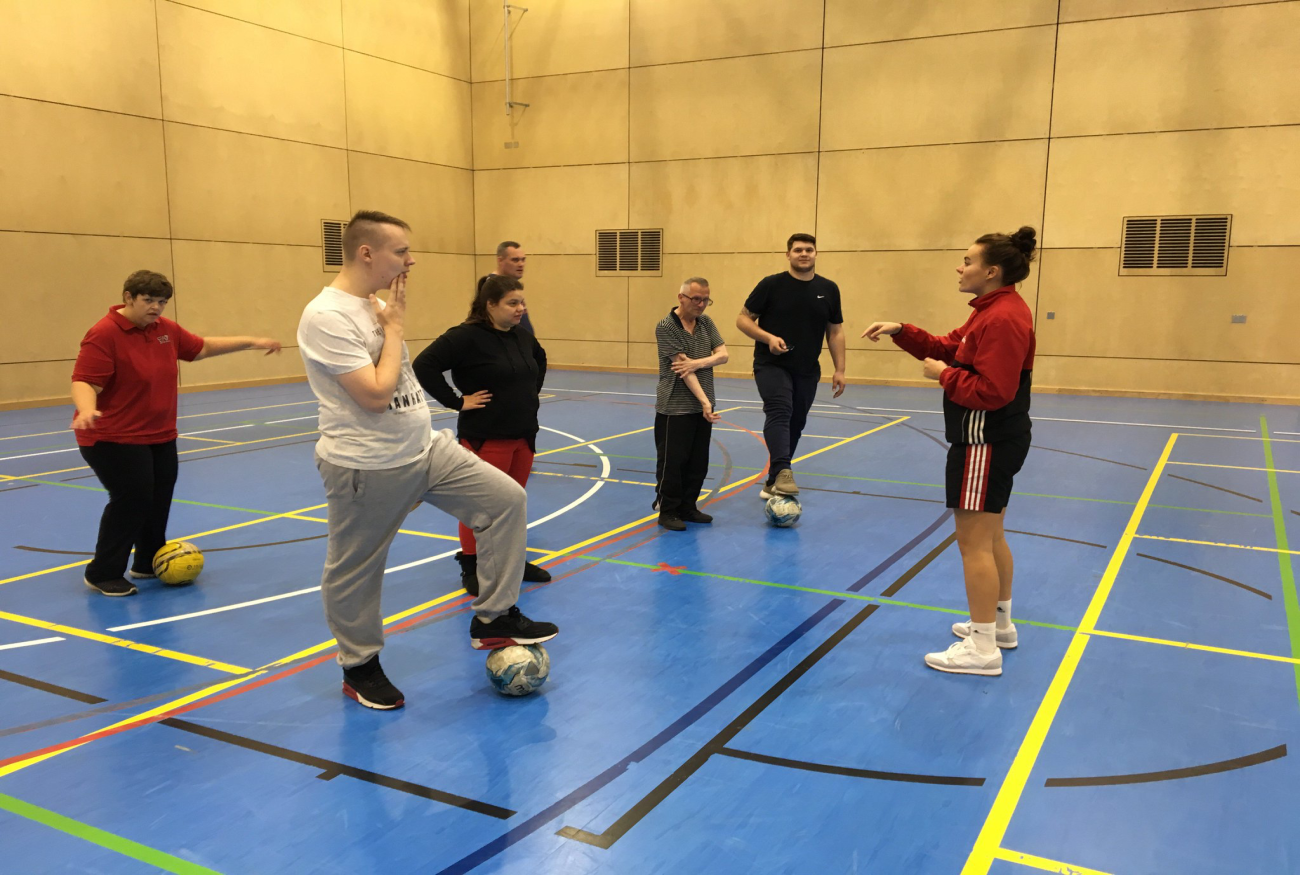 A Northumbria student has landed her dream job after working with Northumbria Sport Foundation to enhance the lives of adults with learning disabilities.
Third year Applied Sport Sciences With Coaching student Rhiannon Gray will start work with LD: North East this summer after impressing in her role as a volunteer.
And Gray can't wait to focus on her full-time role after making a positive change to people's lives delivering fun and interactive sessions at Sport Central.
"I'll be working as a support worker and I'm really excited to start," said the talented footballer and qualified coach.
"I've always had a massive interest in working with people with disabilities and I find it so rewarding.
"I like the fact that I get to work one-on-one with the clients, building relationships and being able to make their life better.
"It's even better than I can still continue to be involved in sport - by taking the people I work with to sport and keeping my coaching roles at Sunderland RTC
"I get to combine the two things I love."
Gray is coach of the Under 12s at the Sunderland and Gateshead Regional Talent Club – a hub for the best emerging female footballers in the North East.
And she will continue to mentor the stars of the future alongside her role as a support worker with LD: North East.
"I'll take my adults to social activities, help them to keep fit through sport and support them with their health and personal hygiene management," added Gray.
"I will also be working with the groups so one of my jobs is to take them back to Northumbria University for their sports day on a Thursday. It's fantastic to maintain that link."
Gray is one of a number of Community Sport Volunteers working within Northumbria's Student Development Programme during the 2017/18 academic year.
Last year the Northumbria Sport Foundation launched a new community project - Accessible Sport.
Its aim is to use sport to engage with people of all ages who have a disability and one group the Foundation has worked with on a weekly basis is LD: North East.
"Rhiannon has really impressed everyone at Northumbria Sport and LD: North East," explained Rebecca Winbow, Sport Services Assistant (Development and Engagement).
"Each week she is in charge of coming up with a creative session plan and delivering a fun, inclusive session to the group.
"Her work has been outstanding and it's been recognised as making a positive change to people's lives.
"After expressing an interest in volunteering with LD: North East, Northumbria Sport staff met with the group's Operations Manager, Jacqui Thompson, who highlighted that there may be some paid opportunities suitable for Rhiannon.
"We want to wish her all the best for the future and can't wait to see her back at Sport Central later this year as a full-time support worker."