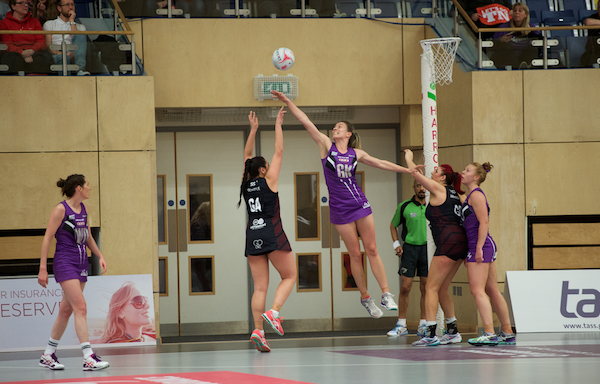 Northumbria University's Chiara Semple is the surprise name in the new England Roses squad ahead of this month's Test series against Jamaica.
The dual national shooter burst onto the Superleague scene last season - a series of assured performances catching the eye of the national selectors.
And after impressing at Under 21 level, Semple will join Team Northumbria's Leah Kennedy in the senior national squad.
The three-match Vitality Netball International Series starts on November 29.
And the Under 21s – featuring TN's Emily Hollingworth – will play three friendly fixtures prior to the Test matches.
Ama Agbeze will lead the senior side with England's most capped player, Jade Clarke, and Joanne Harten taking on the role of Vice-Captains.
The Roses also welcome back Eboni Beckford-Chambers and Natalie Haythornthwaite into the defence and mid-court respectively.
England Under 21 players Semple and Amy Clinton are selected for both the senior squad and the Under 21 team and can appear for either side during the three-matches.
The Roses squad selected to face Jamaica is as follows:
Ama Agbeze (Capt.), Jade Clarke (Vice-Capt.), Joanne Harten (Vice-Capt.), Eboni Beckford-Chambers, Eleanor Cardwell, Amy Clinton, Beth Cobden, Kadeen Corbin, Stacey Francis, Serena Guthrie, Natalie Haythornthwaite, Leah Kennedy, Laura Malcolm, Chiara Semple
There will also be a chance for our fans to watch the U21 Roses in action as they play a trio of games ahead of next summer's Netball World Youth Cup in Botswana.
The England U21 squad selected is as follows:
Francesca Williams (Capt.), Gabriella Marshall (Vice-Capt.), Halimat Adio, Summer Artman, Amy Clinton, Iona Darroch, Rhea Dixon, George Fisher, Emily Hollingworth, Rebecca Hoult, Vicki Oyesola, Razia Quashie, Paige Reed, Chiara Semple
The schedule for the upcoming Roses and U21 fixtures is as follows:
Tuesday 29th November, Copper Box Arena, London
England U21s v Hertfordshire Mavericks – 5:30pm
England Roses v Jamaica – 7:45pm
Friday 2nd December, Belle Vue, Manchester
England U21s v Scotland – 5:30pm
England Roses v Jamaica – 7:45pm
Sunday 4th December, Ricoh Arena, Coventry
England U21s v Wasps Netball – 3:15pm
England Roses v Jamaica – 5:30pm