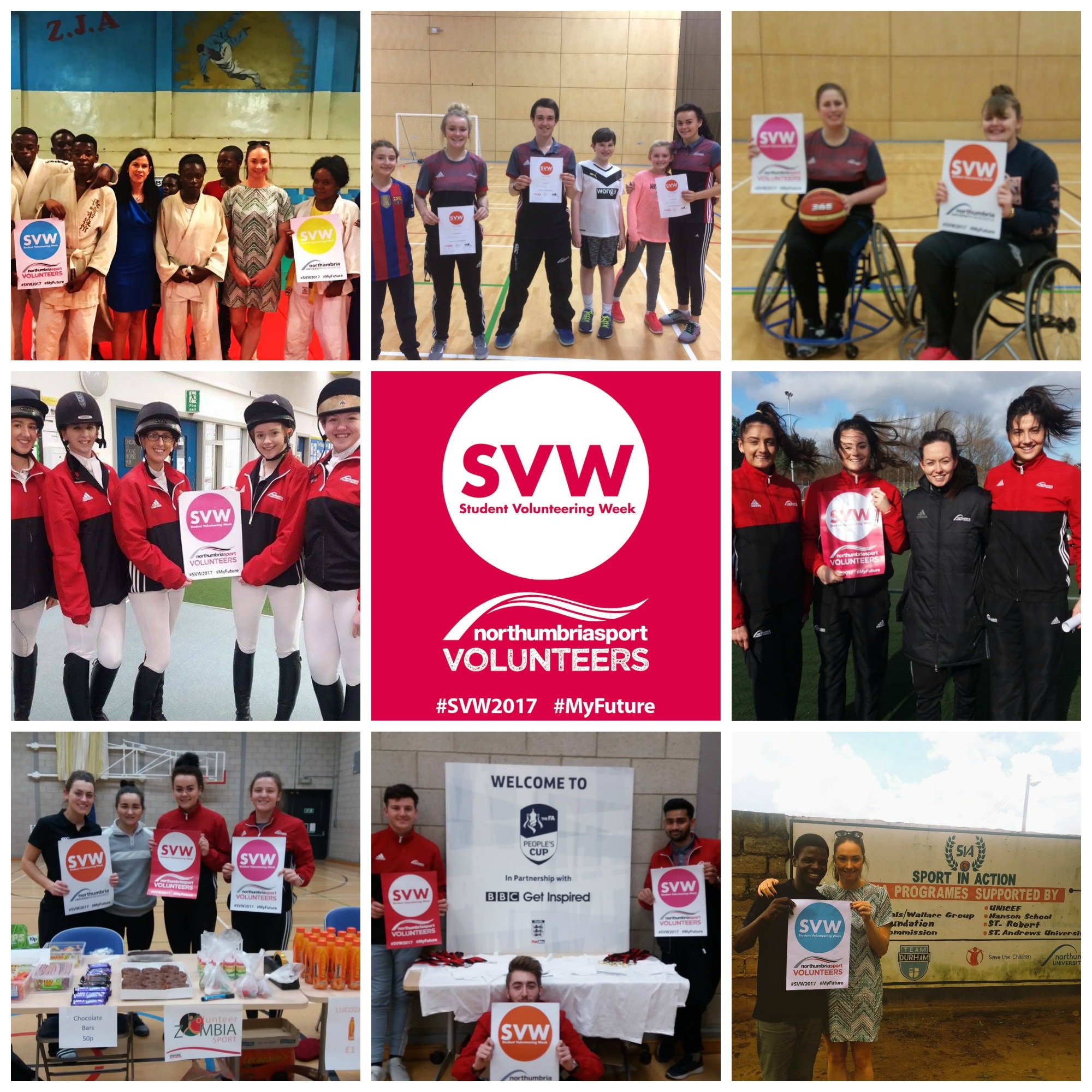 What a week for Northumbria Sport and we were so excited to showcase all the amazing things happening during Student Volunteer Week!
On Monday, we visited the Northumbria Sport Academy where our student coaches and volunteers were keeping over 35 excited children entertained each day on the multi-sports activity camps! They got involved with all the activities during the day and told us why they volunteer and what the most unusual sport they have coached on Sport Academy is! Take a look at these videos at @NUSportVol
Tuesday was a spotlight on NORTH and we visited some of the fantastic sessions happening that day including: Equestrian, Wheelchair Basketball and Badminton. The NORTH clubs were great at letting us know about what they were doing in their sessions and Cheerleading, Volleyball, Football and Athletics all got involved with tweeting us on the day! The NORTH clubs and leagues could not happen without the support of our interns and volunteers and we loved celebrating their amazing work!
The FA People's Cup came to Northumbria on Wednesday and it was the first time Northumbria Sport had hosted this competition. This was a brilliant day with over 154 students competing and 30 volunteers supporting the event! This was a fantastic showcase of collaboration across Northumbria Sport and the event was supported by volunteers from: North Football, Media & Events, Team Northumbria Women's Football, Northumberland FA and the Zambia Team!
Thursday was a spotlight on Team Northumbria and we kicked off the day by visiting the Strength & Conditioning Team's CPD morning where interns Lisa and Anthony were delivering a presentation following their recent attendance at the UKSCA Plyometrics, Agility and Speed workshop. It was fantastic to see the team learning from each other and sharing ideas to continually improve the service they provide to Team Northumbria athletes and teams. We also celebrated the fantastic achievements from the Nutrition, Performance Analysis and Physiotherapy teams and our Student Sport President Emily Watkinson thanked her Vice Presidents for their support this year!
An important area of the programme we wanted to highlight during SVW was training and development opportunities through Northumbria Sport and what better day to do this than on Friday when we hosted the British Wheelchair Basketball Officiating course, where nine Northumbria students completed the course and gained their officiating qualifications! We collaborate with Northumbria Careers and external organisations to provide training and development opportunities and enhance Northumbria students' employability skills and we celebrated these invaluable partnerships all day on Friday!
On Saturday we highlighted the impact of volunteers and interns to Northumbria Sport, the local community and internationally! The Student Development programme is made up of 2 members of the team, 30 industry professional hosts, 37 interns and 120 volunteers and we wanted to celebrate and thank everyone for their fantastic input to the programme. So far this year our volunteers and interns have logged over 4000 hours and we'll be looking forward to seeing their impact in this second semester too!
What a way to end a fantastic SVW that with the Stan Calvert Finale, which Team Northumbria won for the 4th year in a row! It really was a day of celebrations with our volunteers and interns playing and supporting the annual varsity competition against Newcastle University, and it ending with our Student Sport President lifting the cup!
Throughout SVW Kate (Student & Staff Development Manager) was all the way in Zambia and talking about the amazing things happening at Northumbria Sport – take a look at her tweets at @NUSportVol. We loved seeing Kate's tweets and keeping up to date with the brilliant work she was doing ahead of the Volunteer Zambia students' visit this summer!
We've had a fantastic week and we wanted to thank all students, staff and everyone that got involved and celebrated #SVW2017 with us! Although SVW is officially over, you can still get involved! Register with us to hear first-hand about volunteering, training and development opportunities and we could be showcasing your amazing achievements next year! http://volunteernorthumbriasport.co.uk/