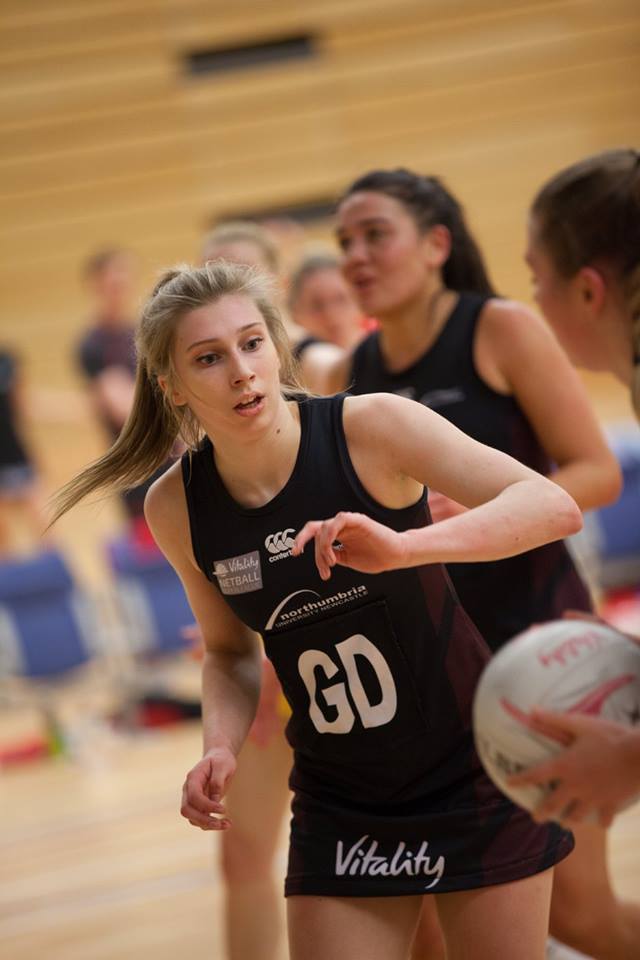 Team Northumbria have secured the services of one of English netball's rising stars for another season after snapping up centre court sensation Emily Hollingworth.
The versatile youngster will return to Sport Central as Director of Netball Te Aroha Keenan continues to place her faith in emerging talent.
And Hollingworth can't wait to finish what TN's youthful roster started after winning her first cap for England Under 21s at the weekend.
"Re-signing for Northumbria was a no-brainer for me," she said. "I like the way Te coaches and I like being part of a young team and an ambitious franchise.
"We ended the season strongly last time out and I want to finish the work that we started.
"I have built up a strong relationship with my team-mates and we feel that what we achieved last season was just the tip of the iceberg.
"Both Chiara [Semple]and I have been away with England Under 21s for the last few days and we're flying the flag for what North East netball has to offer.
"I'm delighted to be back with Te Aroha and TN and everyone is excited about the future."
TN have already inked a deal for towering Welsh shooter Georgia Rowe and look set to confirm more members of the Superleague roster throughout October.
Semple has already started working towards forging a shooting partnership with Rowe.
But for now all the talk around the Kiwi dual-national surrounds an audacious assist playing for England against Northern Ireland last Friday.
Semple's no-look pass inside the shooting circle has gone viral and she admitted: "It was something Te Aroha suggested I tried.
"It was the first time I'd played with the England goal shooter but it just seemed like the natural thing to do!
"We were well ahead at that stage of the game – it's not something I'd ever try if the scores were close – and so I just went for it."
Semple and Hollingworth were both part of the England Under 21 side that won the 2016 World Youth Championship Qualifying event in Cardiff.
Victories against Northern Ireland, Scotland and hosts Wales secured safe passage through to next year's main event in Botswana.
And Semple said: "It's great to be in the same squad as Emily. It's important that Northumbria are represented at international level and we love playing together for club and country."