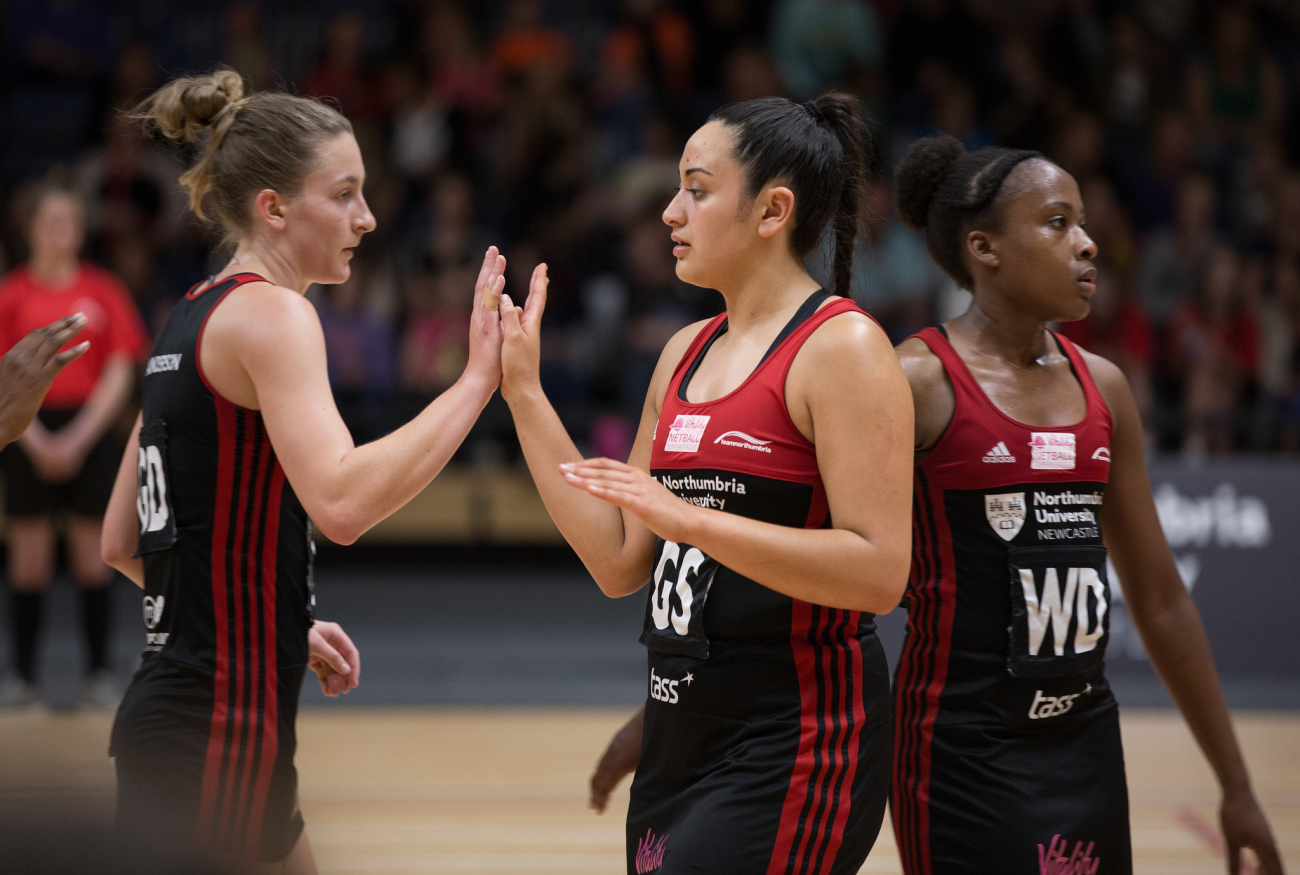 TeAroha Keenan has paid tribute to the 'best team' of her three-year tenure as Team Northumbria boss in the wake of a 60-45 defeat against reigning champions Wasps.
The visitors' margin of victory failed to reflect a battling performance from the impressive hosts as the curtain came down on another season of Superleague netball.
And the champions elect never had it their own way as Keenan's fired-up side showed flashes of the fight lacking for so much of a disappointing campaign.
"Wasps won the game at their place by 36 and they weren't ready for what we threw at them," said Keenan.
"It was the most composed and controlled performance that I've seen from my players all season.
"I was disappointed in Wasps' response to that – in terms of their constant complaints about calls going against them – but I guess that's because they didn't have it all their own way.
"They may go on to win the playoffs and they're a very good team. But they knew they'd been in a game by the time the final whistle went."
For much of the first quarter a tight contest masked the fact that this was top against second-bottom.
And the hosts – huge underdogs heading into their final clash of 2018 – more than matched a Wasps side seeking to end the regular season on a high.
TN's all-Kiwi attack was firing on all cylinders with Tamsin Moala and Chiara Semple finding plenty of space inside the circle.
And at the other end in-form Malawi Queen Lauren Ngwira was enjoying a battle royale against veteran forward Rachel Dunn.
Wasps were clearly unhappy with a series of calls that went against Tamsin Greenway's side.
But Keenan – on the wrong end of a number of disputed decisions this season - added: "There were calls that could have gone either way but that's the nature of sport.
"There is a certain way to challenge those calls and I feel we do it the right way.
"We leave it to the referees to run the game."
TN went 10-8 up with less than five minutes of the first quarter remaining.
But Wasps hit back to bag six of the last seven goals before the break – taking a 14-11 lead into the second period.
Keenan stuck with her starting seven but both first choice defenders were forced to leave the court as a bruising encounter gathered pace.
Hayley Mulheron was replaced by Aussie enforcer Toni Anderson but the former was back on court within minutes after Ngwira limped off.
TN's injury setbacks clearly affected the home side's rhythm and allowed Wasps to build a double-figure lead.
Player-coach Greenway – an increasingly influential figure through the middle of the court – played in Dunn and a cool finish saw the visitors move 31-21 ahead three seconds before half-time.
Keenan turned to Sophie Hankin in a bid to freshen things up after the break.
And the former Mavericks favourite injected pace and power into a tiring TN attack.
But Wasps were in no mood to allow the black and reds a way back and George Fisher – in for Dunn – wasted no time finding her range.
Greenway's side had extended their lead to 13 heading into the fourth quarter but a boisterous crowd was hoping for a big final 15 minutes of the season from the hosts.
And TN's players didn't disappoint as they sought to limit the deficit and make a case for a Superleague contract in 2019.
"This has been the best team that we've had in the three years that I've been with Northumbria," added Keenan.
"I'm not just talking about what you see on the court but also in terms of the work they put in off it.
"I cannot fault them for effort but in terms of results of course it's been a disappointing season. And the players are more disappointed than anyone.
"We've had some pretty big heart-to-hearts this year and everyone's had their say.
"But I'm really proud of this group and I've loved working with them."