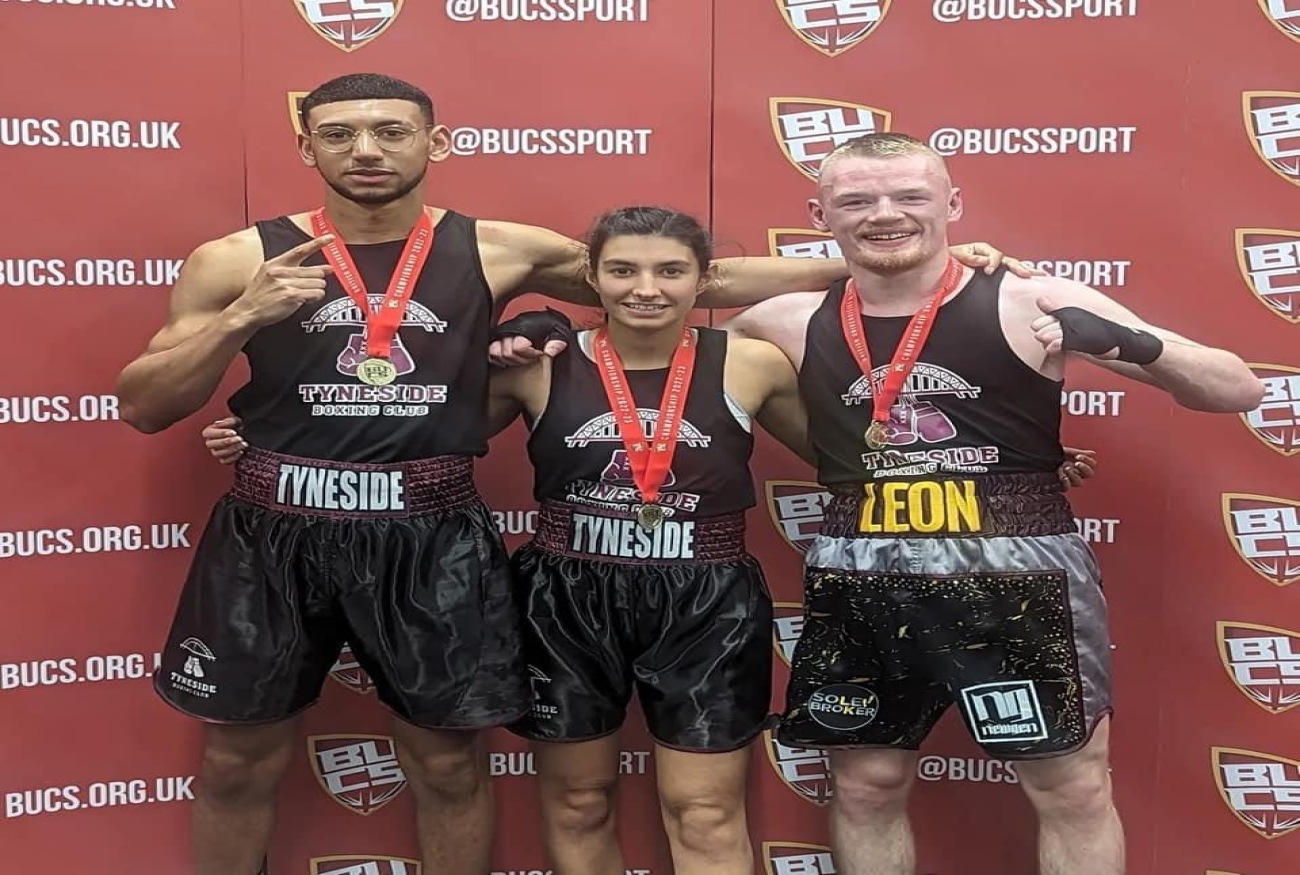 Our Boxing Club made their way down to Portsmouth to compete in this year's BUCS Boxing Championships at the end of January. Ten students made the trip with the hopes of securing some medals to come back with, and it's safe to say they did just that!
With team captain Jay Martin unfortunately out of the competition, due to an injury picked up in preparation for the event, he had to cheer from the sidelines as the other nine took to the ring.
To kick off the weekend, Engineering student, Lachlan Burke started his competition in the 60kg category, and with this being his debut bout, the anticipation was high. Lachlan took the rounds in his stride and secured a first-round win. His semi-final on day two proved to be a battle for both competitors, but after a close first two rounds, Lachlan's Leeds opponent edged the third unfortunately taking the win on a split decision.
Taking on the 67kg category was Olly Munro, after getting through a tight first round, he found his range of counter backhands, allowing him to outscore his opponent. This secured him a place in the semi-finals where he came away with a commendable split-decision loss. Head coach Ross Wilkinson was extremely proud of his performance despite the close loss and knows he fought with great tenacity.
Business student, Archie Frank was next in the 71kg category, progressing comfortably into the second day of competition. Ross was pleased with his performance in the early rounds, saying:
"Archie was rarely touched in the contest with an excellent jab and kept his range well throughout the three rounds to get the win and moved on to the Saturday. He did himself incredibly proud losing out to the eventual winner of BUCS in the 71kg category."
Both Jack Jones and Jack Bradley took to the ring in the 75kg category, and despite not securing any opportunities to fight for a medal, both boys fought with extreme pride and know they will keep working hard and learn from the experience.
In the ladies competition, Sport Development student Libby Mckinnon boxed in the 66kg division with the outcome being decided in a straight final. Libby was fighting in a higher division than normal due to nobody else entering her usual division. However, despite this, she stepped up in weight and gave it her best shot. Ross was extremely proud of her efforts in the final, explaining:
"Her attitude towards her boxing this weekend has been phenomenal and although it didn't work out in the final for her, she's still a champion in my eyes."
Securing the first BUCS gold medal of the weekend was Law student, Isobel Lockley. She boxed extremely consistent throughout the weekend, sailing through the rounds, and ultimately overpowering her opponent in the final. This was Isobel's first BUCS medal, and we are certain it won't be her last – well done Isobel!
Lewis Beckford scored the second gold medal for the boxing club after boxing three times in three days, putting on a brilliant performance in each match. His jab and boxing range stood him in good stead allowing him to secure his second BUCS title!
The final representative of the weekend was Engineering student and club president, Leon Musson. With his sights set firmly on a gold medal, he boxed with consistency and positivity, which just proved too hard for his opponents to beat. Leon is a credit to the club and with high hopes to go professional, his gold medal was most definitely deserved!
Last weekend was a fantastic result seeing our Boxing Club members achieve success, and we are filled with immense pride for their efforts. Well done everyone!