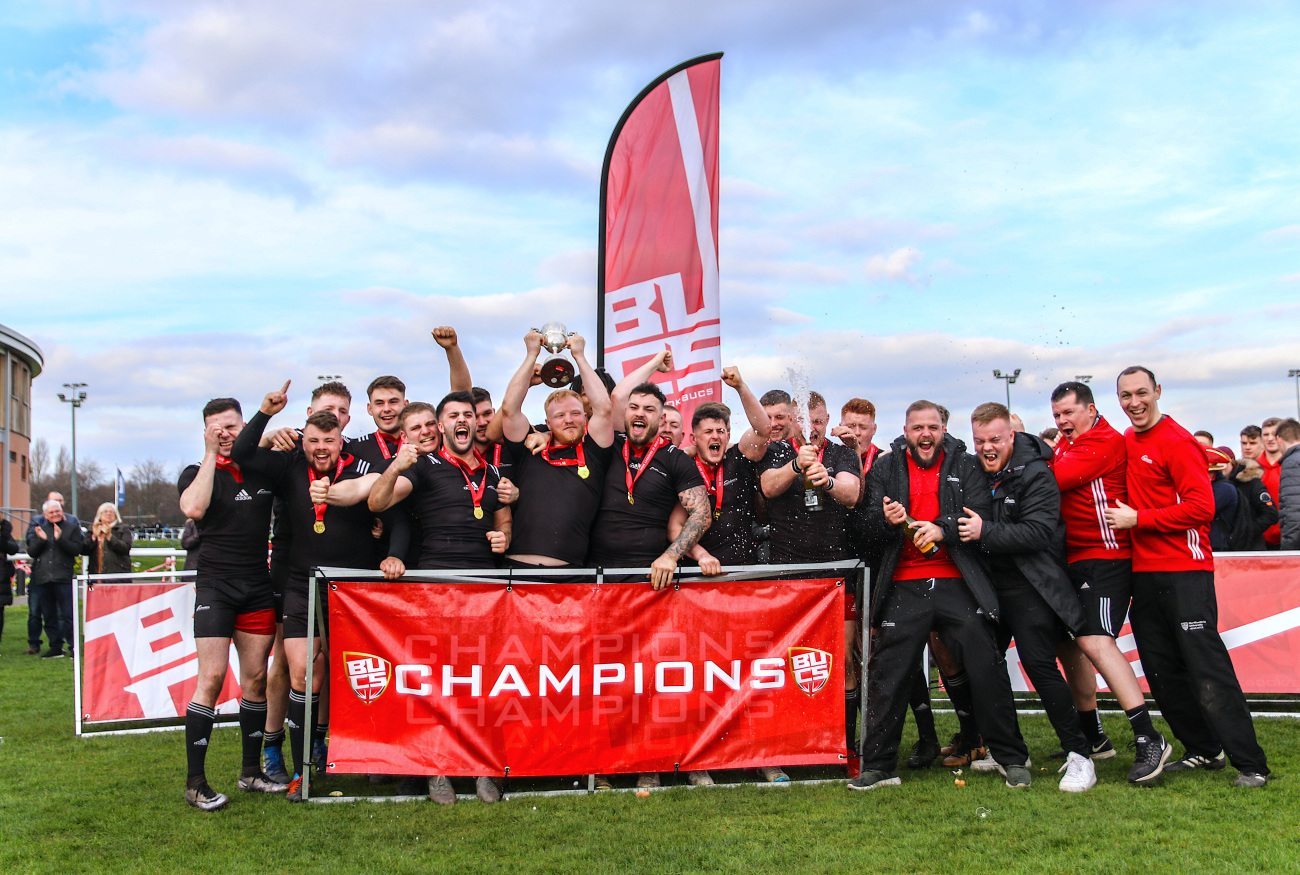 It was double delight for Northumbria Sport Head of Rugby League Jason Payne, after he watched his M1 and M2 sides secure championship glory at this year's BUCS Big Wednesday finale in Nottingham.
Both M1 and M2 managed to secure dominant wins over Leeds Beckett and Oxford University respectively.
M2 got the day off to a flying start in the BUCS National Trophy final.
In the swirling conditions of a blustery Highfields, M2 roared out to an 18-6 lead against Oxford.
And this roaring start continued after the interval, with Northumbria managing to put multiple scores past their Oxfordshire opponents.
Aided by stand-off Kieran Lewis, who couldn't miss with the boot, Northumbria dominated the second half.
And when the full-time whistle went, the score was 42-10 in M2's favour – meaning that they had secured an impressive BUCS National Trophy victory.
The main event of the day however was the M1 clash between the two powerhouses of university Rugby League – Northumbria and Leeds Beckett.
While in the past Leeds Beckett were the dominant force in university Rugby League, Northumbria have, in recent times, managed to wrestle that title away from their Yorkshire counterparts.
And, having won the previous two BUCS National Rugby League Championships, Northumbria were keen to maintain their status as university top dogs.
Spurred on by a raucous Highfields crowd, M1 got the game off to a flying start with Jed Charlton crossing over the whitewash early to hand Northumbria an early lead.
However, Leeds Beckett hit back quickly with a try of their own.
In what was a back and forth contest, both sides were keen to take the game by the scruff of the neck.
Luckily for Northumbria, it was them who did so – and when the half-time whistle went, the score sat at 18-12 in their favour.
While the first half was back and forth, the second half was dominated by Payne's men who eventually ran out 38-16 winners – securing their third championship title in a row.
And speaking after the two BUCS title wins, Payne admitted he was delighted, on what was a proud day for the Northumbria Sport Rugby League programme.
"To be honest, I'm still letting it sink in," said an elated Payne.
"It's been a really good season for us as a programme.
"We spoke at the start of the season about winning all six titles that were on offer – we couldn't win the M2 league but we're looking for our fifth title with the 9's tournament that's coming up.
"I'm over the moon for the lads – they've really worked hard for this and it's great to see them have this success."
Part of university sporting success is how a programme deals with the turnover of students who leave following the completion of their academic studies.
And while Payne was sad to some of his stalwarts move on from their time at Northumbria, he admitted that he was proud of everything they had achieved during their time together.
"It's always sad to see people go," said Payne.
"But, it's also the best feeling in the world when you see them go on to graduate.
"That's one of the great things about university sport – new people have to step up every year so I'm really excited to see how people step up next season.
"I also wanted to give a special mention to Adam Houston.
"Adam has coached the 2's for nine seasons and has been such an important part of our programme.
"The work he's done here at Northumbria has been immense, so I and the programme want to wish him all the best for the future too."