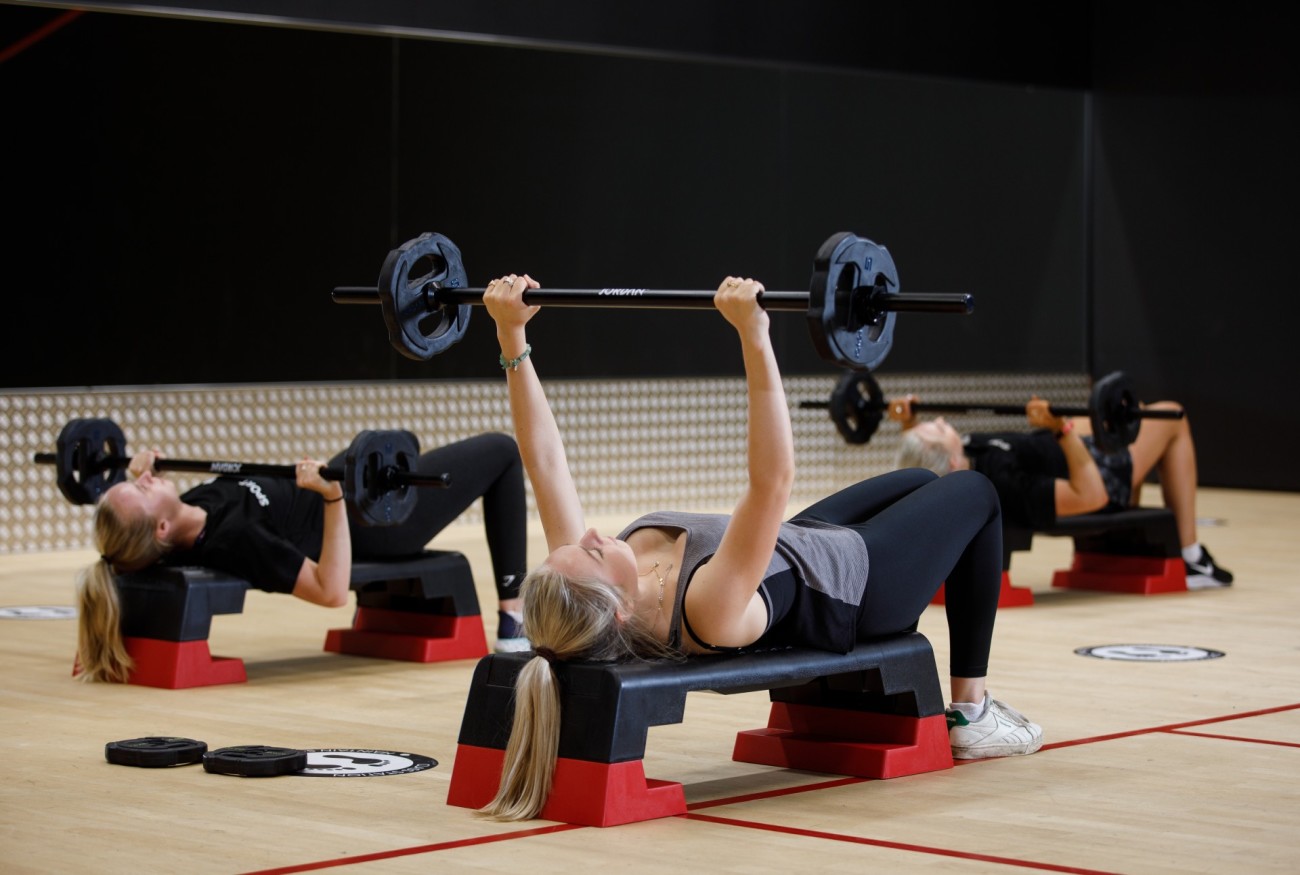 Hi!
I'm Ellie one of the Sport Interns at Northumbria University. My job over the past month has been to try out all the Group Exercise Classes at Sport Central to create an 'Ultimate Guide'.
Before I begin, go check out the summer fitness offer at Sport Central. It gives you so much more than just a gym membership!
With the Fitness Membership you have access to the gym, swimming pool, sauna, steam room and ALL the Fitness Classes so you can give all my tops tips a try.
Now get ready…
This took lots of sweat, plenty of tears (please do NOT watch videos of yourself working out, it's traumatising) and an unreasonable amount of confidence for someone who can't do a pull up.
On that note, enjoy!
---
For those baddies who love a bit of weights, my first class is Les Mills Bodypump. Now, I personally am not blessed in the arm department and haven't massively practiced weightlifting i.e. the treadmill is my best friend.
Walking in I felt a little lost so I'm going save you the trauma and give you some top tips.
The bar and weights are outside the studio make sure to get some…don't stand there like I did.

I would start off with the 2.5kg weight plates and bring some 5kg which you can add for the leg related sequences.

Please don't worry about being amazing, I tripped over my own bar so just turning up makes you better than me *inserts winky face*.

Focus on doing what you can and if you want to just use a bar with no weights there would be no judgement.
If you have never worked out before there are easier classes available to start with. There is a virtual Bodypump class or you could go along to the small group exercise classes which are a little shorter.
Covering all the weight-based classes we also have Girls Who Lift. These types of classes just allow anyone who might not know what to do in the gym or is looking for a change to learn some new exercises and really improve their strength.
Overall ratings 9/10 stars
I felt like a remotely fit human and the music playing was a total vibe.
---
We also have a range of cardio and HIIT classes, meaning I get to do some more ratings and you have more fabulous videos of me watch.
To begin, I have attended both the Les Mills Grit and Les Mills Strength.
These are intense!
I started and within 5 minutes realised just how unfit I am. It was a mixture of me sweating profusely and looking at the screen in disbelief. If you are looking for a challenge these are worth going to. The virtual instructors mean there is no one watching. You can collapse in peace and live your health queen/king/non-binary royalty life without the social anxiety of a super fit instructor monitoring your every move.
They are HIIT or circuit-based workouts each section is timed on the screen in front and the on-screen instructors explain each exercise to you before starting.
My top tips include pack a towel and do whatever you can to follow the classes.
Overall Rating 7/10
I did not feel like a fit human, but the lack of social anxiety was appreciated.
---
SPIN CLASSES
Capitals are needed for this because it is my favourite cardio class by far. There are two available Matrix Ride and Les Mills Sprint. Both are really fun and leave you extremely sweaty. What I love about spin is anyone can do it just grab a bike and adjust the intensity!
My top tips as always are:
The bike is essential equipment! For all our tall people out there please don't be me. Make sure your handles are adjusted high enough for your long legs, I had knee bruises.

Along the bike are many adjustable parts look at the arrows it tells you what to pull/twist. You can also ask someone like the Instructor or a Gym Buddy. People don't bite…if they do, I'd advise them to get checked out.

Just enjoy it! Get hyped up this is a fun way to avoid the treadmill.
Overall Rating 10/10
Lived my spin gal life but didn't adjust the seat, the pain was real.
---
Now, for all those stressed out students including 90% of the Northumbria campus. As much as I'm sure you need a week of solid sleep. There are two classes which could trick your brain into believing deadlines don't exist.
To de-stress Yoga is the class for you.
To stretch out Pilates is the perfect balance.
If you are in 3rd year or doing a masters, I'd suggest all the above and send my condolences.
Immediate 10/10 rating
Just thinking about these classes reduces my stress levels.
---
Les Mills BodyBalance is one of the virtual classes. I tried it after a long workout which was a terrible idea. Personally, my balance is disgusting, I'm like a new-born baby and I'm pretty sure I have constant coffee shakes (highly unadvised). It does require some concentration, but your body feels amazing afterwards.
My top tips include:
In the virtual studio (Corry Room) the mats are chilling in the corner just unwrap, place down and rewrap afterwards.

Do NOT work out beforehand or make sure its light exercise so you still have some energy left.

RELAX!!!!

Don't stress about hitting every movement if they do 4 of each you can do 2 it's better to slow down the position and get the movement right.
Overall Rating 8/10
Felt like one of those healthy people. Expect a random yoga pose picture to grace my Instagram in 2-4 working days with an inspirational quote.
---
Zumba, Aqua fit and Ab blast.
This is an honest round up.
I will not lie.
I have not done Aqua Fit…
The last time I hit up the swimming pool I got cramp and almost died of embarrassment plus drowning, debatable which was worse.
However, I would say if you were wanting something different to what you usually do and enjoy swimming, I would try this out. Bring a swimming costume or shorts that cover everything, any flashing would beat my traumatising experience which we don't need to do.
Let's leave the loss of dignity up to me.
Overall Rating 6/10
I am never going in the swimming pool but does imagining being in the class burn calories?
---
I'm going to be quick now Ab Blast is what it says on the tin. I'd suggest pairing it with a workout or another class as it is only 15 minutes.
Zumba we all know what this is: dance your heart out, reduce some stress and don't worry about your fitness levels. People are so friendly so just live your life, my hips have exactly zero movement available so you can't be any worse at dancing than that.
Overall, I hope you have enjoyed my rating system!
How qualified I am is questionable, however, I have put myself out there for your benefit, so you look less like an idiot than me. Use my tips, find the best class for you and if you need a buddy to go with feel free to let me know…