---
---
---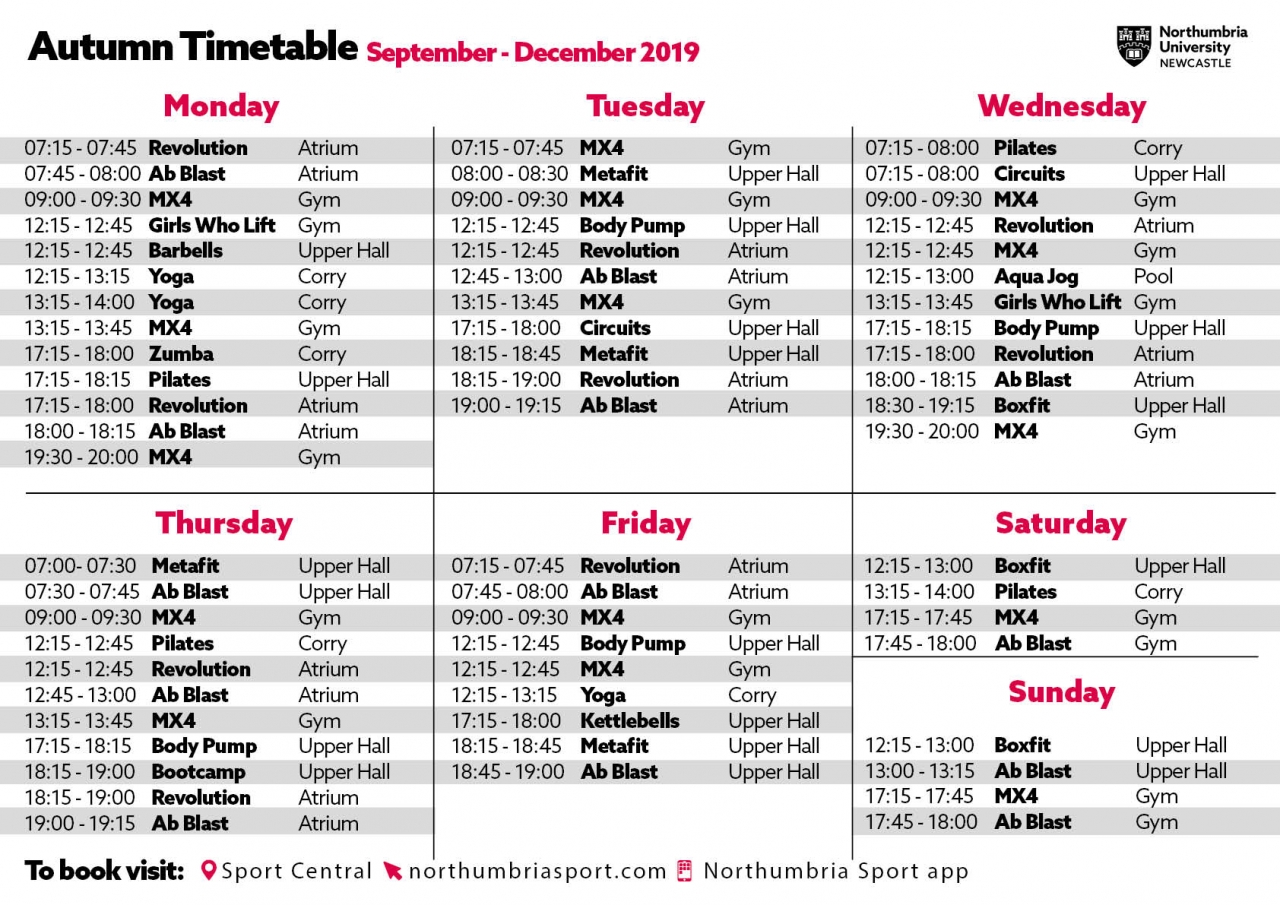 Northumbria University Sport offers a diverse programme of Group Exercise Classes every week. Our professionally trained instructors have put together a comprehensive range of classes to suit your needs from Boxing Conditioning to Revolution.
Customer Notices
Please arrive at least 5 minutes before the start of your class to allow time for set-up and health and safety instruction from our trainers.
Group Exercise Class Descriptions
Ab Blast
Ab Blast is an intensive workout focused on the mid-section of the body. Short and sharp at only 30 minutes, this class fits nicely into lunch breaks and is perfect for those short on time. A mixture of abdominal exercises and core stability work will tone and shape the abdomen and give increased core control.
Aqua Jog
Low impact activity. Exercise in water is great for recovery due to the natural massage on the muscles, the low impact helps protect joints, and the water resistance helps tone, shape and increase muscular endurance.
Les Mills Bodypump
This is the original barbell class that strengthens your entire body. This 60 minute work out challenges all your major muscle groups by using the best weight-room exercises like squats, lifts and curls.
Circuits
A back to basics interval based workout utilising stations for varying exercises. A whole body conditioning class spanning muscular endurance, metabolic conditioning and toning exercises.
Kettlebells
This is a toning and strengthening class using weighted Kettlebells for whole body movements to increase lean muscle mass and dynamic strength.
Metafit
A workout that just keeps working. Created by a former Marine Commando, Metafit combines traditional bodyweight exercises with the latest HIIT training techniques to set the metabolism on fire.
Pilates
An easy to follow, mixed level workout to help promote strength, flexibility, mobility and balanced muscle development.
Revolution
Revolution is a group cycling class which regulates pedal speed, resistance and seating postures to maximise cardio-fitness levels.
Yoga
This class aims to improve every aspect of your life; good posture, a fit and supple body, breathing and meditation for the mind and spirit.
Zumba
The latest in Latin danced inspired exercise! Shimmy and shake your way to a toned and shapely body. Fitness has never been so much fun!
Booking Information
To purchase a Fitness membership, which includes unlimited access to Group Exercise classes, please visit our memberships page. If you are already a member, check out what's on in the next few days and book into a class by dowloading the Northumbria Sport APP.
For casual Group Exercise Class bookings, please pay at Sport Central reception upon arrival. For more information about our Swimming Pool or any of the facilities, please call Sport Central reception on 0191 227 4700.