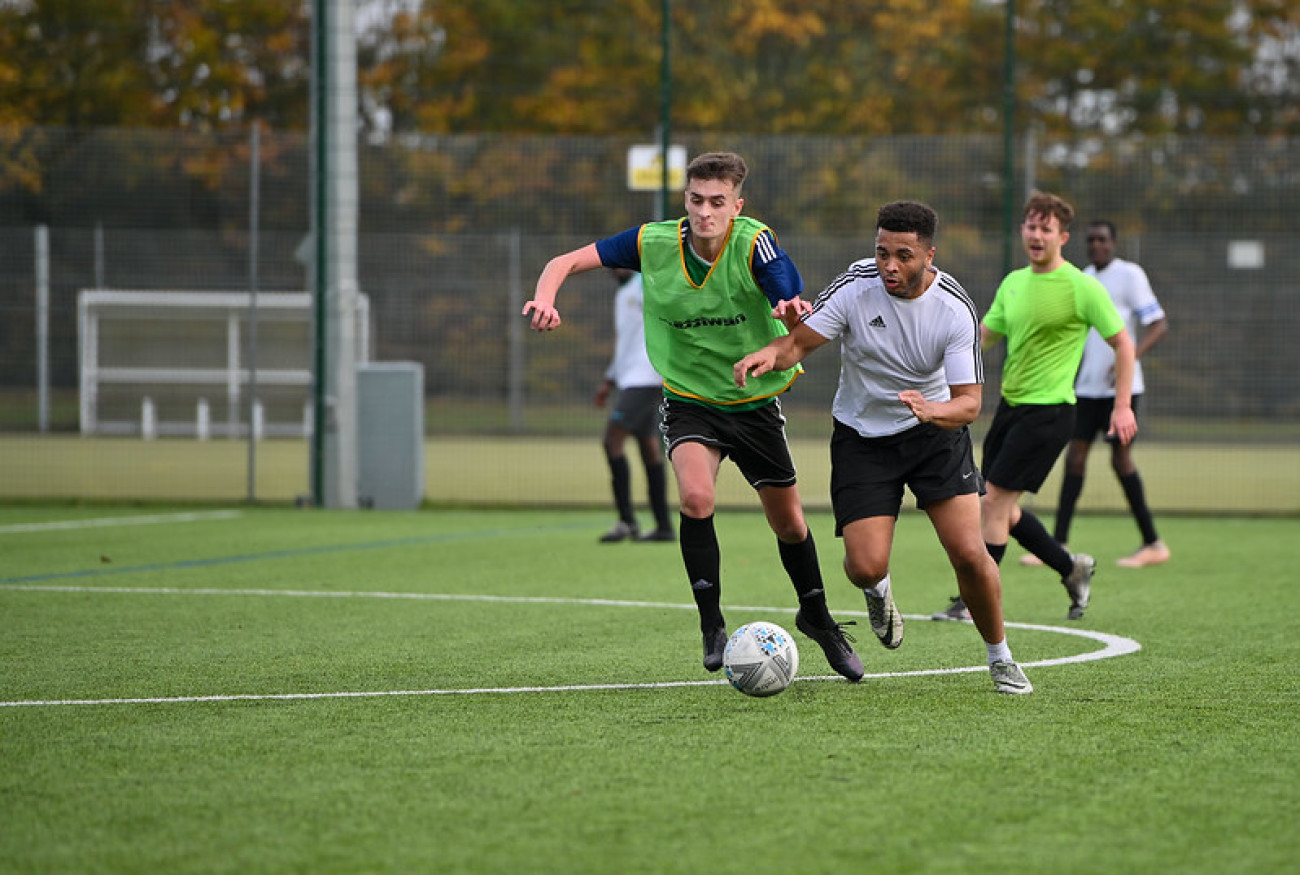 Thursday the 5th November saw the start of a second national lockdown – sadly putting a hold on all non-elite sport until further notice and regrettably forcing the pause of Northumbria's 11v11 and 7v7 Campus Football Leagues. Although this is comprehensively bad news for Norhtumbria Sport, we were delighted that we were able to provide 4 weeks of football so far within our first semester that has seen some great fixtures.
Our last round of 7v7 fixtures taking place on Tuesday the 3rd of November consisted of a 3-3 draw between RZVY and Tea & Busquets; whilst Netsix and chill, TN Futsal and Snap City all secured a win. TN Futsal's turn of form sees them take the number 1 spot at top of the table, with 3 victory's in a row following their opening day defeat to RZVY. RZVY's share of the spoils with Tea & Busquets was enough to land them 2nd place in the table with 8 points; followed closely by Snap City in 3rd place subsequent of their 6-1 triumph over Paralympiacos, leaving them 7th in the league with just 1 victory from 4. Below them in 8th place sits Champagne Super Rovers, still looking for their first points of the campaign following a 3-0 defeat to TN Futsal. Netsix and Chill's 2-1 win against Game of Stones lifts them to 4th place, leaving Game of Stones with 3 points at 6th place in the table. Tea & Busquets sit comfortably mid-table in 5th.
Wednesday the 4th of November saw our four 11v11 fixtures kick off. North West FC's 100% record so far perch's them at the top of the table, following a conquering 5-1 win over TN3. This match turned out to be a battle for top spot in the league; TN3 now sitting 2nd place 3 points behind TN3, and joint on 9 points with Gangsters Allardyce following their 5-0 victory over Geordie Boot Boys. This defeat for Geordie Boot Boys dropped them to 7th in the league, followed by SporTING Lisbon in 8th place after Jeezy McSqueezers defeated them 3-0. Jeezy McSqueezers are now 4th in the table; the only team on 6 points, whilst Tekkers FC and Hardly Athletic take up 5th and 6th place following their 0-0 draw, keeping them both at 4 points for the season.
I now look forward to working with both Club Development Officer, Megan Pyper; and partner Football League Development Officer, Thomas Gallagher to plan for the return of football again at Northumbria. We are looking to make use of this time to develop new ideas, plan for semester 2 leagues and ensure that when football returns again it is of the high standard set by Northumbria Sport and the Campus Football Leagues. I am excited to continue work behind the scenes, plan effectively and ensure the leagues are better than ever when football return; which I am sure you all cannot wait for. I know I can't!
Stay safe.
Luke Holliday.