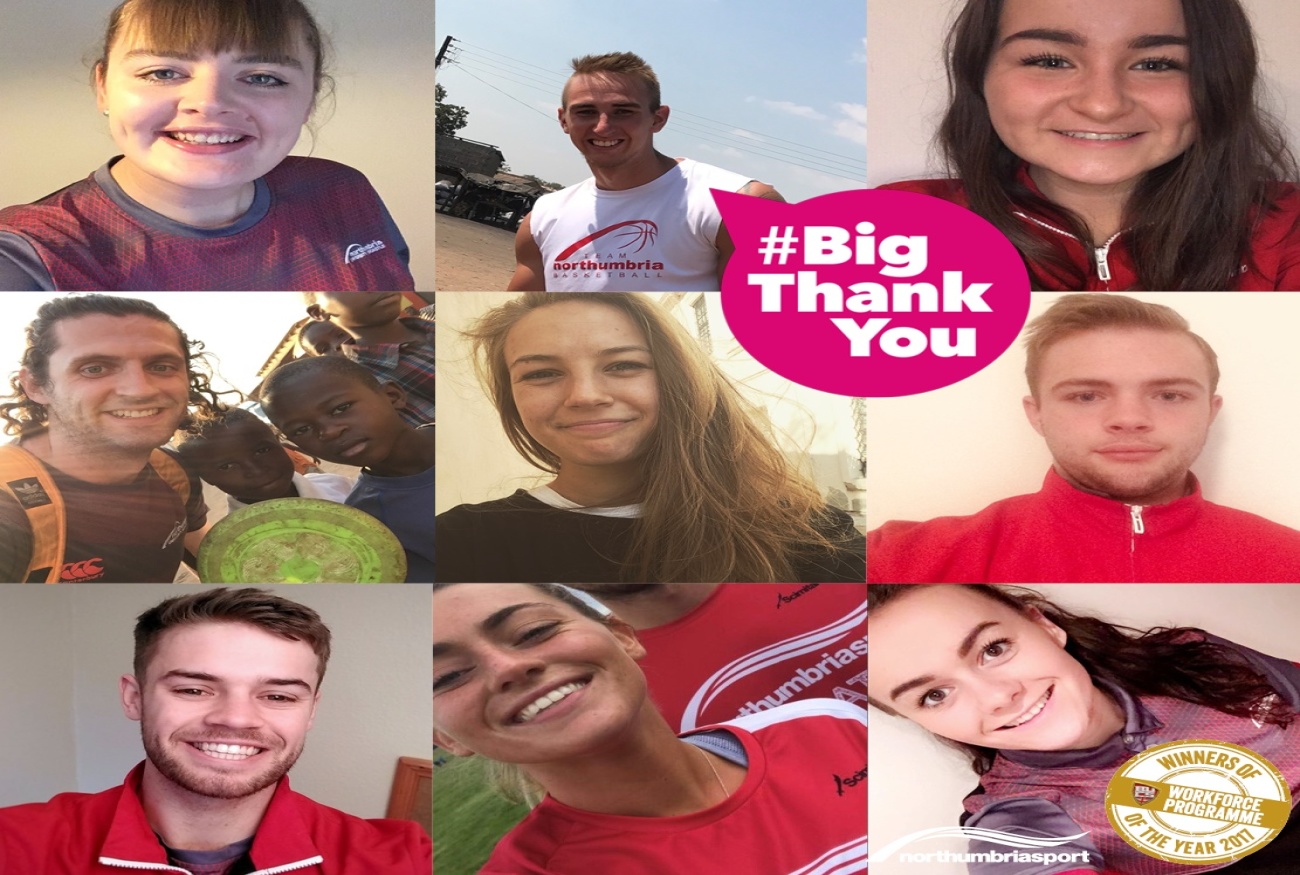 Northumbria University boast nine nominees as one of the biggest sporting celebrations of the year prepares to shine the spotlight on student volunteers.
The Join In and BBC Get Inspired #BigThankYou campaign will be featured at the BBC Sports Personality of The Year 2017 (SPOTY) event on Sunday.
And Northumbria students will be keeping their eyes peeled to see whether their #BigThankYou selfies have made the cut for national television exposure!
The Join In and BBC Get Inspired #BigThankYou campaign was launched to recognise the amazing work of volunteers across the country.
Sarah Stephenson, Northumbria Sport Services Assistant (Student & Staff Development) said: "We are so proud that nine of our students have made it to the #BigThankYou national selfie gallery.
"They are all in with the chance of being publically thanked by a SPOTY athlete for their contributions to sports volunteering!
"We will be getting involved in the #BigThankYou campaign this week by showcasing our nine nominees and thanking all of our volunteers, interns and hosts who are part of the award winning Northumbria Sport Student Development Programme.
"We'd love everyone to join in and celebrate our volunteers by re-tweeting and sending your pics and tweets to @NUSportVol #BigThankyou and look out for our nine nominees on SPOTY night."
Northumbria's nominees are as follows:
Hannah Dawson – Northumbria Sport Foundation Volunteer nominated for her amazing work coaching the Knock Out Sistas Boxing community programme
Jack Preston (JP), Molly Carter, Corey Hastings, Claire Harper and Ellen Duke – Volunteer Zambia 17 students nominated for the positive impact they had on the 16-17 Volunteer Zambia Project
James Kavanagh – NORTH Football Intern nominated for his impact on the development of the referee programme for Northumbria students and his contributions to our participation football offer
Jake Birkett – Team Northumbria Nutrition Intern nominated for his positive contribution and development of the nutrition support offer for Team Northumbria athletes, teams and coaches
Rhiannon Gray – Northumbria Sport Academy Volunteer nominated for her fantastic work leading on the accessible sports programme and coaching children through the Northumbria Sport Academy