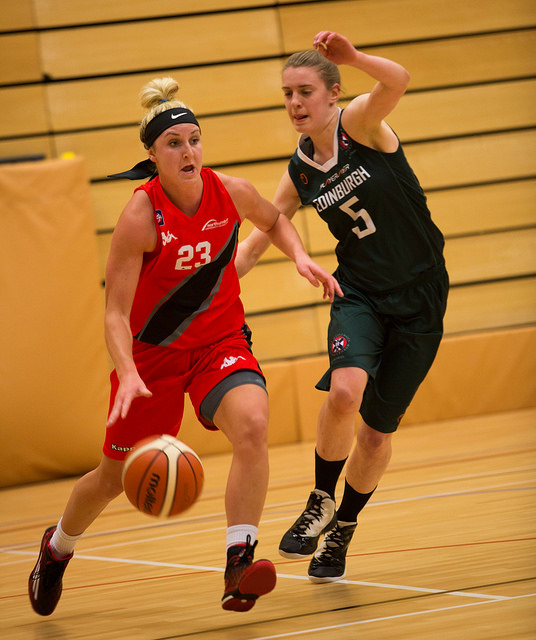 Chris Bunten is convinced Team Northumbria will ultimately look back on a six-point defeat to Nottingham Wildcats with pride.
But the passionate playcaller admitted he was hurting after his battling players surrendered a 10-point first half lead to lose 72-66 in a Sport Central thriller.
With the wounds still raw following a late lapse in concentration Bunten said: "It sucks right now and it's a tough one for the girls.
"We just suffered a few mental lapses when it mattered most and blowing that lead didn't help.
"But I know that if we play like that every week – with our full squad available – then we are going to beat teams.
"I couldn't be prouder of those girls who stepped on court and I coudn't have asked for more in terms of effort.
"We knew it would be a tough match against the reigning league champions but we made them work for their win.
"People who look at that score might think it was a closer game than they imagined. We know it was even closer than it looks and we know we could have won it."
Bunten faced a repeat of the 2016 playoff final without that match's MVP – super Swede Abi Asoro missing with a calf problem.
TN were also unable to field new face Kara Bonenberger due to visa issues and the Wildcats took full advantage down the stretch.
The hosts led by five after the first quarter and took a two-point advantage into the second half.
But Nottingham never looked out of an epic encounter and finished a fantastic advert for WBBL basketball the stronger of the two sides.
"We are all bitterly disappointed but we shouldn't be," added Bunten. "This time last year we wouldn't have been in contention against a team of the Wildcats' quality.
"To think that 12 months on we are talking about a narrow defeat shows just how far we've come as a club.
"I'm pleased that my players are hurting as much as I am but in the cold light of day we'll be able to pick out plenty of positives from the loss.
"Right now I am focused on making sure we repeat that level of performance and get Abi fit. I'm also hoping we can resolve the situation surrounding Kara's visa as soon as possible – if we can get her in a TN dress she will be the best centre in this league bar none."
TN's rookie guard Ali Gorrell led all scorers with 26 points while former Barcelona University forward Claudia Baraut grew into the game after the break to grab 14 points and six boards for the hosts.
Bunten's side is back in action in a fortnight with a double header road trip at Sevenoaks Suns and Oaklands Wolves.