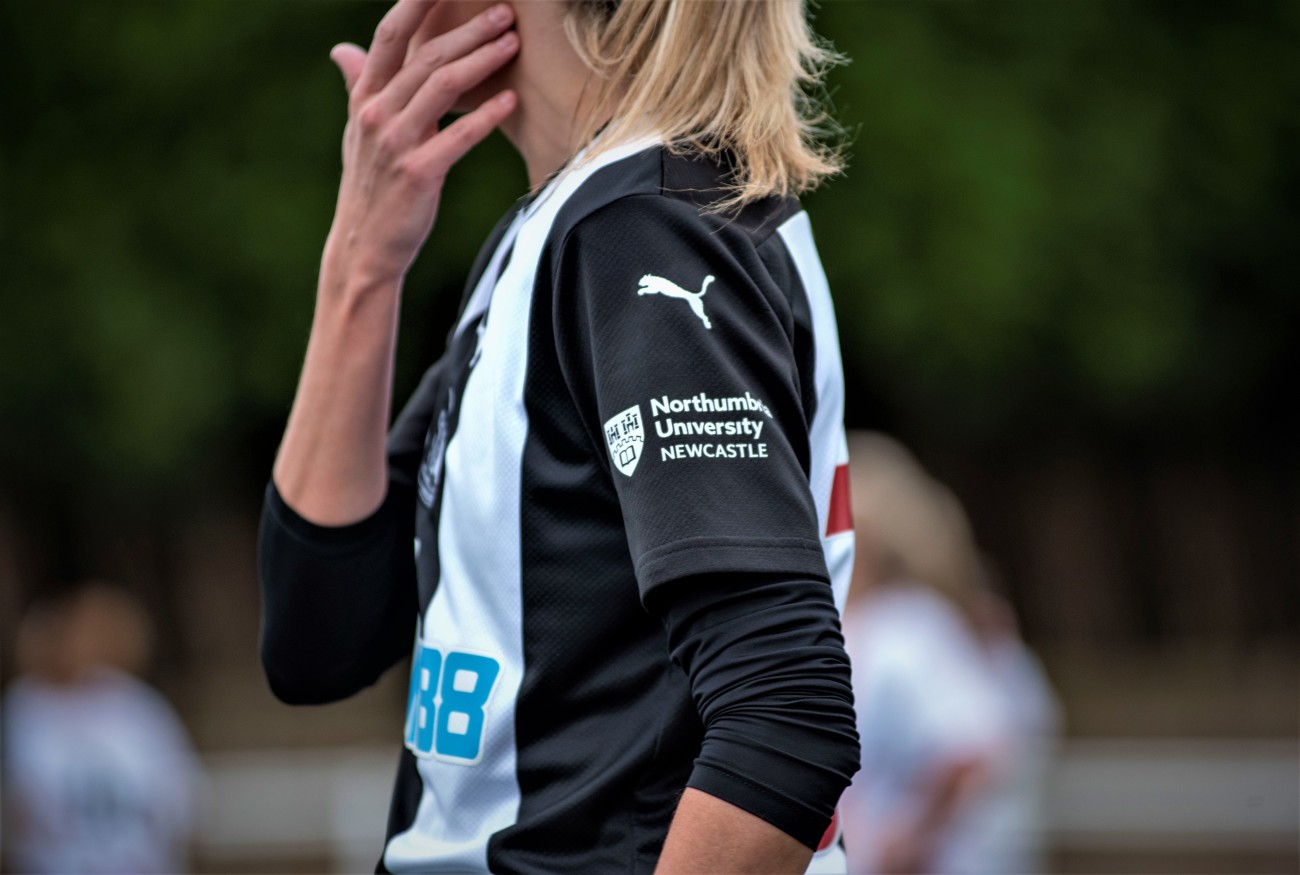 Newcastle United Women and Northumbria University continue to build on partnership progress using the latest lockdown to strengthen team resolve despite a pause in play.
The two city institutions became official partners in August 2019, heralding a new era for Newcastle United Women – part of Newcastle United Foundation – and a reinforced commitment to developing women's football in the region.
A positive 2019/20 campaign for the Magpies in the FA Women's National League Division One North ended in vain with the season declared null and void last year following the outbreak of Covid-19 in the UK.
The Tyneside club face the same heartbreak one year on, with a strong start to the season – including a run of six games unbeaten – declared null and void by the FA Women's Football Board in March 2021.
However, the team are continuing to work hard at home with key support from Northumbria University to target the imminent return of the Vitality Women's FA Cup and Northumberland FA Women's County Cup.
Improving all aspects of player performance – from strength and conditioning work, to sports psychology and video analysis, the Magpies expect to be in a strong position as they return to play.
Newcastle United Women Manager Becky Langley – who took the reins at Druid Park in 2019 as part of Northumbria University's partnership with the club – said: "We have a growing number of players who are coming through from Northumbria University and are integral to our team structure.
"It has been fantastic to work so closely with the university and to tap into their expertise and support services, which has really helped us all to develop and grow as a cohesive team.
"With lockdown and different periods of the season being on and off, it's crucial we don't throw away our hard work and actually use this time to focus and maintain our momentum the best way we can.
"It is tricky and challenging to train at a distance or online, but everyone has really pulled together and we've been able to provide individualised training programmes thanks to coaching and performance analysis from Newcastle United Foundation and Northumbria University staff.
"The benefits of working together are clear and we've seen really dramatic improvements across the board – particularly in our younger players. I know everyone is looking forward to the day we can get back out on the pitch and putting our hard work into action."
Off the field, other aspects of Newcastle United Women and Northumbria University's link-up has seen a number of university students complete placements and research projects with the official charity arm of Newcastle United over the past 18 months.
Despite challenges of working through the pandemic, students have accessed exclusive opportunities to work in the community alongside Foundation staff, delivering coaching and educational programmes in schools and sports facilities.
The growing partnership is also set to provide placement students with insight into the Foundation's Advanced Football Development programmes and Newcastle United's U23s squad.
Steve Beharall, Head of Newcastle United Foundation, said: "We are incredibly proud to offer such a strong pathway into football for women and girls and working with the university has helped maximise those opportunities for young players in the North East.
"It has been inspiring to see the progress of Newcastle United Women and the team going from strength to strength over the past 18 months. We look forward to the day the season can resume safely."
Newcastle United Women are scheduled to travel to face Brighouse Town Women in the second round proper of the Vitality Women's FA Cup on Sunday, April 4 (kick-off 2pm BST).
Katy Storie, Head of Sport at Northumbria University, said: "I am so pleased with our partnership with Newcastle United Foundation and am particularly proud of its contribution to strengthening women and girls' opportunities within the local area.
"Northumbria has a long-standing reputation and commitment to developing young female athletes along a pathway from grassroots to performance and this collaboration has seen us broaden that impact through volunteering, research and outreach activity.
"I am very excited to watch the relationship grow as we move together toward a more 'normal' outlook for the sporting landscape."
Follow Newcastle United Women on Twitter and Facebook or visit nufoundation.org.uk for more information.
Find out more about studying at Northumbria University at northumbria.ac.uk and explore Northumbria Sport Women's Football Programme and Athlete Support Services