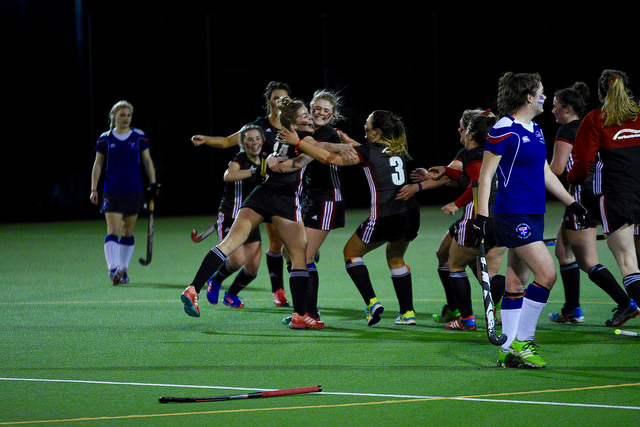 Northumbria W1 Hockey edged a 1-0 thriller this week, to extend the University's overall lead in this year's Stan Calvert Cup competition.
It was Northumbria's first win against Newcastle this year and the victory was fully deserved.
"If you look at the photos from the final whistle you will see how pleased we were," said star player Penny Joyce.
"It's such an amazing feeling, especially when you get to experience it with all of your best friends – our team are a close group and it makes winning all the more special.
"Every player put in a POLY performance which is what we say when fight hard and work for each other.
"Our aim was to focus on the performance, not the outcome, and that is what we did.
"Newcastle did put us under pressure in spells of the game, but we wanted it more and that's what made the difference in the end.
"Everyone was on top form after the win – there were definitely a few sore heads the following morning but our celebrations will continue when we see our own Emily Watkinson lift the trophy on Sunday!"
However, it wasn't to be for M1 Hockey, who suffered a 4-0 defeat at the hands of rivals Newcastle in their Stan Calvert fixture the day before.
"It was a bit disappointing, we didn't really turn up in the first five or 10 minutes," said Alex Flynn.
"We managed to play quite well up until half time after that, and maybe at the start of the second half.
"But when you're 2-0 down you start pushing forward a bit more and taking risks and we just got caught a couple of times.
"We maybe should have got on the scoresheet but it wasn't necessarily always down to us - their keeper had a blinder so it was tough.
"We can be happy with the middle section of the game and if we can take that into the last two games of the season, we'll put in some good performances."