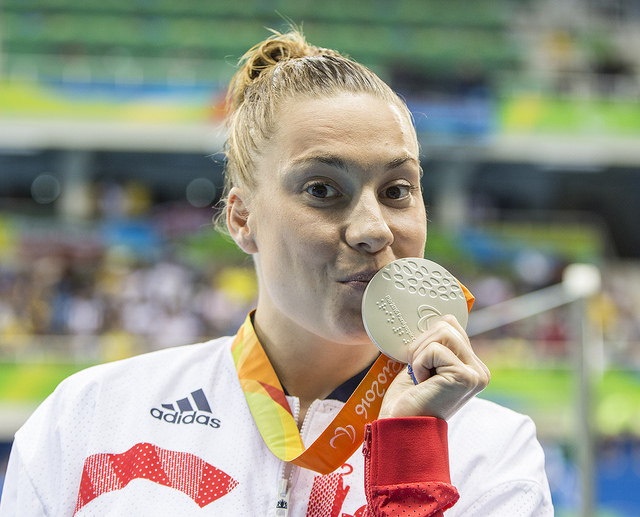 Good morning everyone!
Great news, our swimmers had an awesome first day in the pool in Rio..
HARRIET LEE won silver in the Women's SB9 100m Breaststroke in a new British Record time of 1:16.87. Harriet fully deserves this success having spent the last 4yrs since London 2012 striving every day for a better performance. I feel very proud of her, and know that we supported her through a journey that was extremely tough at times – so I hope you all feel a bit proud too!!
She was delighted with her performance and text me to say a huge thank you to everyone here at Team Northumbria for their support over the last 3 years…. She also spoke to the media shortly after the race:
"I just wanted to get out there. The last four years have been a struggle so to get down to this point and swim that time in that race, I feel so happy. I have such amazing support back home and Team Lee have been phenomenal. It is not just me, there is a network behind me that have dragged me through some difficult times so it is great to be able to share it with them."
ANDREW MULLEN (our new addition for 2016-2017) won bronze in the Mens S5 200m Freestyle in 2:40.65, also a new British Record! He spoke to Channel 4 after the race and was delighted:
"It's great to have a won a Paralympic medal and I am really stoked I was able to do so by swimming my best time. What a great crowd to do it in front of. Brazil have put on a great venue and a great Paralympic Games so I am really pleased to get my first medal in such a setting."
TAKA SUZUKI was also in action in one of his warm up events, the Mens S5 200m Freestyle.. He set a new lifetime best of 2:58.74 which is also a new ASIAN RECORD!! Well done to Taka, this shows that he is in great shape and ready to take the stage in his main events early next week…
Day 2 is a day off for the TN contingent, so roll on day 3 when Andrew is back in action in the 50m Butterfly……. I'll keep you all posted
Louise Graham
Team Northumbria Head of Aquatics