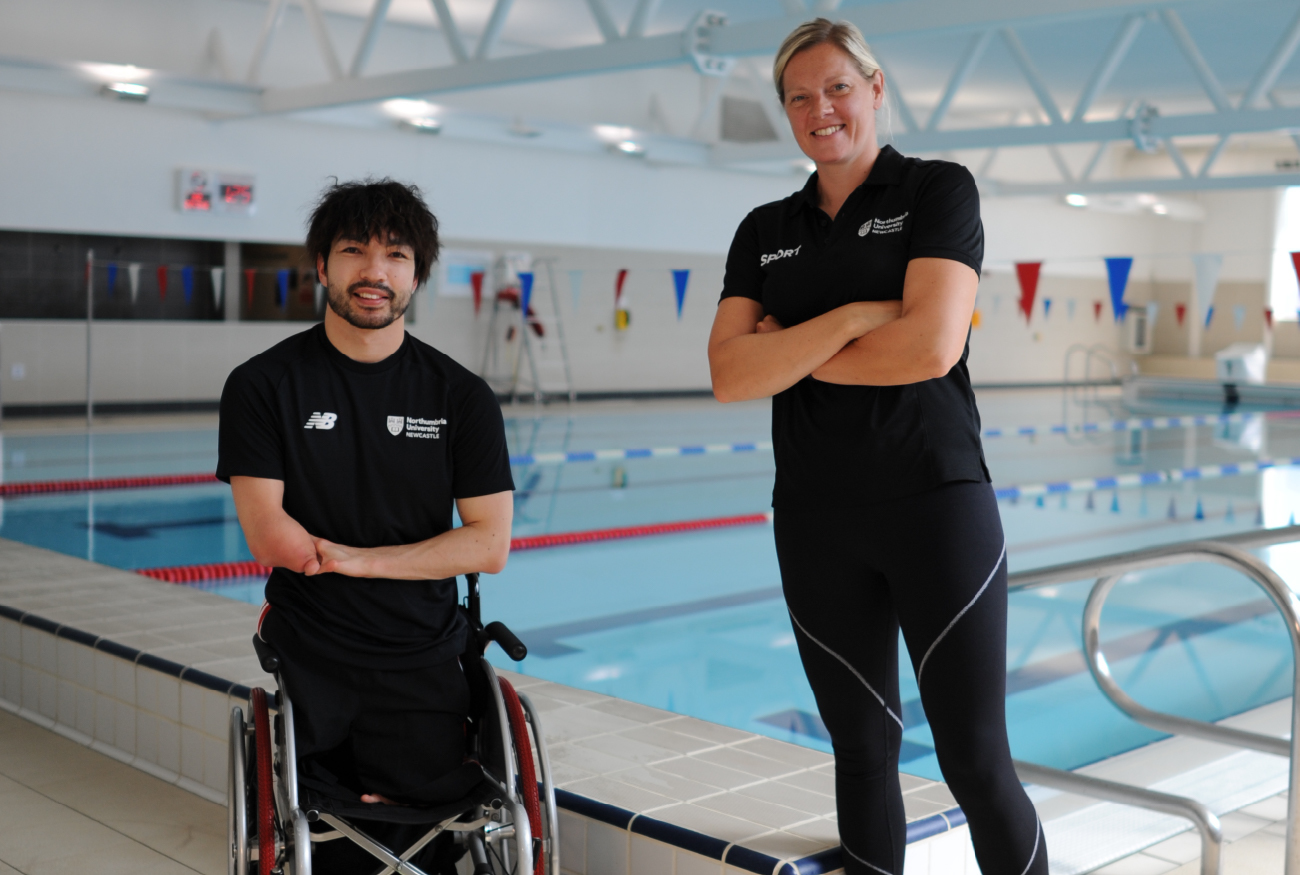 In the buildup to the Paralympic Games in Tokyo, Sports Management student Takayuki Suzuki sets his sights on achieving gold this summer. The prospect of competing on the world stage at this level will always be exciting, but for Taka the games in Tokyo will be filled with excitement and a huge sense of pride, as he will be competing on home territory. With the games rapidly approaching Taka is keen to get going and dive into the competition again after having 13 months away from the pool.
Taka is excited and confident about his performance in the pool;
"Ranking in the top 3 [in the world] in all my individual events I am excited to try and win some medals including gold hopefully."
For any athlete, taking part in any Paralympic or Olympic Games is a moment that will always be cherished, but for Taka these games have an even greater significance as he has made the decision that Tokyo 2020 will bring his competitive swimming career to a close. A very bittersweet feeling will be attached to this competition for him all round but to retire on a high would be an excellent way to finish.
Success like this for any athlete is brilliant but it isn't only in the pool where Taka has achieved glory. When looking back through Taka's journey; more specifically looking at his time in Newcastle at Northumbria University there is a real sense of pride and teamwork at the core of his experience. Northumbria's Head of Aquatics, Louise Graham, has developed a close working relationship with Taka since he arrived in Newcastle and is proud of what he has achieved both in and out of the pool;
"Since he has been here at Northumbria, he has won five world championships medals a couple of years ago down in London. We went to watch him swim at that event so that was very special. He came here just with the intention of learning English so the whole package of achievement both academically and within his sport has been really impressive."
Taka and Louise's relationship has gone from strength to strength over his time at the University, and she continues to push him to fulfil his potential. Lousie and Taka have a great dynamic and Louise is grateful for his attitude towards training.
"He is positive, he listens, he is easy to coach as he is willing to put in the work."
The coach athlete relationship they have works extremely well, with communication always being vital;
"I first met her (Louise) seven or eight years ago and in my first year, I couldn't really speak English well so it was a bit hard to communicate with her but she would write the sessions on the whiteboard so I could understand. She coaches logically so it's quite important for me to understand and trust what she does."
Not only has Taka worked closely with his coach Louise throughout his time at Northumbria, but he has also formed a closeness and affinity with the University, in particular Northumbria Sport and the facilities available to him. The convenience of the sports facilities is an aspect of the University he really values;
"Everything is in the same building at Sport Central so I can train at the pool, at the gym and I have my massages in the same building, so it is very good for me. When I was in Japan all things were in different places, so it wasn't easy to get to all of them."
Taka highlights that the opportunities the University environment provides to balance both his study and training have been one of the main reasons he has stayed in the UK. Progressing through from undergraduate to postgraduate study have impacted positively on his professional career aspirations whilst continuing to develop within the pool. While working alongside Louise he has really took swimming at Northumbria in his stride and Louise is able to push Taka to get the most out of his time at the university.
Being based at Northumbria during this time of his career has allowed Taka to fulfil his potential and create pathways to medals that were always in his sights. So, when looking ahead to what the future holds, he already knows he is keen to stay involved with sport even after retirement;
"I would like to work for the Paralympic Sports Organisation or Paralympic Swimming, hopefully I will find a job within that."
Although these games may signify the end of his professional competing streak, we can be sure that Taka will be looking to stick around for the foreseeable future - even if that may not be directly in the pool!
So, with the games approaching at high speed, Northumbria Sport is ready to cheer Taka on! This may not be at the pool side but most certainly will be from the other side of our TV screens at home.
Let's go Taka - bring home the glory!