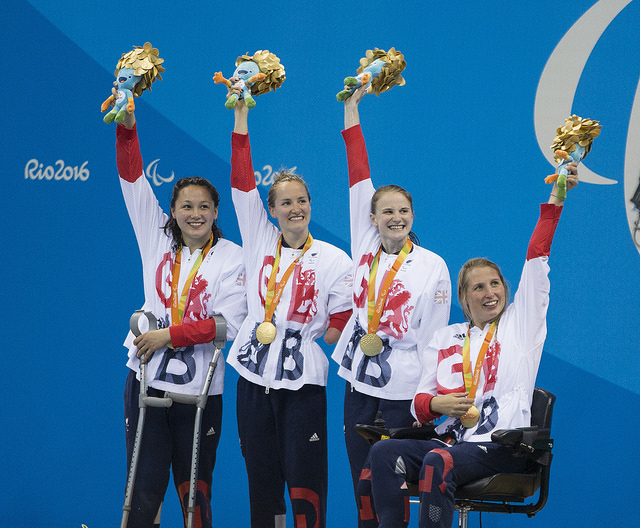 Northumbria students brought home six medals from the Paralympic Games in Rio, including gold in what proved to be Great Britain's most prosperous Games since 1968.
Leadership and Management students Harriet Lee and Claire Cashmore joined Andrew Mullen – who begins the same course at Northumbria in September – as part of Team GB in Rio.
Meanwhile, Sport Management student, Taka Suzuki, represented his home country of Japan in the pool. Since the swimming began on Thursday September 8th, the Northumbria quartet have won six medals between them after jetting out to the 2016 Games in South America.
Harriet brought home a silver medal in the Women's SB9 100m breaststroke swimming event, while fellow GB athlete and Northumbria student Andrew stormed his way to a silver medal in the Men's S5 50m backstroke. Andrew also scored two bronze medals at this year's Games, one in the Men's S5 200m freestyle and the other in the Men's S5 100 freestyle event.
Claire, who has been competing for Great Britain for 12 years, won a silver medal in the 100m breaststroke and was part of the Para-swim team alongside Steph Millward, Steph Slater and Alice Tai who took gold in the women's 4x100m medley.
Taka narrowly missed out on a medal at this year's Games, finishing fourth in both the Men's SM4 150m – with a new lifetime best and a new Japanese record – and the Men's SB3 50m breaststroke event.
Northumbria University's Head of Swimming, Louise Graham, said: "The achievements of our swimmers at the Paralympic Games were outstanding. Their success is down to thousands of hours of hard work and dedication and they thoroughly deserve these results. They will inspire many of our student athletes to chase their sporting dreams, and that is priceless."
The BA (Hons) Leadership and Management course at Northumbria University is an innovative work-related degree programme that is designed to fit alongside an athlete's existing sports career. It gives credit for prior sports training while preparing students for a career in leadership or management.
The course makes the most of a sportsperson's wealth of management skills and competencies. Having supported many sports professionals in the past, the University appreciates the need for complete learning flexibility. As such whilst completing the course students will receive ongoing individual guidance from tutors, alongside full access to the range of on site and distance learning resources available.