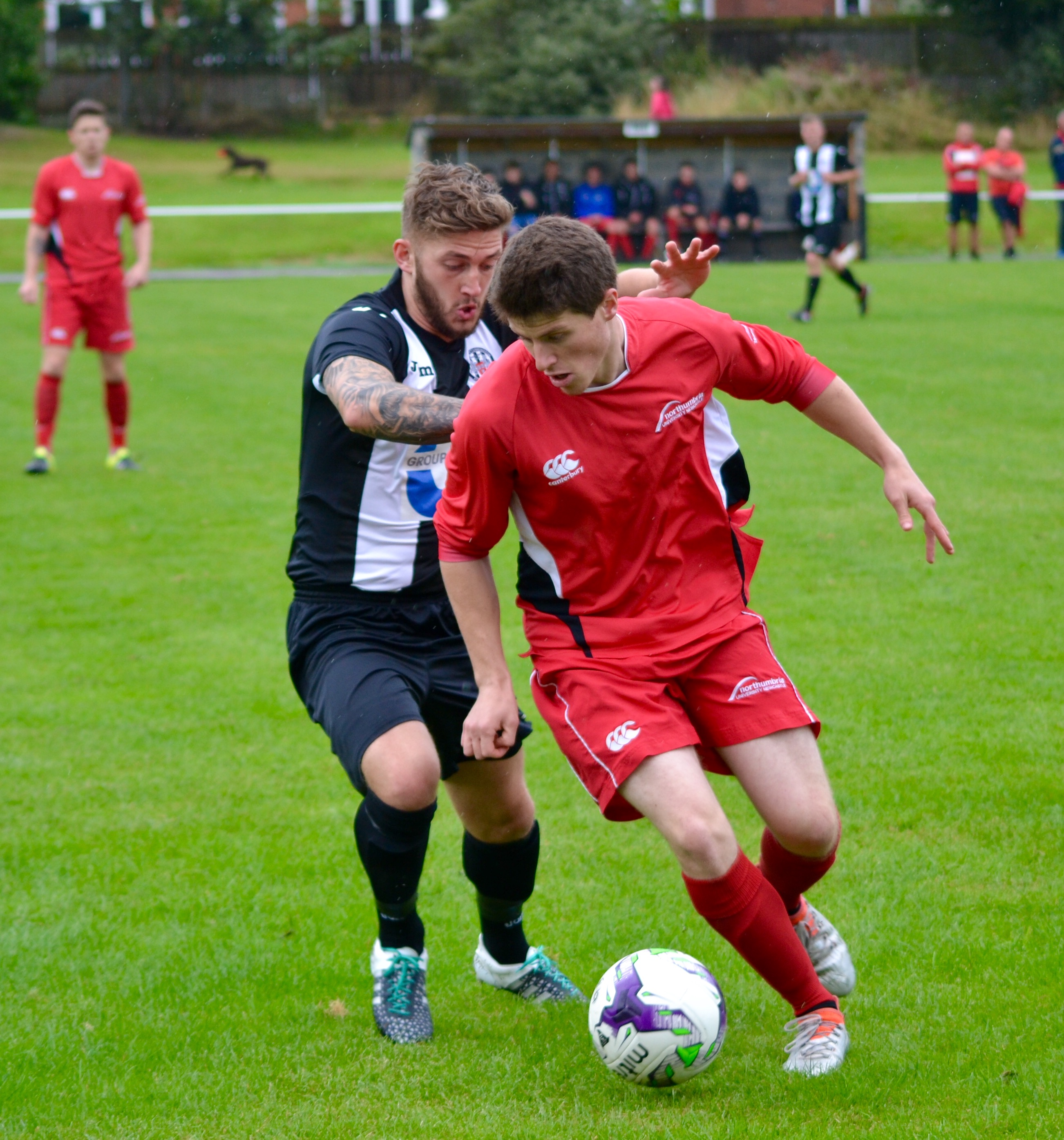 Team Northumbria's Ben Dibb-Fuller netted twice and assisted Ross McKeown in a 3-0 win at Hebburn Town.
The victory maintained TN's three-point advantage at the top of the Northern League's second division ahead of Monday's Stan Calvert Cup action.
Coach Colin Stromsoy is impressed with his team's form, during a spell in which they have scored 12 goals and kept three clean sheets in the last four games.
"I'm very pleased with our form," He said. "The last three games have been 3-0 and we've kept a clean sheet for 270 minutes now.
"We're scoring goals and keeping clean sheets. Any football coach will tell you that's the most important thing of all."
Stromsoy hailed a team effort but was keen to praise Dibb-Fuller - who had a hand in all three of TN's goals.
"Ben's doing great, we're really pleased," added the TN boss.
"What makes him a great player is his work ethic and attitude. His work off the ball is as high quality as his play on the ball.
"His defensive work is outstanding and some people don't see that."
Stromsoy also picked out Scott Ballantine who made his first start for TN against Hebburn Town.
"He tired a bit in the second half and we took him off, but his first 45 minutes were fantastic," he added.
"I'm really pleased with his first taste of Northern League football."
TN go into the last 10 league games with only nine points between themselves and Billingham Town in fourth place - who have three games in hand. And Stromsoy is wary of how much the table can change in the final fixtures.
"The teams behind us have got games in hand," he added. "If they win them, they'll do one better than us.
"We've got Stan Calvert on Monday - we're involved in other trophies and tournaments. We want to get promoted but we're miles away from any excitement!"
TN will finish the season with four players out of action due to long-term injuries - latest casualties include Nick Green and Daniel Taggart who were injured during the tie with Blyth Town.
"We have four players out for the season and we've managed that situation so far," added Stromsoy. "I am enormously proud of the way the fit players have responded.
"People have been waiting for us to fail for a long time and we've proved again today that we've got a lot of quality and a great culture."
Despite the 3-0 win keeping TN at the top of the table, Stromsoy insisted the game was also about Hebburn Town - whose future in the Northern League has been thrown into uncertainty in the wake of financial hardship at the club.
"Hebburn Town are a wonderful group of staff and players," he added. "It's really important that the spectators south of the Tyne support Hebburn. They need all the support they can get.
"They had nearly 300 spectators for our game and if they get that for the remaining games of the season they'll be fine.
"Hebburn Town are without a doubt one of the very best in the Northern League."
TN host Blyth Town at Coach Lane next Saturday.