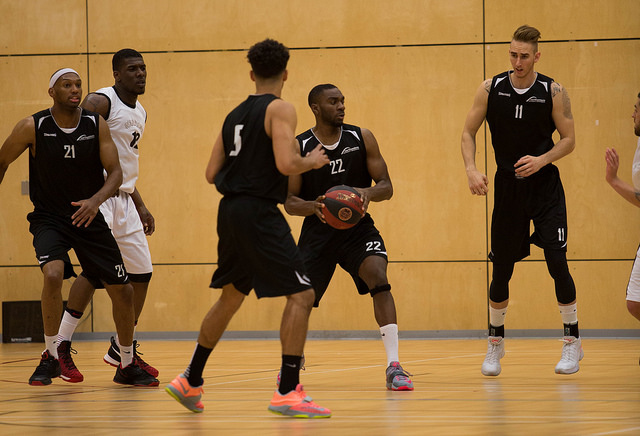 Team Northumbria suffered their first loss of the season after a 90-69 defeat to Derby Trailblazers at Sport Central on Sunday.
TN's unbeaten start to the EBL Division One season came to an abrupt halt after the Trailblazers' hot start saw them build a first quarter lead which TN were unable to overcome.
Head coach Marc Steutel was disappointed with the manner of his team's defeat and believes his squad must find ways to improve in order to compete with the division's best sides.
"There were too many things for me to pinpoint that went wrong," said Steutel. "I didn't see any transference of the traits that have underpinned our performances over the past couple of weeks.
"Even though we've won a couple of games, I used the word 'comfortable' with our guys - whether it's in practice or games and today's performance highlighted that.
"Derby were outstanding - they played and were coached well so credit to them but we deserved to be better ourselves.
"I can't remember the last time we conceded 90 points on our home floor and I have no complaints - they absolutely kicked our butt.
"I know I will learn and I hope the players will. I have been talking a lot week by week about committing to the program, buying into the process and getting better through it.
"But sometimes we have been getting a bit carried away.
"I think that's reflected in some of the players and I hope they understand how much work we have to do. We need to stop using the word 'potential' and start realising what we can do.
"We have got to be better we have to focus on ourselves. Guys can't come onto our home floor and dictate things the way they just did."
Despite the result, the performance of new arrival Malcolm Smith did please coach Steutel as the American came off the bench to contribute 31 points.
"Malcolm played very well - he came in and made an impact. And credit to him - if he didn't come in and play the way he did, it might have been a lot more than 30 or 40 points," added TN's playcaller.
"I'm really pleased with how he has settled in and it's a shame his best game so far personally has been overshadowed by the result."
TN secured their third win of the campaign on Saturday after they cruised to a 98-48 win over London Lituanica behind contributions of 23 and 20 points from Lewis Champion and Jack Preston respectively.
TN travel to Myerscough College for their next fixture where they'll play Lancashire Spinners on October 29 (5pm tip-off).