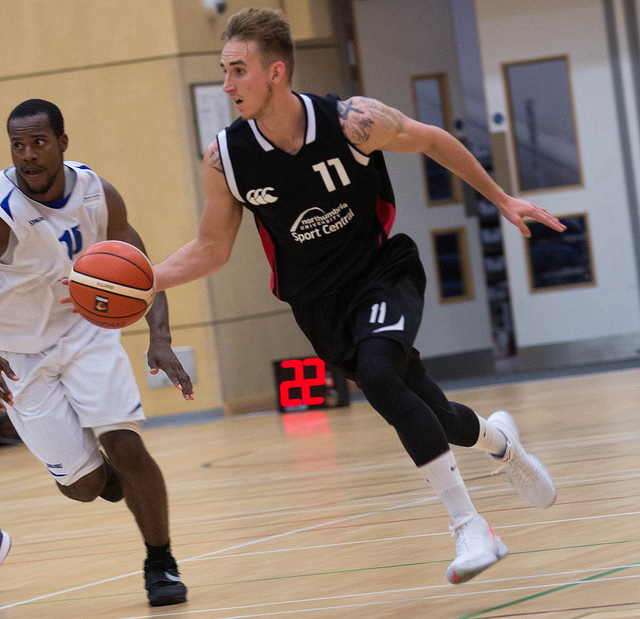 Team Northumbria started their EBL Division One campaign in exciting fashion to defeat Essex Leopards 81-67 at Sport Central.
A confident team performance ensured Marc Steutel's side saw off tough opponents to claim two points in their opening league fixture.
TN welcomed Jack Preston back into the squad and their star looked in fine form after an injury plagued start to the season.
"It's nice to get a win in the first league game and start the season in the right way," said Northumbria University student Preston.
"We're trying to make Sport Central a bit of a fortress for us this year. No team is going to come up here and have an easy game so it's nice get the perfect start."
It was an assured performance from TN in what was a hard fought contest during the early stages of the match.
However, Preston's 17 point contribution and a further 10 points from Blayne Freckleton in the final quarter, saw TN secure an important win.
"If I can contribute to a winning performance regardless of whether I have 17 points or five points, that's the main thing for me," added Preston.
"After missing last week it was nice to be back out there playing and helping the boys out.
"I wouldn't say I feel 100% but the rehab and training this week made a difference and I felt more than comfortable out there on the court."
TN host Leicester Warriors next and Preston is confident the team can continue their winning ways.
"I've been here four seasons now and the league has got stronger each year," he added. "Teams are bringing in lots of talented players.
"But with the players we have and the coach that we have in Marc, we're definitely going to compete with the other top teams in the league.
"Our programme and training means that we'll always be in contention to go on and win the league and the playoffs."
TN will look to pick up another two points at Sport Central on Saturday and continue their strong start to the season.