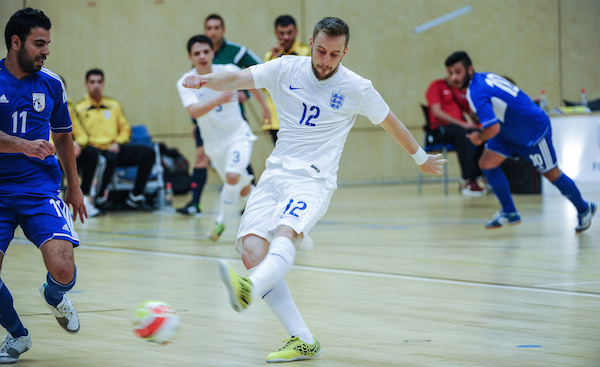 Northumbria University has strengthened its reputation as an emerging centre of Futsal excellence after scores of young stars showcased their Premier League potential.
Sport Central has already played host to some of the world's best senior stars after hosting back-to-back England invitational tournaments.
But the next generation was this weekend's focus as a number of Premier League and Championship football academies took part in the Premier League's Under Nine and Under 10 Futsal festivals.
Teams from all over the North of England made the journey to Sport Central to compete and showcase their wealth of promising young talent.
Newcastle United, Leeds United, Sunderland, Hull City and Middlesbrough all took part in round-robin tournaments across Saturday and Sunday.
Event lead Brian Quigley was delighted with the welcome afforded by Northumbria and admitted he'd love to use the facilities on a more regular basis.
"It's the start of our Futsal season now where we bring our younger age groups indoors to stay out of the adverse weather," said Quigley.
"These festivals are used to familiarise the kids with Futsal again as it's not a game they play during the rest of the season.
"It's an important part of their development which is beneficial when we're focusing on improving their technical skills and the kids love it – we have to drag them off the pitch!
"In January we are back here, running the qualifiers for the national Futsal finals where teams from category one academies all compete, which we're really looking forward to.
"Northumbria, for me, are the best facility we use in the whole country for Futsal, without a doubt – the staff are brilliant, the facilities are first rate and it really couldn't be any better from our point of view."
Leeds United coach Michael Kinsey also seemed impressed with what the University had to offer and acknowledged that it was a great experience for young footballers.
"It's been really good, I can't fault it," said Kinsey. "The main thing for us is that the kids are playing and really enjoying the occasion.
"It's difficult in the winter months for us to get outside and play, so it's a great opportunity for us to enjoy football that's not impacted by the external elements.
"The facilities are excellent, having three pitches run side by side is inclusive which is really important at this age.
"Opportunities to come to events like this and places like Northumbria University, are a great experience for them."