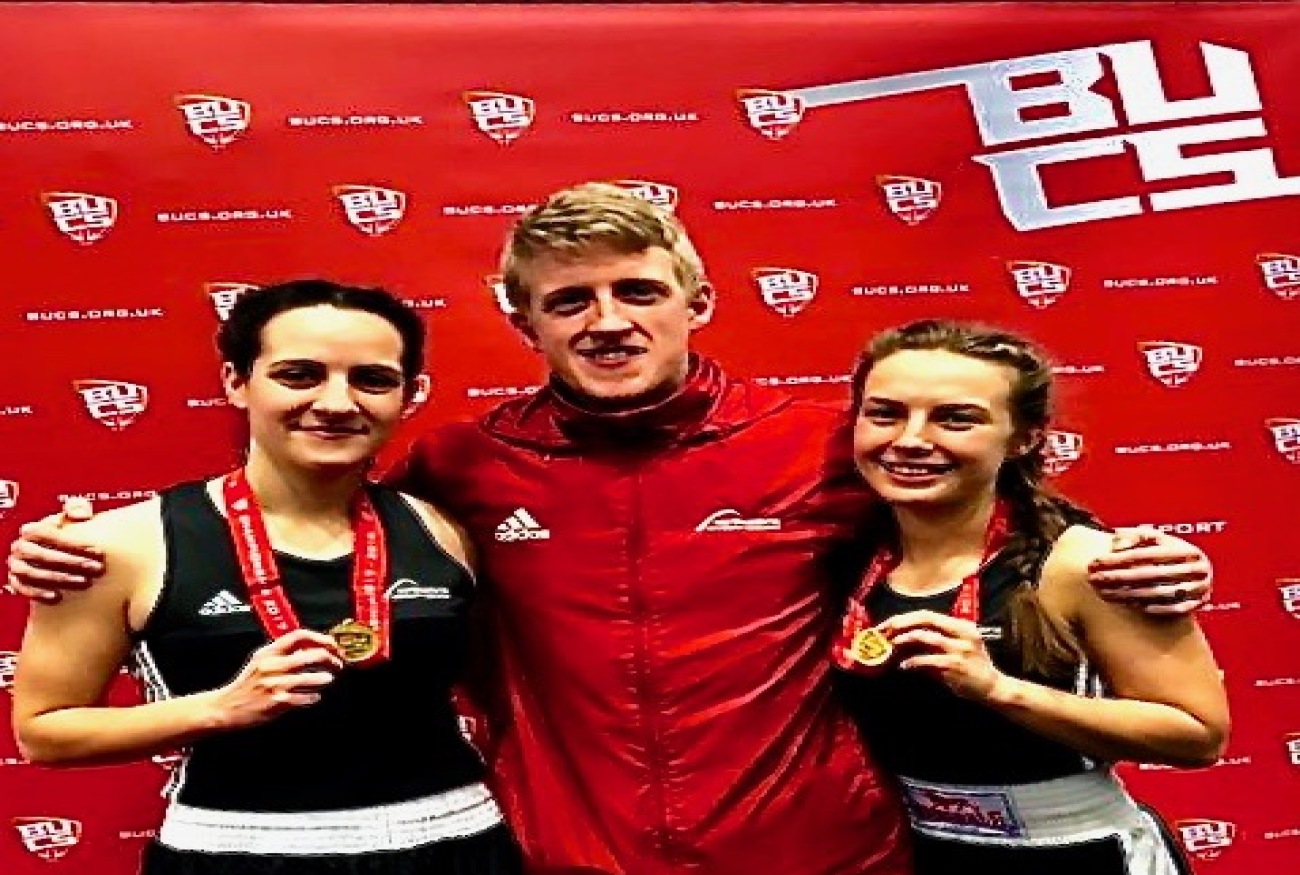 Northumbria University boxing packed a punch at the 2018 BUCS Championships after a 13-strong returned from Staffordshire with two gold medals.
And if champions Hannah Dawson and Adriana Garcia hit the headlines then rising star Alex Farrell also emerged as the unsung king of the ring.
The second year Sport Exercise and Nutrition student was the talk of social media after taking big gun Ryszard Lewicki all the way en route to a semi-final split decision.
The Sheffield fighter and hot favourite – with more than 80 bouts under his belt – eventually got the nod but Northumbria head of boxing Mark Telford said: "Alex can hold his head high.
"Of course he was disappointed to miss out on the final but everyone was talking about his fight with Lewicki.
"People were saying it was one of the best boxing matches the BUCS Championships had ever seen and I can't disagree.
"It was a credit to Alex and the kind of fight that can help put Northumbria on the map as a key player in student boxing."
Dawson and Garcia both overcame the disappointment of 2017 to bounce back in style and take this year's titles in their respective weight categories.
Dawson coasted through the 54kg division before Garcia thrilled the crowd with a first round stoppage in the 64kg competition.
"Both girls winning gold topped things off," added Telford. "Last year Hannah got stopped in the first round of her first fight and she was hugely disappointed.
"Fast forward 12 months and she stopped both of her opponents to win the competition.
"We all thought Adriana was very unlucky last year and I know she felt she was robbed in her semi-final. It's been motivating her all year and this time she went down there and stopped her opponent in the first round of the final.
"For both Hannah and Adriana there was a sense that this was redemption."
Farrell, despite boasting only 18 bouts under his belt, was entered in the open category at the 2018 Championships – normally reserved for fighters with more than 21 fights.
The Northumbria boxer's quarter-final opponent from Liverpool went into the contest on the back of 79 fights.
However, Farrell came out all guns blazing to set up a mouthwatering match against Lewicki – one of English boxing's leading amateurs.
"I asked Alex to step up a level and he took Lewicki all the way," added Telford. "It was fantastic to watch.
"Everyone has bought into what we're trying to do this year and Alex, Hannah and Adriana epitomise our ethos.
"After an uncertain summer we've ended up with a good squad this year and we've been relatively active.
"There are a lot of new faces and we've been working hard to get them embedded in our culture and attitude.
"There's a squad of 20 boxers and the team spirit is fantastic.
"Five made their Northumbria debuts in Staffordshire and there were plenty of positives to take from a great weekend."
The following Northumbria boxers made their finals at the 2018 BUCS Championships: Dawson (54kg), Hasan Ahmed (56kg), Garcia (64kg), Callum Brownstein (64kg), Tom Douglas (69kg), Gary Kadansky (91kg).