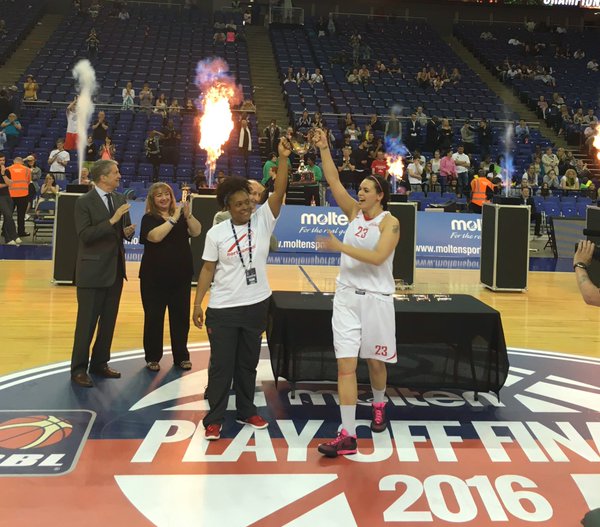 Team Northumbria playcaller Chris Bunten believes North East basketball is finally getting the respect it deserves – after watching his playoff winning roster become the focus of frenzied transfer activity this summer.
The Sport Central club stunned rivals Nottingham Wildcats at London's O2 Arena in the final fixture of the 2015/16 WBBL season to lift the coveted Championship trophy.
However, that thrilling victory only served to highlight the Tynesiders' talent with Europe's top clubs alerted to a programme developing top class players across the court.
"Winning the playoffs was brilliant," admitted Bunten. "However, it put a few of our best players in the shop window and I was braced for a few high profile exits.
"As a coach you know that's part and parcel of the job. And if a player I have coached is offered a professional contract in one of Europe's biggest leagues I see that as a positive.
"It shows other players that Northumbria University's programme is doing something right and puts our name on the basketball map.
"I'm delighted for the players who have secured fantastic contracts abroad and I'd never stand in the way of someone looking to better themselves.
"It's credit to what the University is doing that big clubs are looking at my best players."
Perhaps the biggest loss to Northumbria's roster has been co-captain and dynamic forward Diana Voynova.
The battling Bulgarian shrugged off a knee injury to play a key role in her side's winning end to an historic season.
And big games against Nottingham and Sheffield alerted a number of European clubs before Voynova finally signed for Bundesliga side BC Marburg - bagging nine rebounds on her debut last week.
"Diana had a lot of interest from Germany and it's a great move for her," added Bunten. "She is a quality player who's performed well in Europe in the past. I'm sorry to see her go but I suspected it would happen."
Following Voynova out of Tyneside was influential Irish/American forward Fiona O'Dwyer.
Her two-year stint on Tyneside underpinned the most successful period in Northumbria's history and a number of clubs made offers ahead of the new season.
O'Dwyer finally signed for Italian Division Two side Stabia and Bunten added: "They are getting a player with a superb work ethic and genuine versatility.
"Fiona was incredibly consistent in the WBBL for two seasons and always carried a threat for us."
Bunten will finalise a number of signings this month ahead of the defence of TN's WBBL playoff title. Those players already committed to Northumbria's programme will represent the University in Belgium this weekend [September 9-11] in a pre-season tournament.