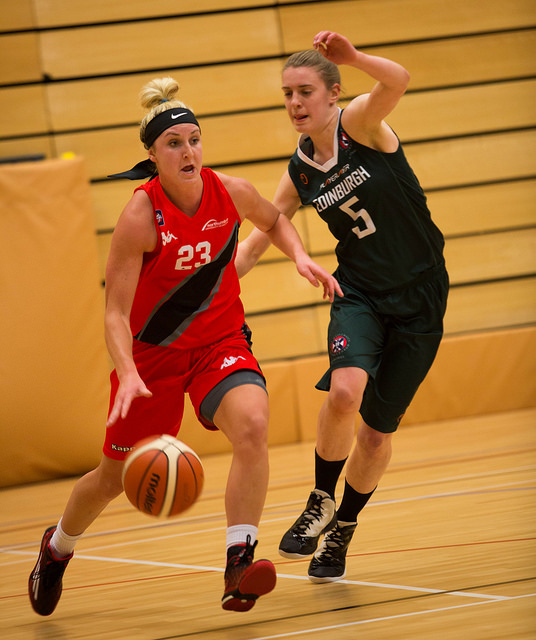 Team Northumbria head coach Chris Bunten admitted he was proud of his team's performance despite a narrow loss to Nottingham Wildcats 66–70 in the WBBL Trophy.
TN made sure they remained in contention - clawing back a 19-point deficit after a poor second quarter.
However, it's been a season fraught with hard luck for Bunten's side and today was no different as they succumbed to their second defeat of the New Year.
"We've been dealt a hard hand with injuries but everyone played really well especially in the second half," said Bunten. "We just gave ourselves too much to do.
"We played well in the first quarter, we took the right shots but we missed far too many. That's out of our control.
"In the second quarter we went away from our defensive plan of being aggressive - we were resigned which allowed them to dictate the tempo.
"We won the second half by 15 points so if you take away the second quarter we would've probably won the game."
Bunten acknowledged that injuries have been an endless source of angst this season, but remains confident he has players capable of winning games.
"We've had no luck this year but I'm proud of the team considering where we are with player availability," he added.
"Everyone came in ready to play and stepped up –Kara (Bonenberger) had a good solid game, and Alison (Gorrell) lead by example throughout the whole match.
"Hopefully Rachael Bland and Cori Burgess will be back at some point in February but the rest of our players are likely to be out for the rest of the season.
"But if we continue to play like we did in the second half I guarantee the girls will get wins.
"Nottingham are one of the best teams in the league – they have had a couple of bad performances but compared to how we played against them before Christmas, we were great.
"This is the most depleted squad we've had and that's the best we've played against Nottingham all season.
"It shows the progression made by the players in training, and as a coach that's all I can ask for – I'm proud of the team and the way they battled today."