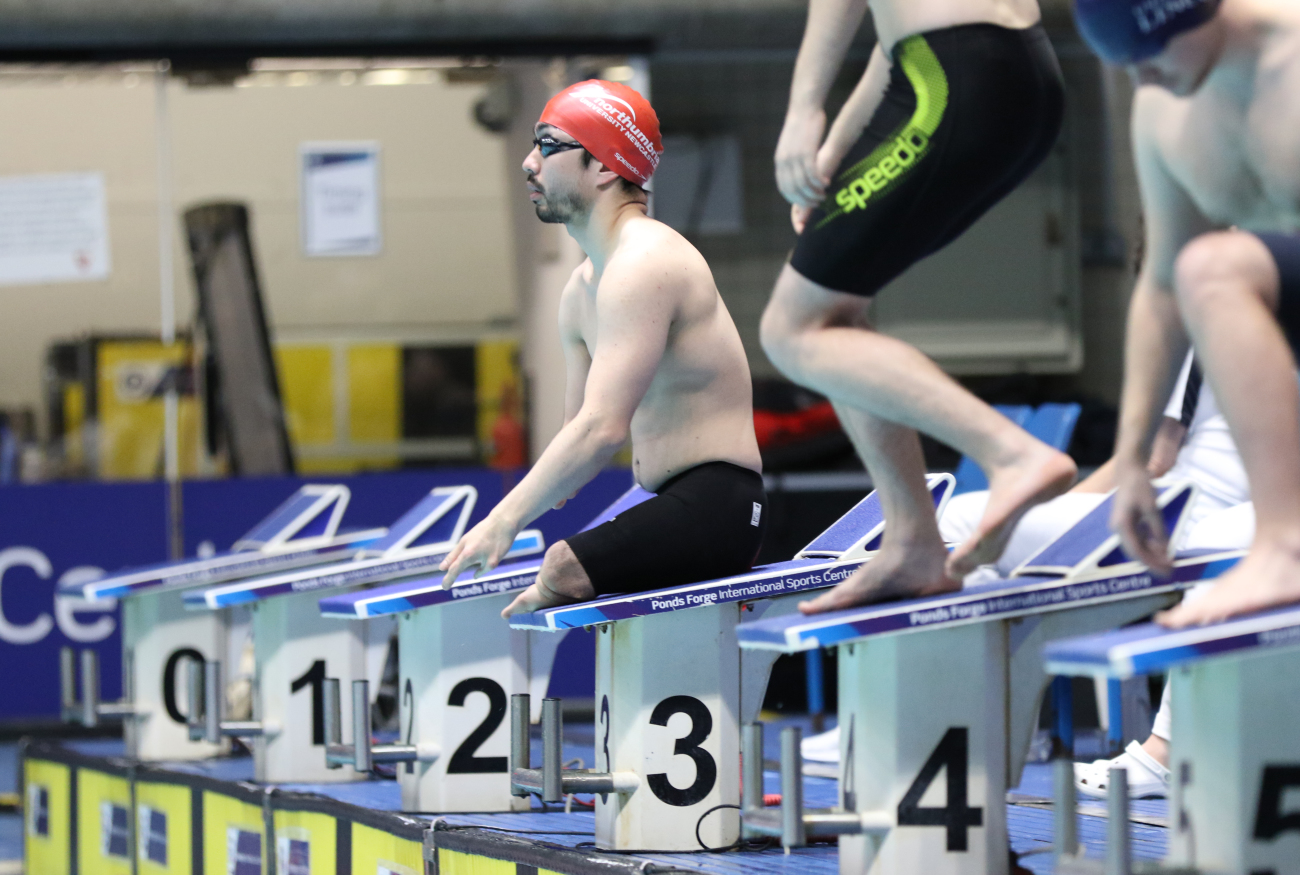 Northumbria University swim star Taka Suzuki has paid tribute to the coaches keeping him on course for Japan 2020 glory.
The Sport Central favourite is one of the faces for the Tokyo Paralympics and is an ambassador for his home games.
But Suzuki is in no mood to make up the numbers after revealing a remodelled stroke – combined with a new strength and conditioning regime – could put him in podium contention.
"There are two reasons why I'm very confident right now," said the 31-year-old Sports Management student.
"I've got a new breathing routine which was decided following discussions with Louise Graham – my swim coach at Northumbria.
"In addition, I've been working on my core training at strength and conditioning sessions with Nick Ridgeon.
"Louise realised my stroke was wider and stronger when I didn't breathe so we decided to reduce the number of breaths between strokes.
"At the same time improving core strength helps my body keep high in the water and glide throughout the 50m.
"I wouldn't have achieved the times I'm getting now without the support of Louise, Nick and Team Northumbria."
Suzuki trialled his new stroke pattern at the World Series events in Sheffield and Berlin – taking the latter event by storm.
"Sheffield and Berlin were training events for the Pan Pacific Para Championships in Australia in August and the Asian Para Games in October," added the Beijing 2008 gold medallist.
"The times weren't great in Sheffield but I was race fit by the time I went to Berlin and the 50m breaststroke was a big improvement.
"It was much faster than the time I clocked in Rio at the 2016 Paralympics and proved the new regime is reaping rewards."
Suzuki has benefited from a positive reclassification in 2018 and is targeting Tokyo in two years' time with renewed confidence.
"It is challenging but I would like to attempt to get under 49 seconds for the first time since the Beijing Paralympic Games in 2008," he added.
"If I can do that at either the Pan Pacific Para Championships or the Asian Para Games I believe it would help to push me back to the top on the podium in 2020."
Ridgeon, in his role as Northumbria Sport's head of strength and conditioning, has been working on Suzuki's core strength throughout the year.
And he added: "Taka is getting back to his very best and he's working harder than ever.
"He's got the bit between his teeth and he wants to put himself in the best position possible to perform to his full potential during Tokyo 2020.
"I know how impressed the Japanese national team coaches have been with what Louise has done to remodel his stroke pattern.
"And if he keeps improving at the current rate he'll do very well at this year's big events."