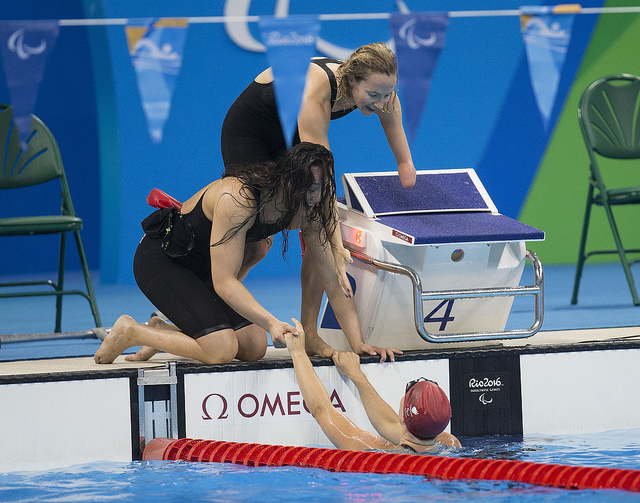 Good morning everyone!
The final results are now in for the Rio Paralympics and I have more great news from the Aquatics Centre…
CLAIRE CASHMORE – World Record and GOLD medal in the Womens 34pt 4x100 Medley Relay!!!
This unfortunately meant that Harriet missed out on a spot in the relay but this is how it works.. The maximum number of points from the 4 swimmers' categories is 34, so the coaches need to decide the best possible combination from the swimmers on the team. The decision was very tight and a close one to call, but they opted for 3 x S8 swimmers (Claire Cashmore, Steph Millward and Stephanie Slater) plus one S10 swimmer (Alice Tai). Harriet would have been in the team as an S9 swimmer alongside 2 x S8 and another S9, and the combined times were only 0.2secs apart.. but that's 0.2sec you can't afford to risk, especially when the Aussies beat GB in 2012 by just 0.03!
It was a fantastic moment for Claire who has been to 3 Paralympics without striking gold, so to do it in her final event of this year's Games was a huge relief. She is now the proud owner of 8 Paralympic medals over the years!
Cashmore commented: "This time it's tears of happiness and not tears of sadness. We've got a fantastic team. We lost by such a small margin in London so to come back tonight and beat the Aussies is such an unbelievable feeling.
"You feel so out of control when Steph [Millward] is swimming the last leg, you are just willing her on. And to get a world record is brilliant.
"It was my last race of this Paralympic Games and I just wanted to finish on a high and we definitely have done that."
ANDREW MULLEN – Silver Mens S5 50m Backstroke & Bronze Mens S5 100m Freestyle
Andrew finished strongly at the competition taking 2 medals in his final 2 events, with 2 new British Records/lifetime best performances. He goes home with the hat-trick and is looking forward to commencing his studies with us when he returns to the UK..
TAKA SUZUKI – just outside his best time in his last event, the S5 100m freestyle. Taka will leave Rio disappointed on the whole, but with 2 finals (finishing 4th both times!) and some new lifetime best performances, he will reflect and review, and then move forward towards next year's World Champs with even more determination!
So here's our very own medal table for the TN swimmers out in Rio……..
| | GOLD | SILVER | BRONZE | 4-8th PLACE |
| --- | --- | --- | --- | --- |
| Claire Cashmore | 1 (Relay) | 1 (100 Breast) | | 2 (100 Fly & 200 IM) |
| Andrew Mullen | | 1 (50 Back) | 2 (100 & 200 Free) | 1 (50 Free) |
| Harriet Lee | | 1 (100 Breast) | | 1 (200 IM) |
| Takayuki Suzuki | | | | 2 (150 IM & 50 Breast) |
Thanks again for the support, have a great week!
Louise Graham
Team Northumbria Head of Aquatics