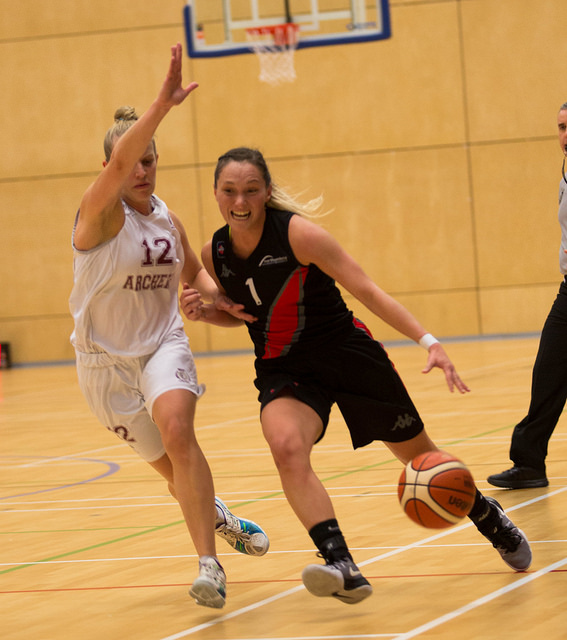 Beaten but unbowed Chris Bunten paid tribute to his battling players as an injury-hit Team Northumbria narrowly missed out on a big WBBL win.
The hosts came within a whisker of defeating in-form Manchester Mystics only to go down 72-70 at the death.
TN went into the Sport Central clash – which doubled up as a celebration of the club'song history in the North East – with just six fit players.
But Bunten was proud of those who did suit up and said: "Despite the loss I'm really happy with the performance of the team today.
"The match happened at the back of a good week of training and it showed in the performance. I couldn't be prouder of my players."
The first quarter ended with Manchester 20-17 up and the visitors extended their lead to eight points at the half.
"We had 13 turnovers in the first half which gave them 21 points," added Bunten. "That showed how clinical Manchester were as they worked off our mistakes. There were instances where we didn't defend the ball the way we should have done.
"We had many opportunities to shoot the ball. But in terms of the effort and commitment from the team and the way TN want to play the game I can't praise my players enough."
The third quarter ended 57-53 to the Mystics as the hosts tightened up on defence and fired themselves back into contention.
"All the girls that payed did a fantastic job," added Bunten. "We've been struggling for performances recently and we haven't been controlling things that we could have controlled.
"That's partly down to the girls and also down to me. We've been really struggling with injuries - with about seven players out – and that doesn't help. But the girls that played against Manchester gave it their all.
"We only lost by two points to a team that are on a winning streak at the top of the table.
"No one likes to lose but there are far more positives to be gained from this match than negatives."
One positive was the performance of TN's Belgian star Chloe Bully. The guard played 40 minutes and claimed 16 points on the way to a richly deserved MVP award.
"I'm really proud of winning this in such a tough match," she added. "I feel I played the best I could so to have that recognised feels great."
Bunten sought to raise spirits after a cruel defeat during a frank but positive post-match team talk. And he added: "If we can continue to focus on the positives and look at where we need improvement - then implement that into training - I really think come January we are going to be a force to be reckoned with.
"The league is so open and competitive this year and we pushed Manchester as close as we could."
TN have two WBBL games to play before the turn of the year with matches against Sheffield and Leicester next month. "Our preparation will turn to these two games and how we can be better for them," added Bunten.