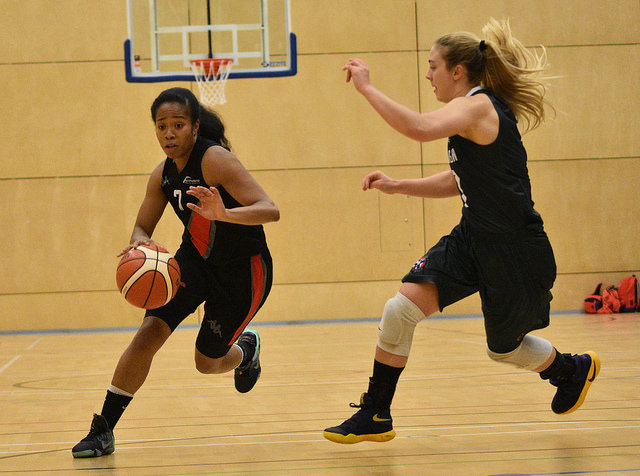 Chris Bunten admitted Team Northumbria have work to do if they are to repeat last season's heroics and bring more silverware home to Sport Central.
The 2016 WBBL Playoff winners finally put a win on the board with an 82-65 victory at expansion franchise Oaklands Wolves.
However, defeat at Sevenoaks Suns 24 hours earlier left Bunten searching for answers after his players failed to stick to the pre-game plan.
"Our defence was poor against Sevenoaks but our offence was even poorer," he said. "Things improved at the offensive end against Oaklands but we were still very poor defensively.
"I don't want to take the shine of our first win but it was a victory we desperately needed and we weren't anywhere near our best.
"I've spoken to the players about what we need to work on and I'll be looking for the right response against Cardiff at Sport Central this weekend."
TN had looked ready to pick up where they left off at London's O2 Arena in May with a battling defeat against Nottingham Wildcats earlier this month.
But a dispiriting loss against a Sevenoaks side featuring ex-TN favourites Cat Carr and Ta'Yani Clarke put Bunten's side on the back foot.
"It didn't help that we were missing Nicolette Fong Lyew Quee and Rachael Bland for the Suns game," he added.
"Nic was serving a ban after she picked up a disqualifying foul in the Betty Codona Classic. "That still rankles with me as I was under the impression that it's a friendly tournament and therefore wouldn't impact upon the WBBL.
"Having said that both Nic and I accepted the seven-point penalty she received that day but then Basketball England added a further three-point penalty – meaning she missed the Sevenoaks game.
"I'm still waiting to hear back from BE on why that further penalty was incurred. There has been no explanation and all I want to see is both clarification and consistency from the governing body.
"I am amazed that Nic can pick up an extra penalty when Sheffield and their coach escaped without any penalty following last season's playoff semi-final at Sport Central.
"Anyone who saw that match and the way that the officials were treated would feel the same so it leads me to think that there is a lack of consistency that needs addressing urgently."
Bunten was able to bring Fong Lyew Quee back into his starting five at Oaklands and the difference was stark.
"Offensively we were a different team," he added. "The passing was more focused and more confident and we stuck to the task in hand.
"As I said I still think we have a lot more work to do at the defensive end and we can't afford to take Cardiff lightly on Sunday.
"They have plenty of weapons and we would be foolish to look at their league position alone.
"But we have Abi Asoro back and she will only get better. If we can get Kara Bonenberger over the line then we'll have a significant inside presence and we'll start to pose a few more problems."