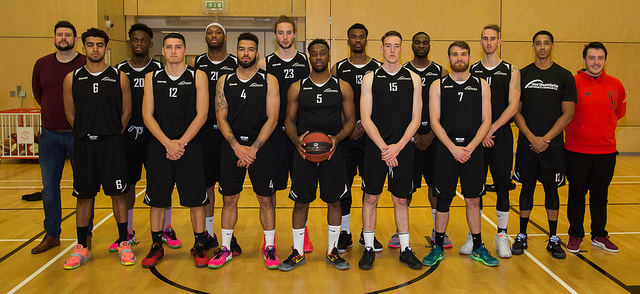 Marc Steutel insists Team Northumbria's place in the 2017 EBL Cup final is just reward for those players who have continued to commit to a fast-improving programme.
The Sport Central club will face Team Solent next month after downing Derby Trailblazers 73-70 in a thrilling Final Fours showdown.
And Steutel admitted he was 'thrilled' for everyone associated with Northumbria University and Newcastle Eagles.
"That was a victory for the payers, the staff and the programme," he said. "I couldn't be prouder of the fact that my guys showed such resilience and stayed the course.
"We had the toughest of draws and credit to Derby – they dominated for long periods of what was a very, very difficult match.
"At one point in the third quarter we trailed by as many as 15 points and most teams wouldn't have come back from that.
"But the guys dug deep and got back to doing the things that we place so much emphasis on in practice."
The Trailblazers flew out of the blocks to lead 25-17 after the first quarter and TN trailed by 10 at the half.
The hosts still held a four-point lead heading into the final period but by then the momentum was with Steutel's side.
And he added: "I don't want to single anyone out as so many of the guys made such a key contribution.
"But when I'm looking at the guys who really deserve a shot at silverware in the New Year it's people like Jack Preston.
"He was so consistent against Derby – as he has been for a few weeks now – and he's a guy who's been part of the Northumbria University programme for four years.
"There are a few like him: players who have been through the challenging times as well as the good times.
"They will relish their chance to play in a final and they deserve to be there."
TN can now put their Cup campaign to bed until January 22 and concentrate on reinforcing their position at the top of Division One.
That starts with a homecourt clash against Westminster Warriors on Sunday – the club's last fixture of 2016 – and Steutel added: "We need to focus on that.
"We've worked so hard to get to the top of the table and we want to go into the Christmas break still there.
"We have to make sure we approach the Westminster game with the right mindset and forget about the Cup for a few weeks."
TN host the Warriors from 3pm at Sport Central on Sunday.