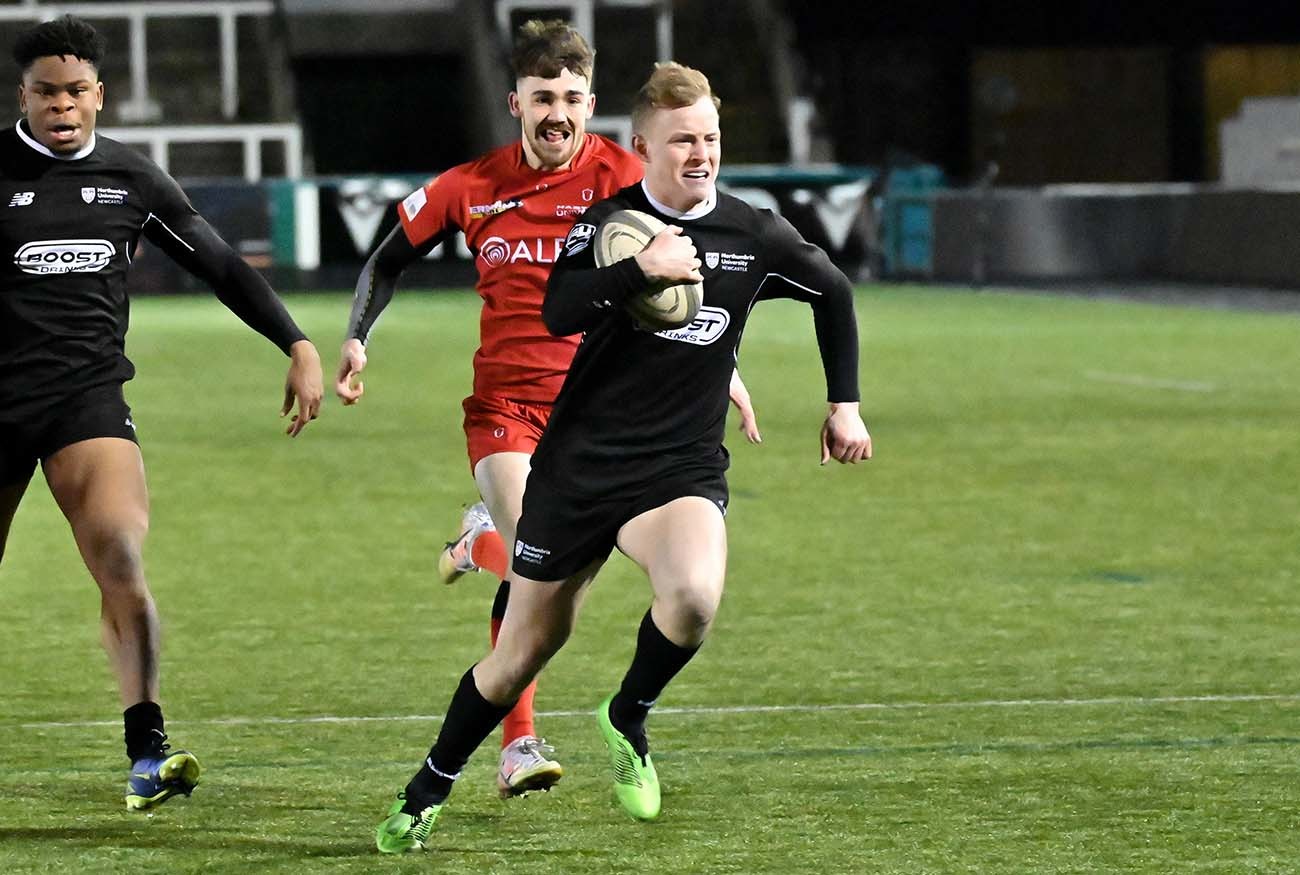 Jon Bensons Men failed to capitalise on the home advantage and return of senior players losing at home to Hartpury University on Friday - But a gritty second half performance showcased the potential and work effort of the squad.
Hartpury were out of the blocks and quick to take the lead 0-10 with a penalty and unconverted try by 10 minutes. A dominant performance and a further 4 trys saw Hartpury lead 0-36 as the half came to a close.
Drawing a line under the first half, Northumbria came onto the pitch ready to fight back and were rewarded by an early try in the first minute of the half which was also successfully converted. 7-36.
Just 2 minutes later, building on the early momentum Northumbria were rewarded with 5 points after George Pringle ripped through the Hartpury defence in a superb solo run from the halfway line. 12-36.
Hartpury we're quick to respond and dampen Northumbria's come back attempt scoring twice in quick succession extending their lead to 12-50.
Not ready to stop the fight back yet, Bensons Men scored a further 2 trys with successful conversions narrowing the gap to 26-50.
But with just 15 minutes left of the game the lead was too much to overturn and Hartpury's consistency in game play was rewarded with a final try at 75 minutes. Final score 26-57
Acting Student Sport Manager, Kate Hansbury commented on the game:
"I was so proud of how the team came out in the second half and really took the game to Hartpury. There's loads of positives for Jon and the team to take from this performance."
Head of Rugby, Jon Benson agreed:
"I was really pleased with the attitude in the second half. This showed on the pitch as we were able to cut down on their driving mauls. Our discipline wasn't there in the first half which was disappointing and left us too much to do even with the positives of 4 second half try's"
Northumbria Men's 1st XV next game is away to Swansea on the Wednesday 9 February