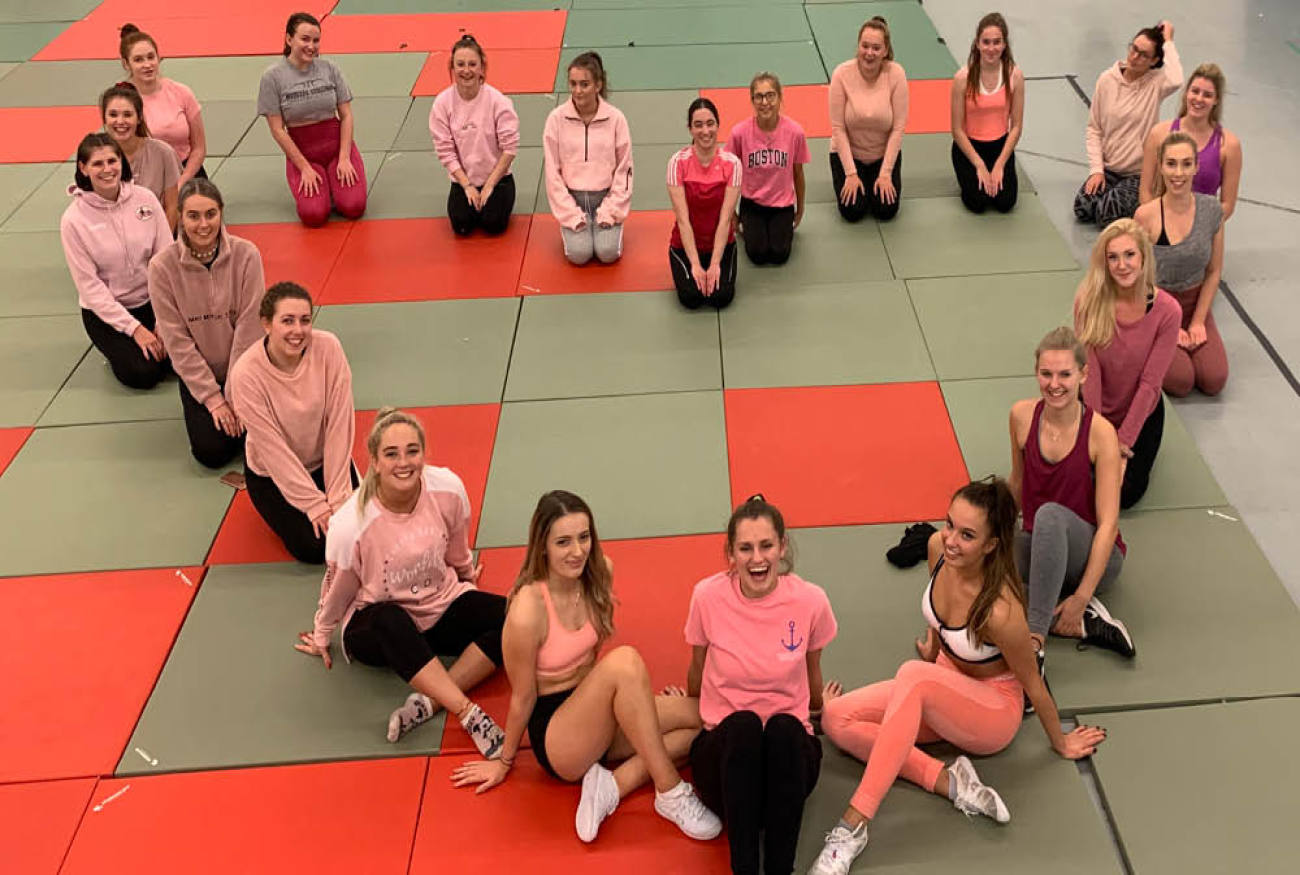 The Northumbria NorthStar's cheerleading team have been working hard this month learning new and exciting stunts for our upcoming routines. This year we have two teams competing, our level 1 team 'NorthStar's Red' and our level 2 team 'NorthStar's Black Co-Ed'. Each containing up to 30 members. On top of this, we also have two additional competitive dance teams. Our routines combine acrobatics, gymnastics, stunting, and jumps and dance to create a routine lasting two and a half minutes long.
We will be travelling to compete at future cheer in Manchester this February and hopefully will be reclaiming our title as FC Grand national champions for Northumbria University!
We have a fanatic coach this year, Bryony Moyle from North East Cheer, who comes in to choreograph our innovative routines. It is hard work, but we still enjoy the training and it's all worth it when we hit the competition floor feeling proud and confident with our routines!
Our dance captain Abbie Nichols has also been working hard running our dance auditions that took place last Thursday, we had lots of interest in both teams. Our Lyrical dance team is a dance style that blends together ballet and jazz and our Pom routine's main focus being on interesting formations, cheerleading jumps, sharp staccato arm movements and tumbling. We will be developing our routines soon, ready to compete nationally! There's lots of exciting things ahead! The atmosphere of a Cheerleading competition is the most amazing thing – everyone is cheering the whole time and there is an exciting buzz that fills the whole day.
Our training sessions are mainly for learning new skills and then enhancing them so that we are at the best of our ability by competition. We also have regular fitness sessions because our routines last two and a half minutes so need to ensure that we have the stamina to be going for that long. Training isn't always so serious though, we also have fun sessions mainly for team building filled with games and the occasional fancy dress.
We hear often hear people say, is cheerleading really a sport? Yes, it really is, and one that we're good at too. Cheer is a sport that we cannot recommend enough. It's tough, requiring strength, agility and willingness to work hard, but the team spirit is fantastic and we absolutely love it. Cheerleading isn't just for girls or dancers or gymnasts; cheerleading is a sport for anyone and everyone.
Our team is also very passionate about fundraising, In October the Northumbria North Stars raised money and campaigned for the charity Young Minds UK, who are there UK's leading charity committed to improving the emotional wellbeing and mental health of children and young people. In support of their #helloyellow campaign for World Mental Health day we all wore yellow to training and showed our support.
Our Cheerleading President
I joined the team with no experience in cheerleading at all. I didn't even know what cheerleading was! I thought it was just for girl who would dance with Pom Poms. Little did I know that cheerleading would become the most unbelievable and incredible experience of my three years at university, forming friendships to last a lifetime. I instantly felt welcomed to the cheerleading team and with the guidance of our coaches, I pushed myself as an athlete to produce award winning routines which we are extremely proud of. So far I've had so much fun leading the team this year as its president and can't wait to see what's in the future for our NorthStar's!
By Iona Irwin