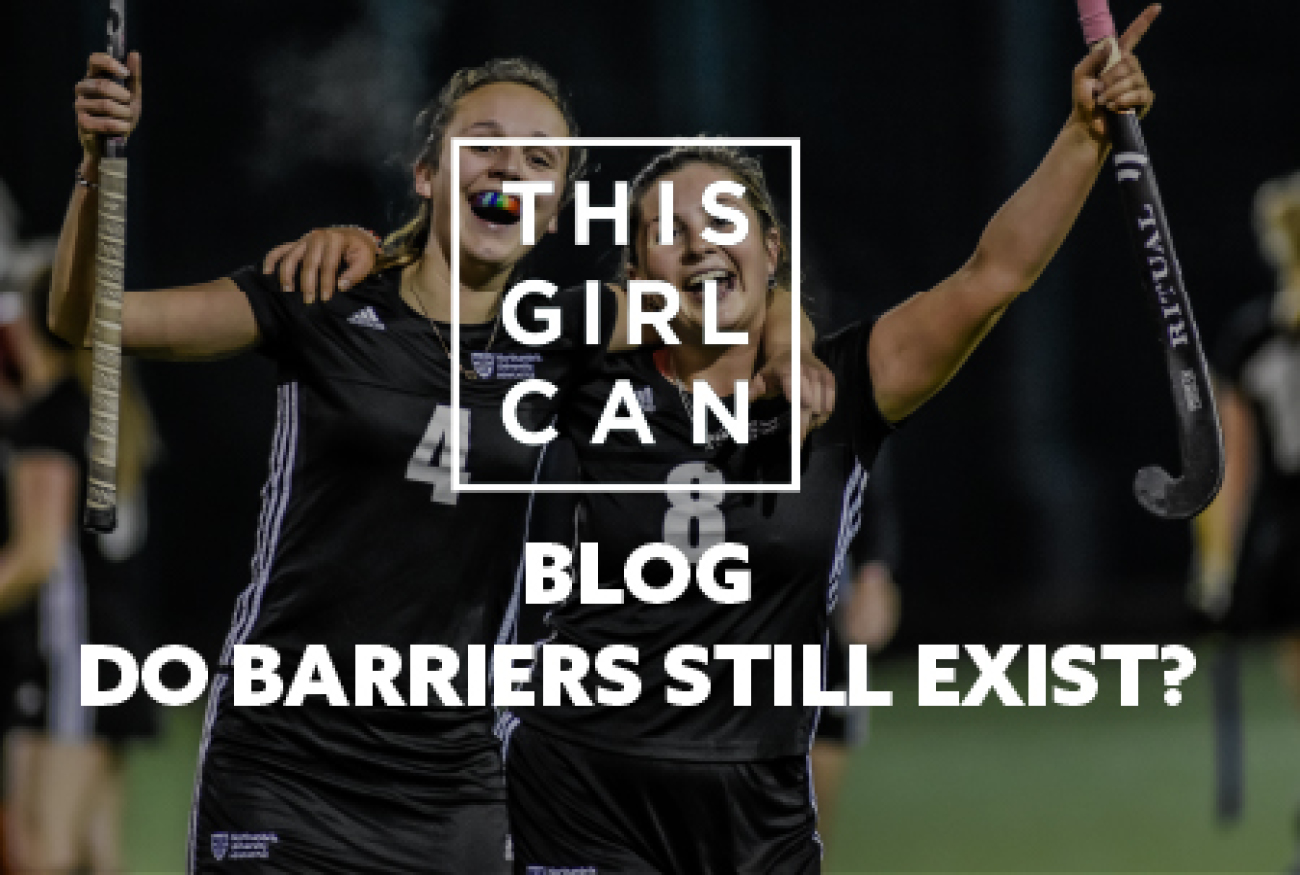 As part of This Girl Can Week our Social Sport activator Megan Higgs us takes us through barriers facing females in sport:
It comes as no surprise to people that know me, that sport has always been a huge part of my life. For as long as I can remember, my weeks have revolved around training times and game days whilst everything else took a bit of a back seat.
Since I was young, I've played a variety of sports including football, netball, rounders, tennis and cricket. However, my primary sport, and the one I still play now, is hockey. One of my earliest memories of playing hockey was at the beginning of secondary school where I had become increasingly preoccupied with a desire to be on the pitch as oppose to in the classroom. I came home to find my parents holding a hockey intervention "listen I know this might be hard to hear but…either improve your grades or give up hockey". It's safe to say I never made that mistake again!
I do have to admit that at the time I didn't really see where they were coming from. I had high aspirations for my hockey career and couldn't understand why I would need to worry about my grades if I trained hard enough. It was only later when I realised the difficulties that females actually face in sport and how limited my chances were at becoming a professional athlete.
Nearly three quarters of females don't regularly take part in a sporting activity and what is even more staggering is that 92% of females that do participate have never considered a career in sport. One of the main barriers for females when pursuing a career in sport is the gender pay gap. As of 2018, the average pay gap in the UK for football teams was £21.5m, cricket was £2.6m and golf £530,000. To put this into perspective, the money received by an average male footballer is nearly 40 times higher than his female counterpart.
Despite these shocking statistics, I discovered a much bigger and less acknowledged barrier to females in sport which was the lack of sports which are perceived as 'female sports' whereby a woman can achieve 'professional' status such as netball, hockey and lacrosse. A female hockey player who is centrally contracted to a top tier team in the UK will earn around £20,000 a year. They make the rest of their money through coaching, sponsorship and public speaking. In other words, in order for females to have the highest chance of earning enough money as a professional athlete the majority have to play a sport which is perceived as male.
Another barrier to females in sport which I have experienced is a lack of female role models. Take Jessica Ennis-Hill for example, an amazing athlete and great role model but the majority of people wouldn't have recognised her until after London 2012. This is mainly due to the lack of representation in the media! Female sport only accounts for an average of 4% of live sport TV coverage. For young girls such as myself with aspirations of a career in hockey, there was very little to aspire to and show me what I could achieve. This abysmal level has seen positive shifts for exceptional moments such as the Olympics andThe Womens World Cup.
Despite these barriers, women really are making waves in the sporting world. Females are taking an increasingly active role in sports by becoming more visible, assertive and active in a way that goes beyond the pitch or court. The hurdles that once seemed unbeatable to females in sport are slowly being overcome on and off the playing field. The first female referee has officiated a premiership rugby match, 4 million people watched the England lionesses play the Netherlands in the world cup semi-finals and BT sport signed a deal to show all hockey games after the Olympic gold medal win (which definitely does not help my obsession – or uni work!).
One of the most influential campaigns for females in sport is the This Girl Can campaign. Launched in 2015, they have successfully persuaded nearly 3 million women to get more active. With an aim to reduce the gap and inspire more females to participate in sport, it has been labelled as a 'powerful evolution'. The campaign has seamlessly and unapologetically joined the often 'taboo' conversation of females in sport and appeals to both busy working mums and young sporty girls like myself who just needed something to aspire to!
I'm so glad that Northumbria University Sport are supporting the This Girl Can Campaign and the movement to help females feel more comfortable and inspired within sport. So, whether you want to simply enjoy yourself by getting active or want to help change the stigma surrounding women in sport, This Girl Can week has something for you!