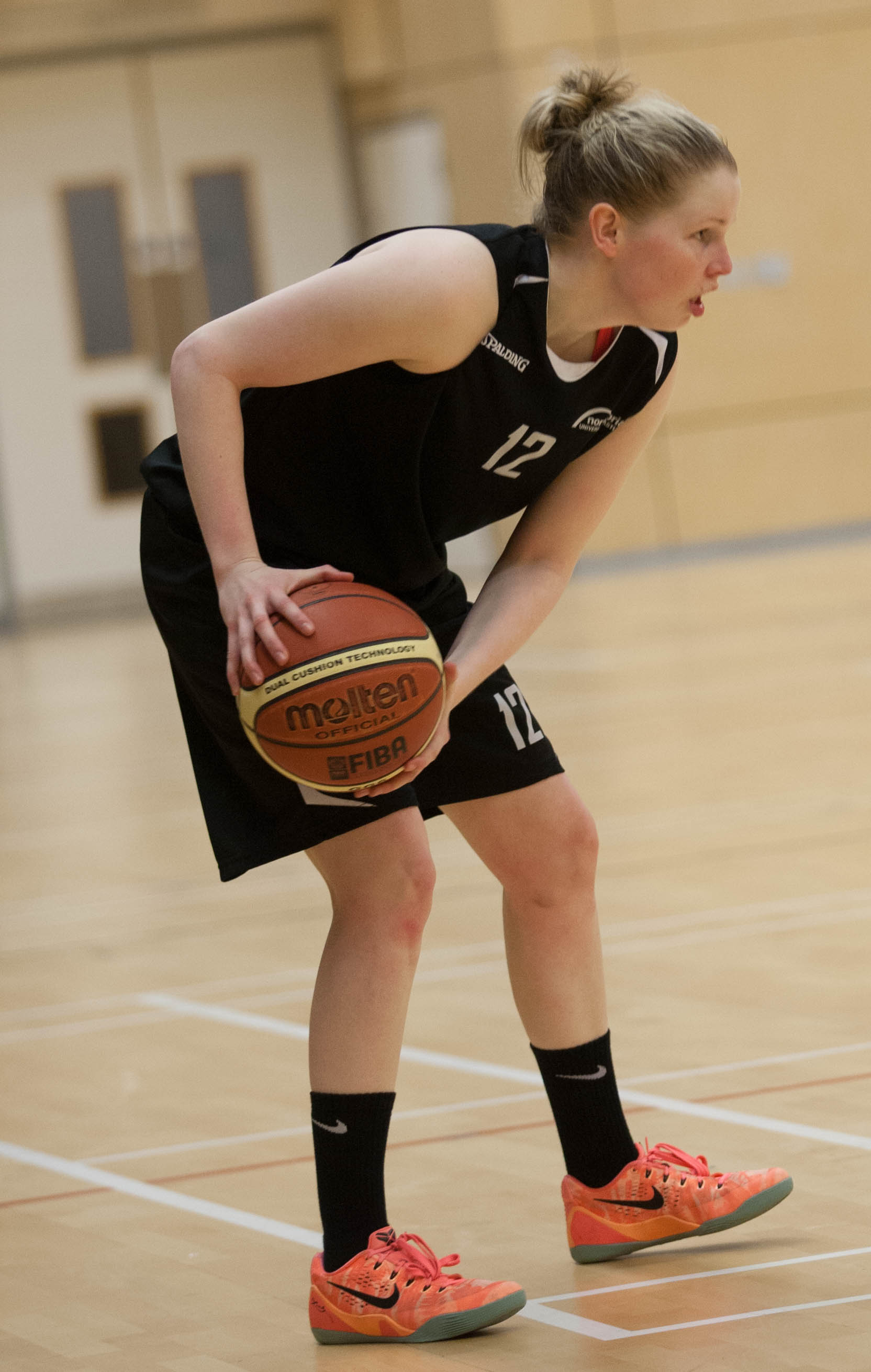 Molten WBBL Play-Off winners Team Northumbria have wrapped up their roster for the 2016-17 season by bringing back the influential Rachael Bland and four other fellow Brits.
Bland will play her third WBBL season for the north-east side, having established herself as one of the cornerstones of the team. And, her continued inclusion in the squad is a big boost for TN play-caller, Chris Bunten.
He said: "Returning Rachael is huge for us, as she has a wealth of experience and is an all-round and complete basketball player, with a very high IQ. She spent a lot of last season injured and is looking forward to this season with hopefully no or at least less injuries!
"Rach is a player who makes everyone around her better, she is one of the best movers off the ball, creating opportunities for her or her team-mates. She also has a great catch and shoot game and has been working hard on her dribble pull-up this summer.
"I think a lot of teams now know her and how valuable she is to our programme. She can fill up the stat sheet without you realising, she gets extra possessions through offensive boards or deflections and always seems to be in the right spot at the right time!
"She will be a captain of this new-look team with another third year player for TN in Nic [Fong Lyew Quee]. These two will help lead by example and will share their unselfish brand of basketball to make the team better," added Bunten.
Bland is joined by a wealth of other returnees in Lucy Buxton, Hannah Joyce, Sarah Birkett and Jodie Tucker, who will all compete for court time from a long and talented TN bench.
"Lucy has looked amazing this pre-season in trainings and in games," revealed Bunten.
"I am really wanting to utilise Lucy's skill-sets and athletic ability this year, as I didn't use her to her potential last year.
"It is very hard for Lucy as she is in her final year studying a masters in physiotherapy which is not only academically very demanding but she works in hospitals on placements in 8 or 9 hour shifts, some 5 days a week and yet she balances all her commitments very well.
"I am excited to see her in action and enjoying basketball again this season,"
He continued: "Jodie and Sarah are going in to their third years here at Northumbria University and so far during pre-season, they have both shown great maturity.
"Jodie stayed in Newcastle this summer and worked tirelessly with our strength and conditioning coach, Tom Walton to get in great physical shape and so far this has been paying off. Jodie understands her role on the team and will play back up point-guard to Nic. In the recent games in Belgium and against Caledonia Pride, Jodie's performances got better and better, as she continues to improve and take more accountability.
"Sarah has one more year left and has developed massively over the past two seasons! She is a massive energy player and never needs to be asked to give 100%. I complement Sarah's attitude, commitment and work ethic, while she has really worked on her mid-range shot and is lethal from the short corner positions. She is an ever improving defender with her will and passion being her greatest attribute.
"Finally, we also have Hannah e back for a third season in the WBBL too! Last season she was hampered by injuries but during our winning streak before Christmas when we then lost Diana [Voynova], Ta'yani [Clark] and Rachael [Bland], Hannah stepped up against a tough Leicester Riders team to have a career high WBBL performance.. So far in pre-season she has also impressed and we all know how deadly her shot is.
"We need her to stay injury free and put a good run together. For me it's important to have great local talent like Hannah contribute and show other local players that if they work hard, they can play for their local team at the top level.
"To have all these three players back from last year's championship winning team is huge for us. All players constantly show improvements in training and pre-season friendlies and that will benefit us hugely, come to the business end of the season," concluded Bunten.