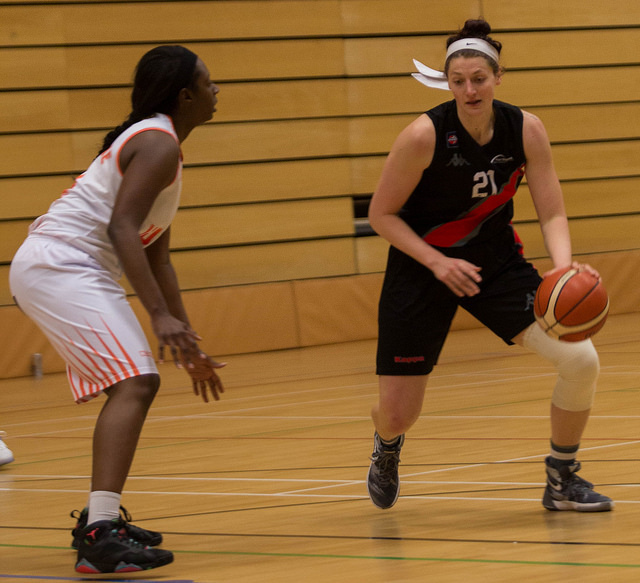 Team Northumbria pulled off one of the WBBL shocks of the season after bringing down arch rivals Sheffield Hatters at Sport Central.
The Steel City side arrived on Tyneside sitting pretty in second place with just two top flight losses all season.
And the Hatters made their second visit to the North East in seven days buoyed by a big Trophy win against TN the previous weekend.
"I doubt anyone thought we would win," said coach Chris Bunten. "However, we all knew what we could do and we worked incredibly hard in the week leading up to the game.
"We'd had a good look at Sheffield the previous weekend and we knew we weren't too far away.
"My players executed the game plan to perfection and there will have been a few sides sitting p and taking notice as the score started to slip out on Sunday."
A 93-83 win against Sheffield moved TN to 5-5 in the WBBL - just six points shy of the second-placed Hatters with eight games to play.
Four of the club's last six matches are at home and Bunten hasn't given up hope of gatecrashing the top four ahead of a defence of the club's 2016 Playoff title.
"The work rate, energy and togetherness of this group showed why our season isn't over just yet," he added.
"We have talked all season long about the adversities we have had to face but this group refuses to use that as an excuse.
"In my opinion I have the best point guard in the league in Nicolette Fong Lyew Quee.
"I have the best combo and scoring guard in Ali Gorrell and the best post player in Kara Bonenberger.
However, now more so than ever, we need other players to step up which they did in a big way against Sheffield.
"Rachael Bland coming back from injury was pivotal as she only missed one shot and scored 17 points.
"We had five players in double figures, we shared the ball well and I put a lot of trust in my senior players offensively. They repaid that trust and then some."
Runaway leaders Nottingham Wildcats - who TN defeated in the Playoff final at London's O2 Arena last May - look certain to clinch the regular season title.
However, Bunten added: "We need to continue to improve from here and look to start making a run and prepare for BUCS final 8s and the playoffs.
"We know we can upset the odds now so we just need to continue to work hard.
"As always Nic, Ali and Kara were awesome at both ends against Sheffield but we were helped enormously by Noelia Quintas and Rach."