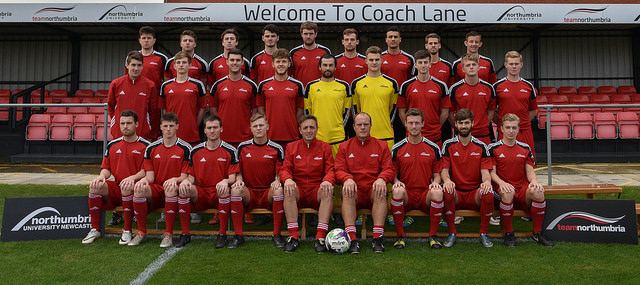 Colin Stromsoy hailed a 'dominant' victory from 10-man Team Northumbria as they defeated Ryton & Crawcrook Albion 2-1 at Coach Lane.
Northumbria looked to hit struggling Ryton with confidence and aggression from the get go, resulting in an early goal - as well as a first half red card.
"We were determined to get in and around them really quickly and we wanted really high intensity," said TN manager Stromsoy.
"We expected Ryton to drop off and play a low block and that's exactly what they did.
"So when you're playing against a team like that you play on the counter and you have to be good in possession and for the vast majority of the first half we did that very well.
"We scored a good goal but unfortunately before that goal was scored Kevin Carr was provoked. Unfortunately he kicked out and I've got no complaints about the sending off.
"We didn't let that get us down. If you'd arrived late at that game you'd have never imagined in a million years it was us with ten players – we were totally dominant."
TN went into half time 1-0 up on the back of a Joel Bradley strike but Ryton's goalkeeper kept his side in the game with a string of saves.
"I expected them to change tactically at half time," added Stromsoy.
"They pushed an extra man forward and they've got the goal back but it sparked us up and gave us more life.
"At that point I decided to change up tactically - we went three at the back and pushed an extra player into midfield.
"They went down to 10 men with an injury but ultimately Aidan Heywood scored a very good goal in behind and the second half performance totally warranted the three points."
Team Northumbria take a trip to 13th place Tow Law Town on Saturday in Northern League Division Two.
Johnathan Ramsay