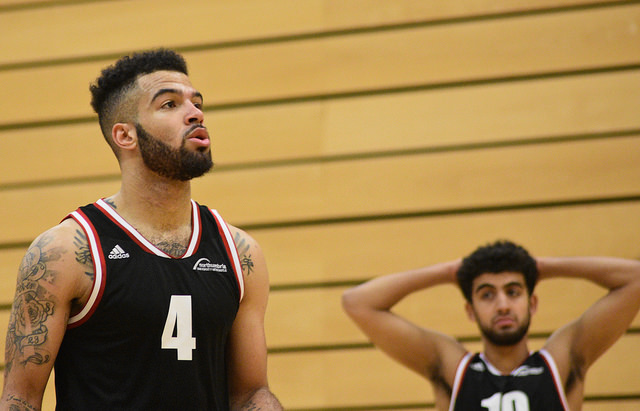 Marc Steutel praised another magnificent effort from his in-form Team Northumbria after the Division One table-toppers booked their place in the Final Fours of the National Cup.
This week's draw features top flight rivals Derby Trailblazers and Team Solent plus the leaders of Division Two – Kent Crusaders.
And Steutel believes his players are capable of beating any team following this afternoon's 92-82 quarter-final win at Bradford.
"I'm so pleased with the guys - and for the guys," he said. "They were focused and decisive at Bradford and the first half performance was exceptional.
"The pace of the game changed after half-time but we adjusted well and made sure that we maintained control.
"We responded and we executed our plays even though the Dragons tried to change things up.
"There were so many pleasing contributions across the court. The scoring was dominated by Lewis Champion, Malcolm Smith and Jack Preston but that only tells half of the story.
"We know we can rely on those guys for some big points when it matters but the win was all about team basketball.
"Of course we'll have one eye on the cup draw this week but we have to stay focused on the next challenge and a home game against Hemel next Sunday.
"We want to win our final two Division One matches of 2016 and head into the Christmas break on top."
Champion (27), Smith (24) and Preston (23) led TN's belated assault at Bradford after the visitors found themselves 16-14 down following a tight first period.
Steutel's men exploded into life in the second – hitting 30 points in a 10-minute blitz that turned the tie on its head.
TN surpassed themselves in the third quarter to pour 32 points on a shellshocked Bradford and all but secure their passage into the Final Fours.
Just 24 hours earlier a scrappy victory against the previously unbeaten Loughborough Student Riders saw the black and reds maintain top spot in Division One.
TN survived a late scare to close out a 74-68 win and Steutel admitted: "The performance could have been better. But the outcome was great."
Skipper Siman Stewart bagged 20 points against the East Midlands side who arrived on Tyneside with a 6-0 league record.
And the forward said: "It wasn't our best performance but we got the win and that's the most important thing.
"We kept our composure at the end but we probably should have put the game away earlier. As long as we win really that's all that matters.
"We're on a bit of a winning streak and I think we're improving more and more each game. "We've still got a lot of work to do but we're heading in the right direction. Morale is good - obviously winning helps so as long as we keep winning everyone's pretty happy.
"We have played a lot of our matches at home and the run of away games will be more difficult. But at the end of the day it's still basketball so whether we're on the road or at home we're quite confident that we can still get wins.
"We've played all of the teams near the top of the table but we don't overlook anybody. Every team in the league is competitive so we just treat every team with the same respect."
(Additional quotes from Lottie Steele)