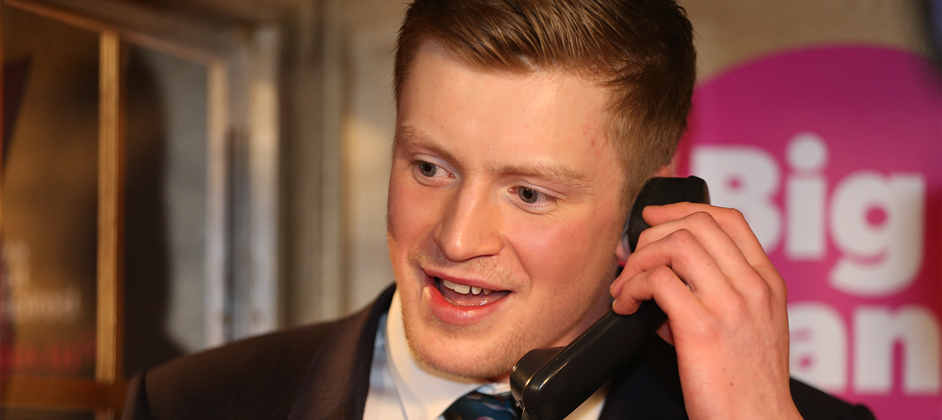 Two of Northumbria University Sport's top volunteers could be chewing the fat with global superstars this weekend – after winning the chance to chat to a legend.
Claire Harper and Siddesh Iyer have been nominated for a #BigThankYou phone call from one of the athletes attending Sunday's BBC Sports Personality of the Year event.
And they've been told to put friends and family on hold as they prepare for a potentially life-changing conversation with a sporting celebrity.
The #BigThankYou is the UK's biggest celebration of sports volunteers – Harper and Iyer were nominated to receive a call due to their continued commitment to sport at Northumbria.
Both students are familiar faces on the University's sporting scene and have been told to expect a call anytime between 3.30pm and 6.30pm on Sunday.
"This is so exciting for both of them but they fully deserve their nominations," said Kate Hansbury, Student and Staff Development Officer for Northumbria Sport.
"We are so lucky that there are so many students here who give up their free time to support sport.
"Claire and Siddesh are just the tip of the iceberg but they both go the extra mile to make things happen. We're all keeping our fingers crossed that they're chosen for a call this weekend!"
Harper has been a prominent figure on the Northumbria University basketball scene for a number of years now.
And Hansbury added: "Alongside studying MSc International Sport Management at Northumbria, Claire completely devotes her free time to volunteering in and playing basketball and wheelchair basketball.
"She is a fantastic advocate for both sports for the University and in the North East. Claire also volunteers for Team Northumbria as the Women's Basketball President where she ensures the successful running of the club so that female basketballers can participate and compete on a weekly basis.
"Earlier this year Claire undertook a new challenge when tasked with creating a brand new Wheelchair Basketball programme at Northumbria University. She linked with the Percy Hedley Foundation to create the club completely from scratch.
"It started in February this year with nine members and currently has 18 members and two volunteers which is all down to Claire's hard work.
"Not satisfied with establishing the club, she then entered the new club in to the Wheelchair Basketball University Championships and successfully got together a team to compete."
Iyer left his home in Mumbai to complete a degree at Northumbria University in Sport Management - with the aim of gaining valuable skills and experiences he could take back and improve the lives of children through sport in India.
Hansbury added: "Siddesh soon made an impression on Northumbria Sport staff due to his involvement in and support of our football participation programme.
"His great work promoting the programme - and engaging with students who weren't involved in sport - was recognised through the Northumbria Sport Volunteer Programme where Siddesh contributed more than 50 hours in one semester.
"He assisted with administering three football leagues and helped to inspire 248 students to get involved.
"This year Siddesh is continuing to drive participation in - and promote - the NORTH football intra-mural leagues. He has helped to increase participation in the leagues with 436 players competing in four leagues since September!
"He's gained his Level 1 Football qualification to help him improve and add value to the programme and he is also interning at Northumberland FA where he is making a positive contribution to promoting football in the community."