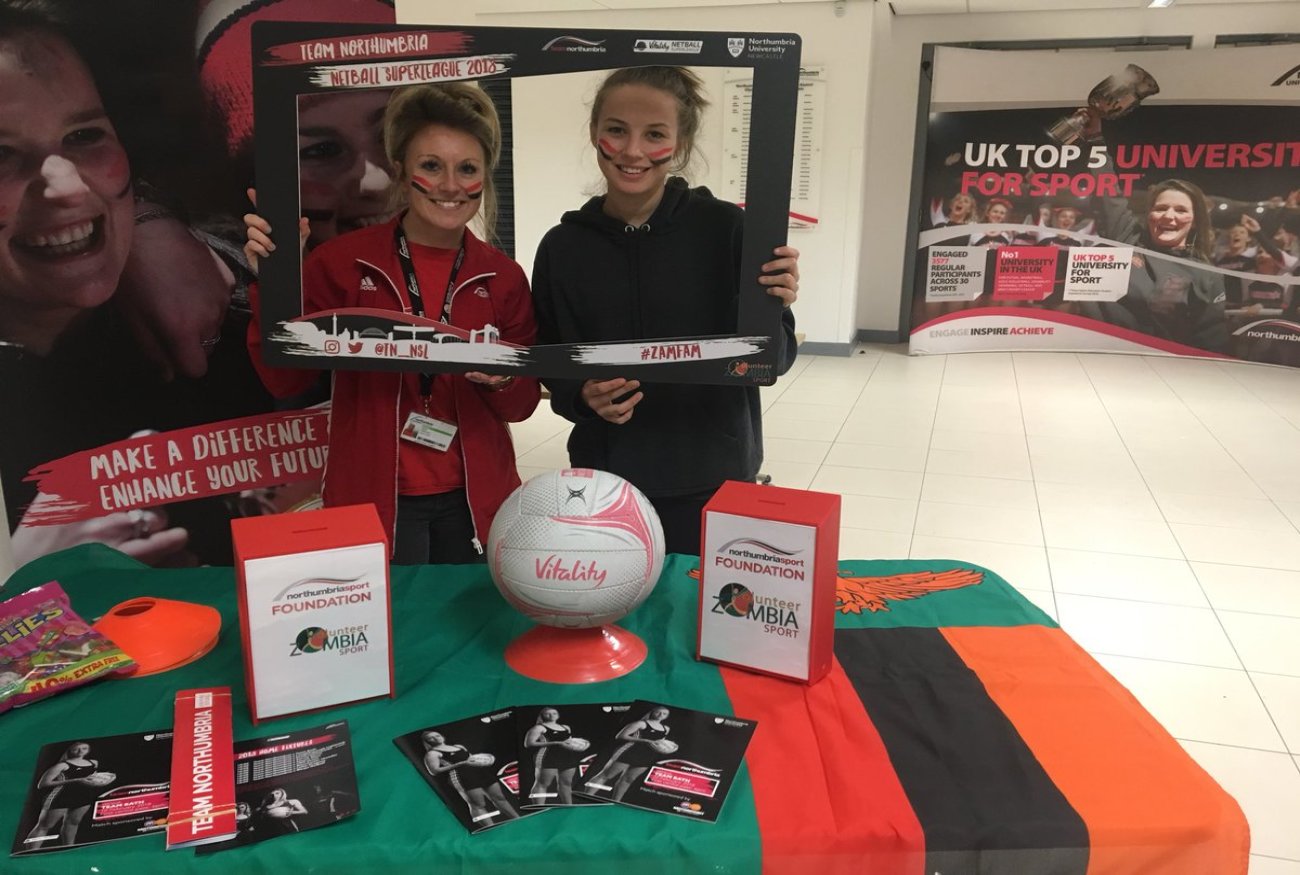 Northumbria University's Zambia-bound students are closing in on their mammoth fundraising goal with this year's African adventures just months away!
The six-strong Volunteer Zambia team have set themselves a £3,600 target – focusing on a series of one-off events to raise the programme's profile and secure invaluable cash.
More than £1,500 has been raised to date and the dedicated team is determined to add to the coffers in the coming weeks.
"The Volunteer Zambia students made an impact at the NORTH Christmas social, held Mince Pie Mondays, organised the Zambia Christmas raffle, joined fans at the Team Northumbria Netball matches and staged the Great Zambia Bake Off, to name a few," explained designated Northumbria Sport staff member Sarah Stephenson.
"The team has also arranged to fundraise at the rearranged Newcastle Eagles v Worcester Wolves basketball match on April 3 and they're selling heavily discounted tickets for this game at £8 - with £3 of each ticket sale going directly to the Volunteer Zambia Project!
"On the March 28 the team has arranged the staff and student Zambia Netball tournaments which will be a fantastic event - there are still a few places left to enter a team!
"And this will be followed by one of Northumbria students' favourite events – the annual Zambia fancy dress dodgeball on April 25.
"I'm so proud of all of them. They are working incredibly hard in order to meet an extremely ambitious fundraising target."
In addition to the group fundraising target each student must raise £1,400 and the staff member £750 for the Volunteer Zambia Project.
Iman Thomas became the first member of the team to reach the individual target by taking part in the gruelling Northumbria Sport Foundation Kielder Bike Ride in November and organising an event for her friends and family in Nottingham.
"Immy has done brilliantly and the rest of the team aren't far behind with Lizzie and Jack also organising upcoming fundraising events for friends and family (Jack's bravely features him doing a sponsored leg wax!)," added Stephenson.
"Hannah and Rebecca have challenged themselves to do sponsored bike rides with Hannah due to complete two long distance journies across the country.
"Rebecca has signed up for the Northumbria Sport Foundation's Coast To Coast cycle challenge in May!
"I'm joining Jack and Lizzie to do the Northumbria Sport Foundation's Three Peaks Challenge and we're all busy training for that one!"
For more information on this year's Volunteer Zambia team and to contribute to their fundraising efforts please click on the following links:
https://www.justgiving.com/fundraising/sarahzambia2017-18

https://www.justgiving.com/fundraising/lizziezambia2017-18

https://www.justgiving.com/fundraising/rebeccazambia2017-18

https://www.justgiving.com/fundraising/jack-peet1

https://www.justgiving.com/fundraising/imanthomaszambia

https://www.justgiving.com/fundraising/hannahzambia2018