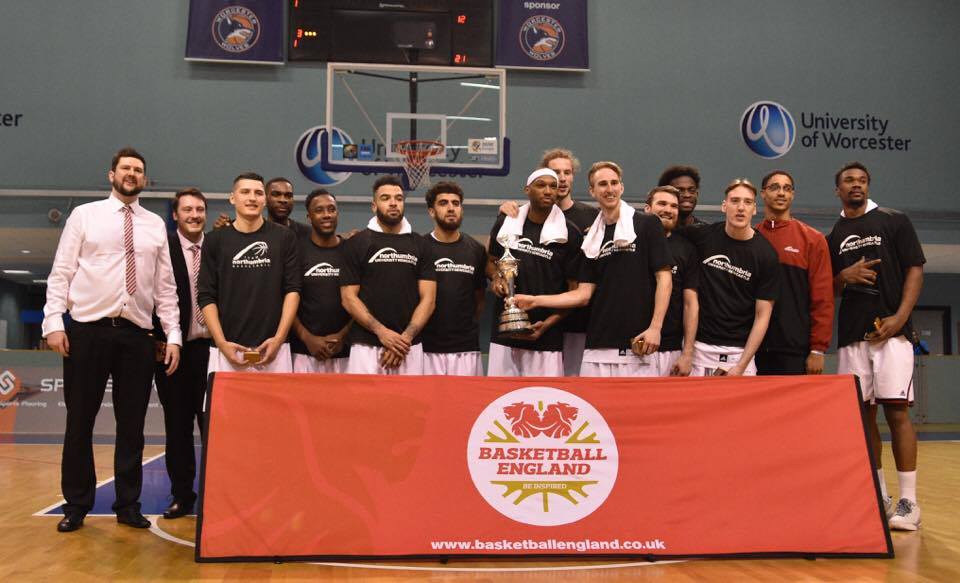 Team Northumbria were crowned the new NBL National Cup champions after defeating Solent Kestrels 73-56.
Marc Steutel's men turned up at the University of Worcester Arena as strong favourites to take the title but after the first quarter the score was all square at 13 apiece.
Northumbria turned up the heat in the second quarter - charging into half-time with a 15-point advantage to lead 35-20.
An impressive defensive performance saw Steutel's Northumbria protect their lead in the third quarter but at 55-44 - with only 11 points between both teams - it was all to play for going into the final quarter.
The fourth period saw Northumbria turn it up a gear, outplaying Solent and ensuring they'd be heading back to Sport Central with the silverware.
Animated throughout and wearing his heart on his sleeve, coach Steutel could only describe the feeling as one of relief after the final whistle.
"We were probably favourites coming into the game and I just wanted it so bad for the players and our programme," he said, dripping wet after a water bottle shower courtesy of the players.
"They're just a great group of hard working, good people to be around and I'm thrilled for the players.
"In terms of the performance, offensively we rode Malcolm Smith as best as we could - they had no answer for him and the team did a good job of continuing to play through him.
"Defensively we we're exceptional to hold them to 56 when they're averaging 81 – that's where we won the game."
TN's American star Smith took the prestigious MVP award, scoring 32 points and fuelling Northumbria's offence.
"Winning MVP is just a testament to my hard work - I've been working hard for maybe two years just to get in this position," said Smith
"I came to the team in October and these guys just took me in with open arms, just a great bunch of guys."
For TN player Jack Preston, winning the NBL National Cup is a dream come true.
"I couldn't be more proud of the performance today, the way we just stuck together as a group is like no team I've been a part of before," he said.
"It's just such a special group and I'm just glad to be a part of it.
"For me I've been waiting on this for almost four years now since I've been a part of the programme and it's finally happened. I get goose bumps just talking about it – it's just an amazing feeling."
Johnathan Ramsay