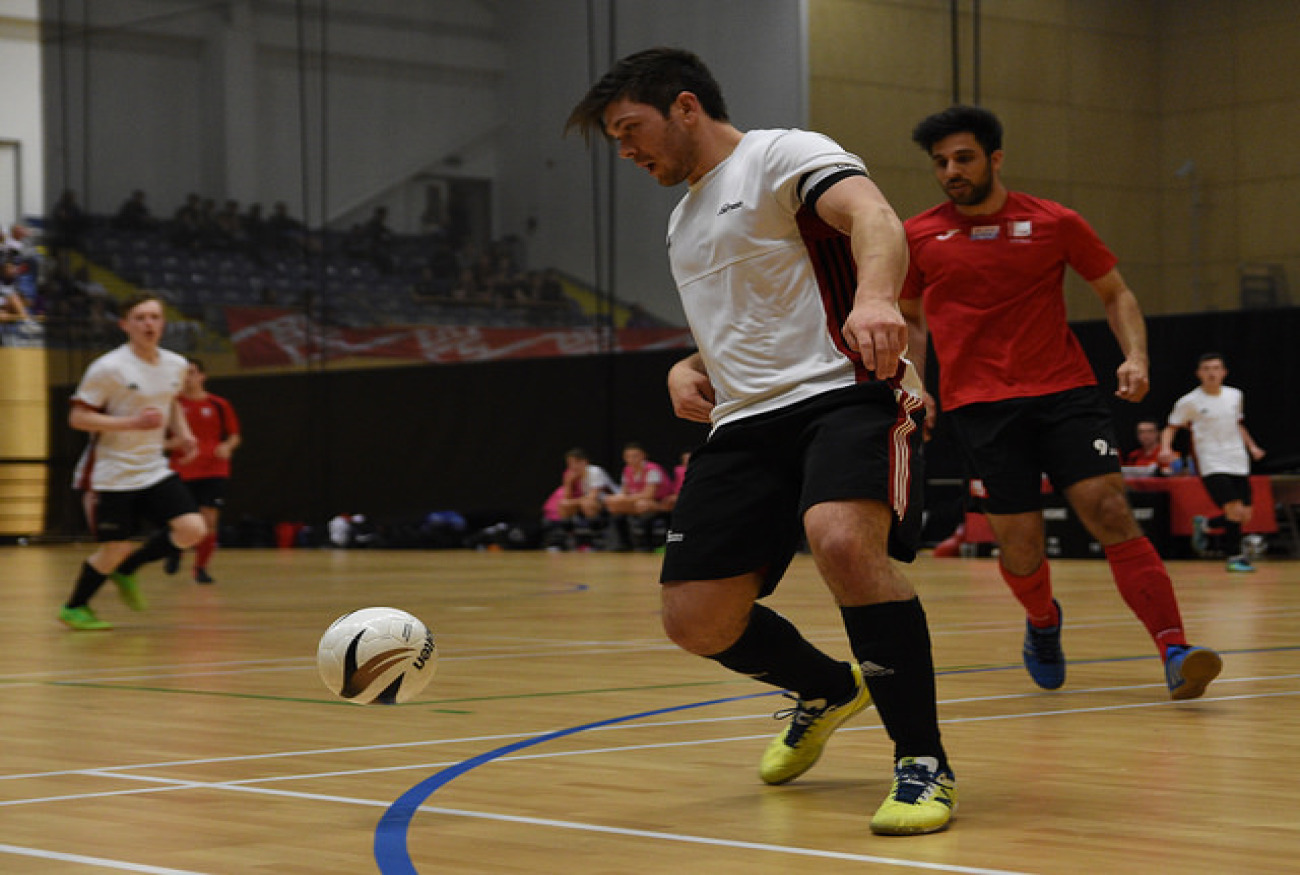 A Northumbria University student is ready for a shot at international Futsal glory after grabbing his chance with England.
Third year Sam Hutsby was scouted by national team coach Mike Skubala during the 2017 BUCS Super 8s event at Sport Central.
And he was initially identified as one of five Northumbria players with the potential to progress into the senior England squad.
Hutsby joined team-mates Basil Olabi, Yedidiah Berhe, Jack Surtees and Adam Chrostowski for a trial at the Football Association's St George's Park HQ.
And after a grueling selection process the Team Northumbria captain was offered the chance to represent England Under 23s in an exhibition match against England Under 19s.
"We were very proud that five of our players were invited to work alongside the cream of the country's Futsal players," said Northumbria Futsal coach Michael Gunn.
"I know Mike was impressed with what he saw when he was at Sport Central watching the BUCS Super 8s.
"It's fantastic that our Futsal programme has been able to get this kind of recognition.
"Sam's appearance for the Under 23s is just the icing on the cake. Now he's on the England radar I'm hopeful he'll get another chance."
England Under 23s faced the Under 19s at the Futsal grand finals in Wolverhampton where Hutsby created a number of goalscoring opportunities and scored in a 5-4 win for the senior age group.
"Sam said the experience was fantastic and the feedback from the coaches was very positive," added Gunn.
"England are looking for players in Sam's position (pivot or striker) and they used the game as a trial. They are in the process of selecting players for the new season and hopefully Sam will be invited back."
Hutsby is the new Team Northumbria Futsal president with the 2017/18 campaign set to kick off this autumn.
The highly-rated attacker plays for Durham in Futsal's national league and Gunn added: "He's worked very hard on his game and he's desperate to learn and improve.
"Sam has only played Futsal for two years - he came to training with a couple of the football lads from TN and really enjoyed it.
"I would say that it's taken him about 18 months to get the hang of Futsal which is quite normal coming from 11-a-side football.
"His strengths are he is very physical with a great left foot. He scores goals but is very good at creating goal scoring opportunities for his team-mates.
"His progress in the last six months has been fantastic. He's helped TN Futsal to win the 2016/17 BUCS Northern Premier League and is a great character on and off the pitch."