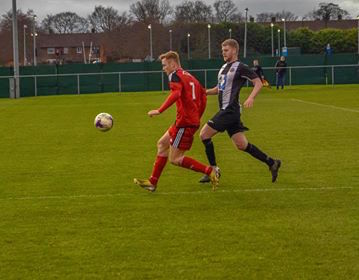 Colin Stromsoy's Team Northumbria 'kept it simple' to come away with an impressive 3-0 victory against Whickham FC.
Stromsoy's men knew simplicity was the key when visiting notoriously tough rivals on an unpredictable pitch.
"Today most importantly we played the right game, playing on the right places on the pitch at the right times," said TN Manager Stromsoy
"It's a difficult place to go Whickham and it's a difficult pitch. Historically we've gone and we've tried to play too technical a type of football but we kept it simple this time and we got the result we needed.
"If you lose your footing or if the ball slips and bounces horribly, whatever it maybe, they counter attack and a team like Whickham really know how to play on their own pitch – they play direct and turn you around.
"Overall it was a great performance.It took us a little while to get going but once we found the rhythm of the game it was very good."
Northumbria took the lead 28 minutes in thanks to a corner resulting in Adam Chrowstowski heading home the goal.
Joel Bradley then put Northumbria two ahead only minutes before half time.
The second half saw Nick Hay power a header into the back of the net to secure TN's victory.
"Nick Hay was playing for Whickham last year before coming to Northumbria to study," added Stromsoy. "So there a lot of satisfaction for him getting a goal and a 3-0 win over his old team. He played very well in the middle of the park – he was pretty much first to everything.
"Steven Mundy in goal stood out.He was very safe and gave great instruction to the rest of the players."
Team Northumbria take a trip to 16th place Willington next Saturday in Northern League Division Two.
Johnathan Ramsay