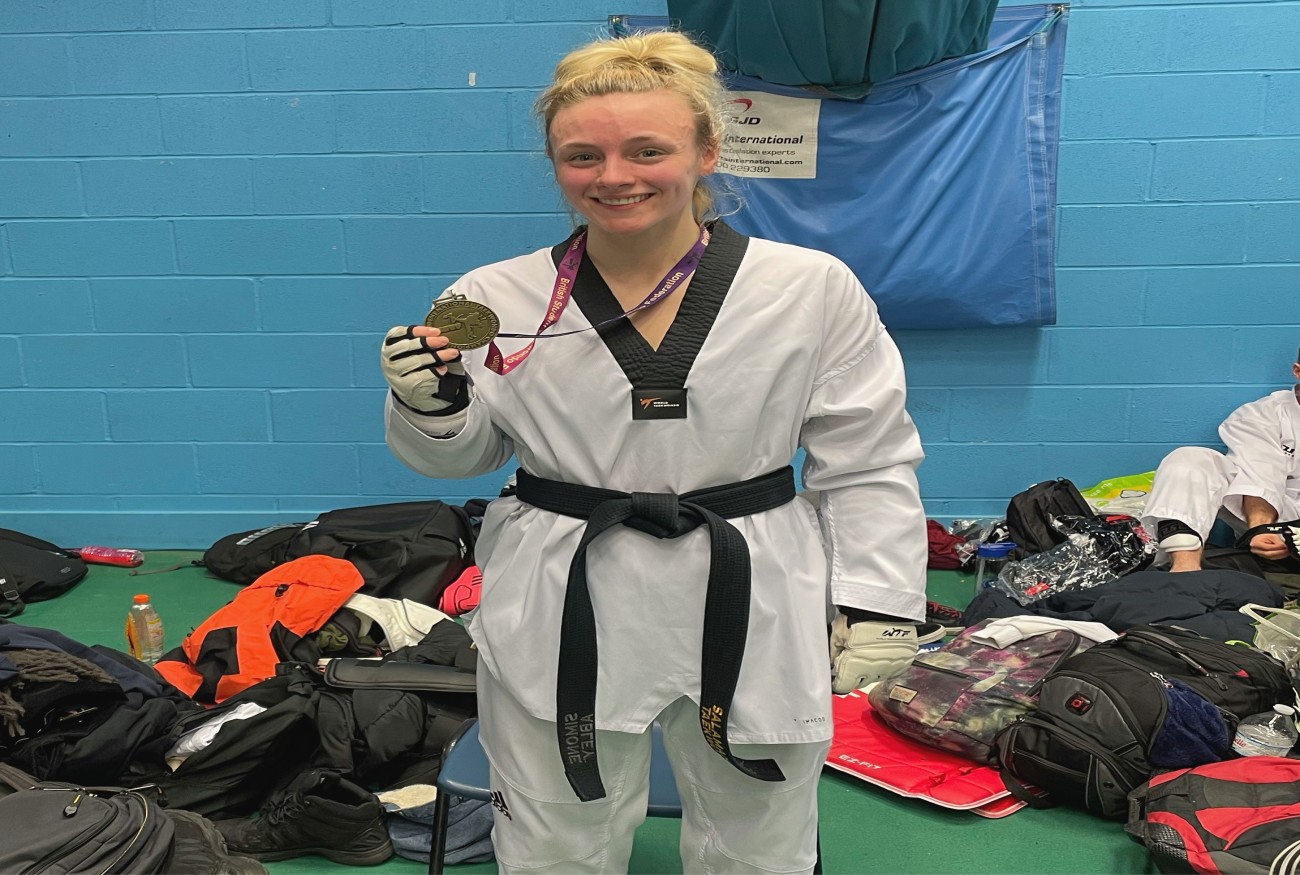 Hat-Trick of Gold for Northumbria's Taekwondo Champion
There was glory for Business Management student Simone Abley in December as she took her third BUCS Taekwondo gold!
Representing the university will always fill you with a sense of pride, but for Simone winning BUCS gold for the third time is an even bigger achievement as it has rewarded her for all the hard work and sacrifices over the years.
The competition was due to kick off early in the day and Simone was prepped and raring to go, but there was a long wait:
"Waiting for my fights built up the anticipation as they started them almost two hours later than scheduled so I was just wanting to fight all day and then that didn't happen until 3 o'clock. But I was ready to go so the adrenaline definitely kicked in."
But the delayed start certainly didn't distract her from the winning mindset as she fought through doing enough to guarantee the top spot once again.
Simone has always been dedicated to putting the hard work into her sport, and since progressing into the senior competition, she feels that the tougher competition is only going to make her progress even further:
"I think it is hard going from seeing consistent success as a junior, but I would say I am getting more out of the experiences I have now because I am fighting Olympic standard competitors. I'm definitely giving them some good fights, so it shows that I'm not too far away from that standard"
In addition to the hard work given to achieve her sporting goals she remains dedicated to her academic studies. Getting a good balance between academic and sporting commitments isn't always easy but Simone uses her success to motivate her and remind her that both areas are as important as each other:
"Managing both academic and sporting commitments can definitely be a struggle for me because alongside training and coaching there is always uni work that has to be done. I get very little time off to myself but winning medals like this BUCS gold keeps me motivated to keep on top of everything".
Looking to the future Simone is extremely keen to stay involved with Taekwondo and continue to grow further in the sport. Her aspirations definitely aren't short of ambition and she is excited for what the future could hold for her:
"I think my aspirations would be to look at a minus 62 spot for senior Europeans or anything similar to that. I definitely want to keep doing nationals so I am aiming to win ten national championships, so I've only got three more to go. Maybe even try to transition into MMA too which could be something a little bit different."
We can't wait to continue to see Simone progress whilst at Northumbria and will be cheering her on from the sidelines all the way!
Big congratulations Simone - keep up the hard work!