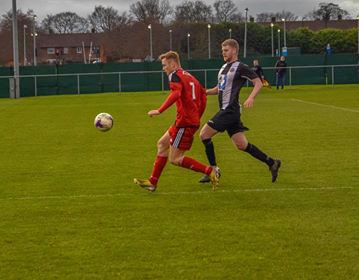 Supersub Scott Gunn fired Team Northumbria to a tight 2-1 win against derby rivals Heaton Stannington on an afternoon when the title-chasing hosts never hit their stride.
With the clock ticking down it looked like a game of two halves would end all square.
But an increasingly dominant TN finally found the way to goal deep into added time as Gunn saw his deflected strike creep inside the post.
"I think our performance improved as the game wore on and it would have left a bitter taste in the mouth had we not picked up all three points," said midfielder Nick Hay.
"We weren't good enough in the first half - it was like Blyth all over again. We were leading but we weren't playing well.
"In the end we showed our fighting spirit and got what we deserved.
"We put in a real shift second half but that can't hide the fact that the first half performance was poor. We'll have to put the work in during training to make sure that changes.
"If there is a positive it's that it's always a sign of a good team that they can pick up the victories when they're not playing well."
Gunn added some guile and focus to the midfield but spurned two chances before he finally found space on the edge of the area to rifle home the winner.
Heaton withstood a barrage of attacks from the increasingly direct hosts in the final 20 minutes and Sam Read - who set up Aidan Heywood's first half opener with a brilliant run and cross down the right - should have put the game to bed minutes earlier.
Ben Dibb-Fuller and Kevin Carr both had chances to seal all three points and there was a huge sense of relief as Futsal ace Gunn found a way past Matthew Smith.
"It's hard to say why it didn't click in the first half," added Hay. "We were getting in each other's way and I don't think the Christmas period helped.
"People have lost some fitness and it's been a struggle the first two games back this year.
"But the fitness will come back and we'll be better by the time we play again on Monday."
TN entertain Northern League second division title rivals Stockton in the Ernest Armstrong Memorial Cup on Monday.
And manager Colin Stromsoy could have both Dan Taggart and Joel Bradley back to boost his forward line.