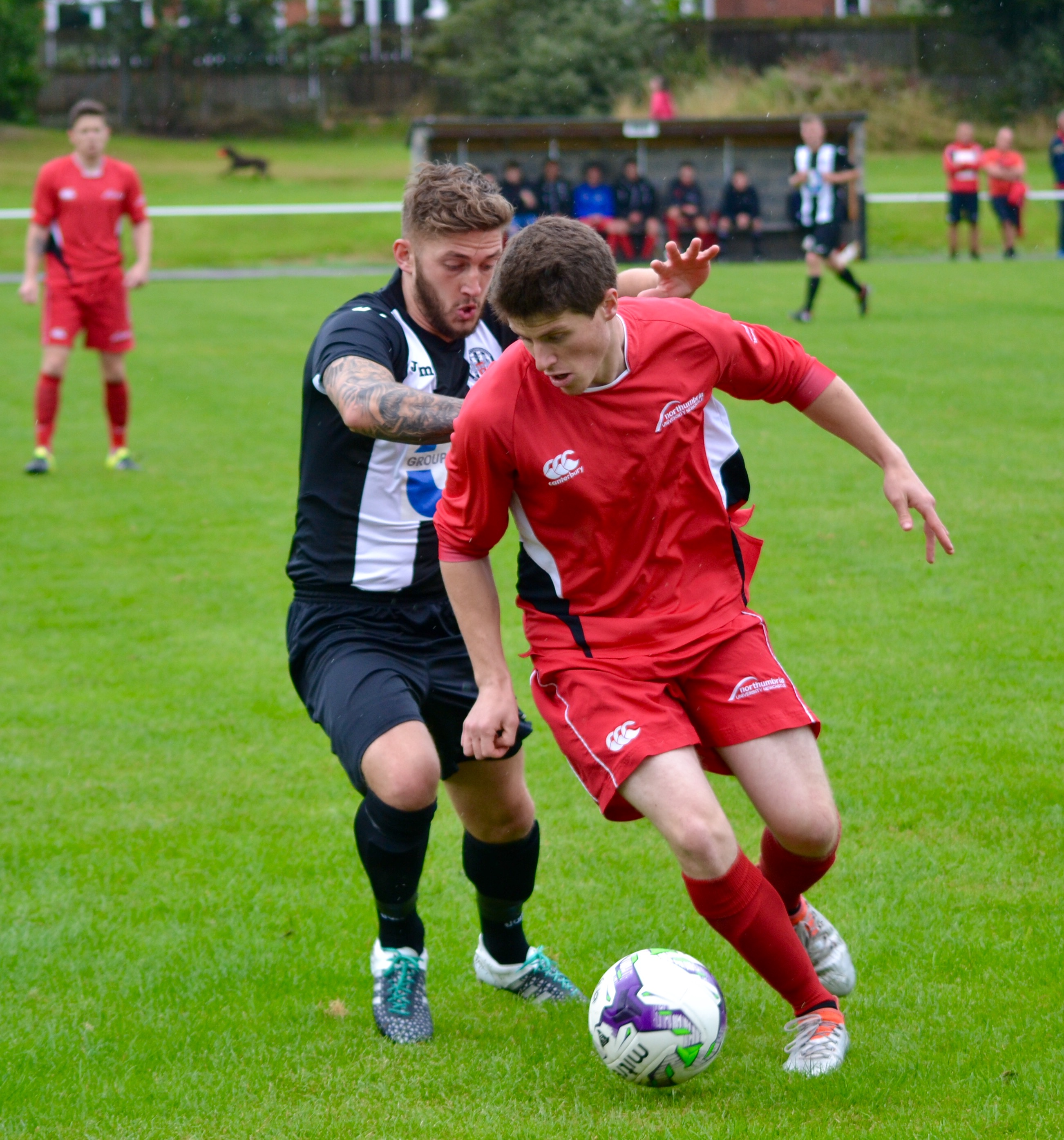 Team Northumbria's Ben Dibb-Fuller netted twice in the top-four clash with Billingham Synthonia, keeping his side top of the Northern League's second division.
With only three points between the teams before the game, TN coach Colin Stromsoy hailed a marvellous performance from his in-form striker.
"He was absolutely exceptional," Stromsoy said. "I've coached him since he was 14 or 15 and today was arguably his best 90 minutes.
"In almost every aspect of the game he was scoring at least eight out of 10 - his running off the ball and pass completion was brilliant.
"He was colossal - in such a big, important game that had a lot riding on it."
Dibb-Fuller is TN's top goalscorer in the league this season, and a terrific display only enhanced his growing reputation.
He dispatched his first of the game after a Synners handball early in the first half and doubled his tally with a slick solo effort from a counter-attack.
"He's scored an absolutely first-class individual goal," Stromsoy said. "He went round the player from the left hand side and belted it into the bottom right.
Despite going down to 10 men after the handball incident, Synthonia didn't make it easy for TN.
"We didn't really execute the game plan that we intended," He added. "We tried to deny them coming down the left but we weren't able to.
"There were a number of chances to put the game to bed in the second half and we didn't take them.
"They got a goal back and they had a couple of chances where they could have and should have scored.
"Luckily we got we win."
As the title race approaches its climax, Stromsoy says the coaching staff and players are doing well to keep their concentration.
"Today the focus was Synthonia, but we've also got the BUCS National Cup final on Wednesday," he added.
"Hopefully we'll get the win and the gold medal but afterwards the focus is straight back on the remaining Northern League games.
"We have our structures and systems of play - we go about our business professionally and quietly and we don't underestimate our opponents.
"The players' lifestyles outside of football are really good, which is totally conducive towards them getting the best performances they can.

"Ultimately they'll go out there and give it their best - I trust them completely to do that."
TN take their seven-game winning streak to Northallerton Town next Saturday.