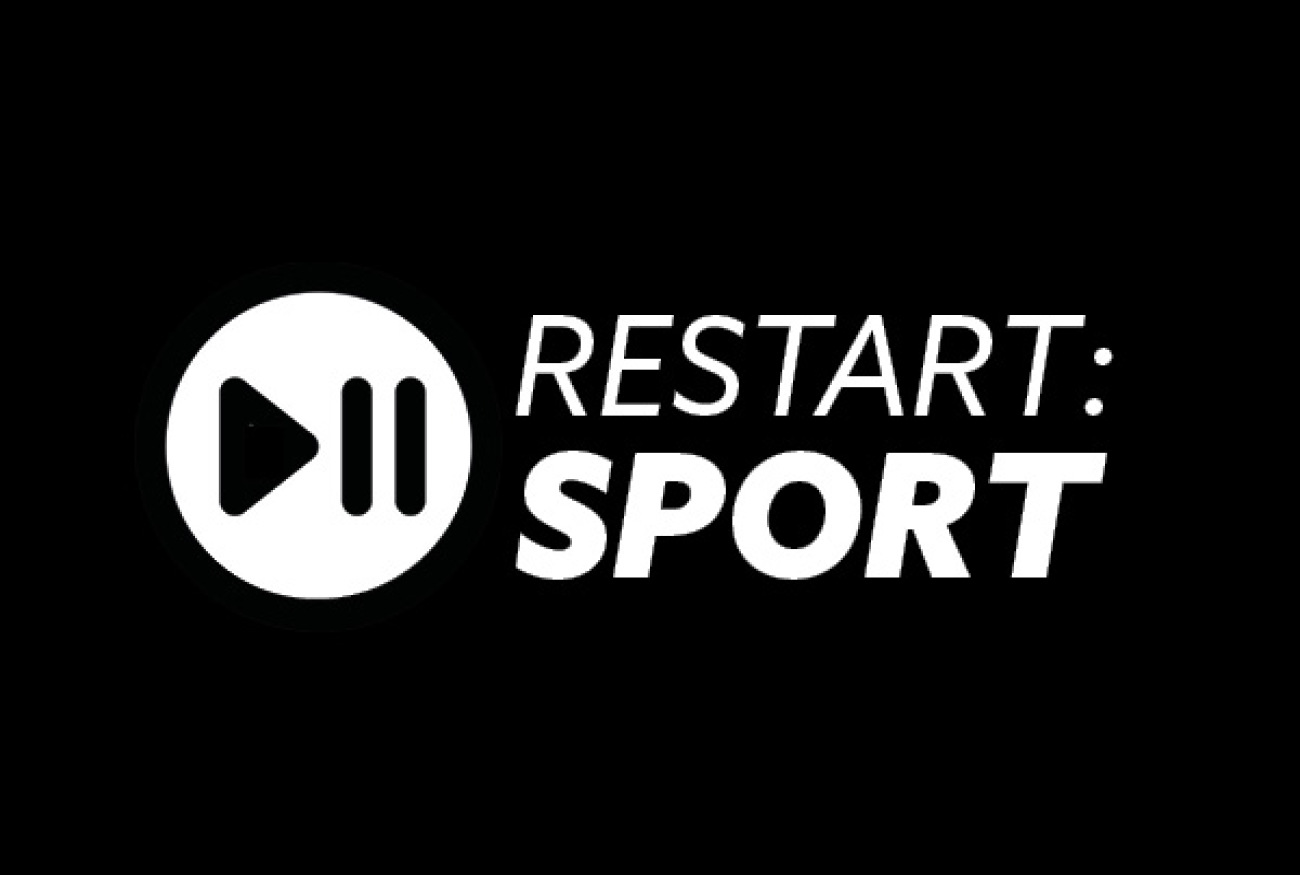 Gym and Pool set to reopen on 12 April and sport activity to have a phased restart from the 19 April
Following the government Roadmap set out in February we can now share our plans to reopen our facilities and begin to restart our sport activities. Our 'Restart: Sport' timeline has been created in response to the government guidance issued on the 22 February 2021.
As you'd expect, our plans can only be 'draft' as we will continue to monitor and follow the government roadmap as well as University and National Governing Body (NGB) guidance which are all subject to change.
We will remain flexible in our approach but none the less we are optimistic and understand the eagerness of our members and users to restart activity – because we're excited too!
Returning to campus and LFT Testing
In line with the 'returning to campus' guidance issued by the Department for Education (DFE) for Higher Education we will not recommence our structured Sport Club activity until 19 April at the earliest. From 29 March we will have a small number of outdoor 'Household Sport' sessions available to book for students based on campus and the Sport Central gym and pool will reopen for individual bookings from the 12 April.
All students and staff should book to take two Lateral Flow Tests (LFT) at Sport Central before starting to use facilities on campus. If you then return to campus on a regular basis you should take two LFT tests weekly, between three and five days apart – you can find out more on our Continuous Covid-19 Testing FAQs.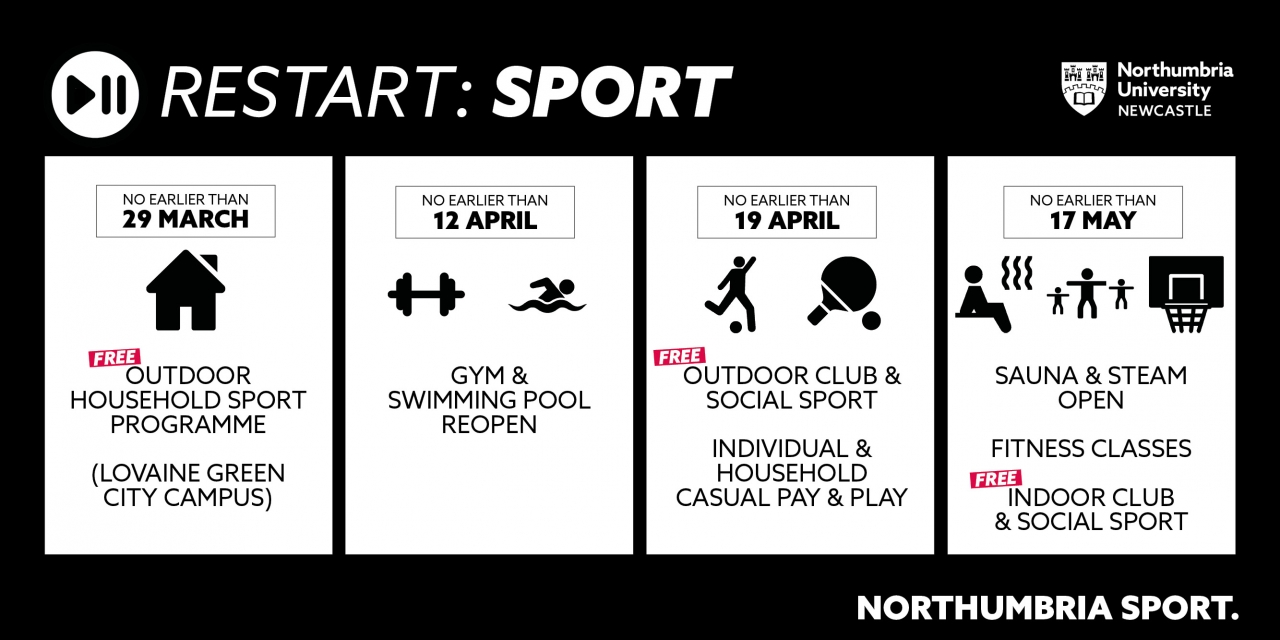 Gym and Swimming Pool
Sport Central Gym and Pool will reopen on 12 April. In line with government guidance Group Exercise Classes will NOT recommence on this date so we will continue to offer live workouts on our members Facebook group. We aim to restart face-to-face Group Exercise Classes as well as reopen the Sauna and Steam Room from the 17 May.
Gym and Pool sessions will need to be pre-booked via the Northumbria Sport App. Members can book one week in advance and non-members 3 days in advance.
Find out about our membership options
Club and Social Sport sessions
Our Club and Social Sport activity will start to recommence after the Spring/Easter Break at the start of the Summer Term.
From the 19 April many of our Outdoor Club and Social Sport sessions will restart. These will be in line with sport specific NGB Roadmaps. All sessions will need to be pre-booked on the Northumbria Sport App. Sessions are available and FREE to all Northumbria students whether you have been a club member before or not – so as well as many students returning to sport, it's a great way to try something new as well!
Indoor Club and Social Sport sessions will start a phased return from 17 May based on NGB guidance with bookings required through the App.
Our Sport Session timetable will remain flexible, meaning sports will be added and removed based on movement along each sport specific roadmap as well as on insight from the club committee members as to student demand as we move into summer.
Our Club Development Officers will be working closely with Club Committee members and Sport Activators regarding the restarting of specific sports, they will be in touch over the coming weeks.
Campus Leagues
We aim to restart our football leagues from the 19 April once we have further guidance on the resumption of competitive fixtures from the NGB. Students can enter as a team or individual for a weekly fixture during the Summer Term at a cost of just £15 per person.
We also hope to introduce Touch Rugby Leagues for the Summer Term in a similar format
For further details visit the website
Easter Break Activities (From 29 March)
Students based on campus over the Easter vacation can continue to access online workouts via our YouTube Channel and Instagram TV.
Residents of University accommodation can book our BIG BOX OF SPORT to use as a household or group of 6.
We will also be running a small number of our popular Household Sport sessions on outdoor spaces across City Campus.
Casual Pay & Play
From the 19 April casual Pay & Play activities will be available to book for individuals and Households at both Sport Central and Coach Lane Sport Centre. Activities available will be dependent on specific sport NGB guidance. Pre-Booking will be essential via the Northumbria sport App.
Volunteering
Many of our student leaders have remained active during lockdown albeit virtually! We are so grateful for the time and energy they have given to their roles during challenging times. Now more than ever, the sport industry will need volunteers and leaders to step up and we're excited to be part of it.
From the 29 March 'in-person' volunteering can recommence. Not all our volunteer and internship positions will change from being online quite so soon, but the team will be in touch with our current leaders to discuss plans
Find out more about our Leadership programme
We look forward to welcoming you back to our facilities and onto our activities. Our commitment remains to ensuring we offer everyone a safe and welcoming environment and so it is essential that all our users and members work with us to maintain our 'Keeping Safe' COVID procedures.
Before coming to our facilities or joining one of our sessions please make yourself familiar with our procedures