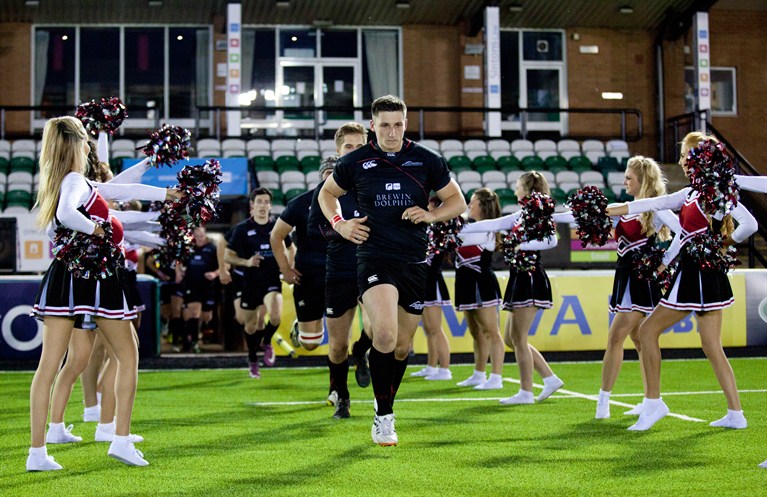 Northumbria University began the New Year in fine form, seeing off Leeds Beckett in a nailbiting clash at Headingley.
With only nine minutes to play, a Leeds try brought the hosts within two points of Northumbria's lead, making for a tense finish.
However, an 80th minute penalty, coolly converted by Will Muir, confirmed the victory and ensured all five points.
"The team is chuffed to bits," said head coach Darren Fearn. "It was a really good performance and there was a lot of hard graft.
"We're up against good teams in this league – but we were desperate for the win to try and climb up the league table.
"It was a really tough performance, but we started magnificently, we worked hard and showed huge character which is fantastic.
"We've worked really hard over the Christmas period and made sacrifices – the lads were back into training 24 hours after New Year's day!"
Fearn admitted there are things for Northumbria to work on in the coming months but gave his assurance that the team are heading in the right direction.
"There is plenty to improve on, and we'll continue to work on a few areas of our game," he added.
"We're really working together as a unit and they're becoming a really tight bunch.
"There were lads who weren't even playing who travelled down with us today, which shows what we're all about as a team.
"I know what this group is capable of, they've shown it, but I don' think they're even halfway to reaching their potential yet.
"Fitness, work rate and the desire to win, aren't necessarily special traits, it's just as a result of real hard work, grit and determination and the team has that in an abundance.
"It's a fantastic start to the year and what the lads deserve – huge credit to them, and hopefully it's a sign of things to come."
It was also a fantastic night for Northumbria Rugby League, who were crowned Premier League North champions 2016-17 for the second year running.
"I'd like to congratulate the Rugby League boys on wining the league – we're a tight knit group, so overall, what a brilliant day for Northumbria rugby," added Fearn.