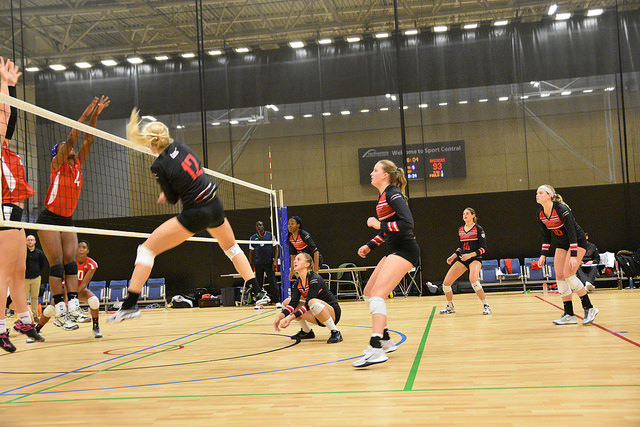 Team Northumbria volleyball made it two wins in two days in the Super 8s as they saw off rivals Polonia in three straight sets.
It was a comprehensive victory over London opposition as the hosts cruised to a 3-0 victory at Sport Central.
The win came off the back of a third win of the campaign against Tendring VC Ladies on Saturday as TN remained unbeaten in the Super 8s this season.
"We had a good challenge against Tendring - they won the first set and we didn't start particularly well," said head coach David Goodchild.
"We changed a few things and tweaked it a little but the girls' confidence in their ability made sure we got the job done in the end."
There were strong performances from MVP Sarah Blomgren and Katie O'Brien, who were crucial to TN's successful weekend.
"Katie O'Brien had the best game that any Northumbria player has played for me," added Goodchild. "She was plus 18 in four sets of volleyball and didn't make one error, which is phenomenal."
Captain Whitney Phillips acknowledged the quality of TN's new recruits and believes they can continue their unbeaten run and win the league.
"It's been a really good start to the season - we've brought a lot of new players in so it's all about integrating them into the team," said Phillips.
"Polonia are our biggest rivals in the league so to beat them in the first meeting really sets the tone for the rest of the season.
"We won yesterday as well, again against a really good team so it's good to set that precedence early.
"There are a lot of new players, but they're great people, great competitors and awesome to play with."
It's been a strong start to the season for TN captain Phillips, who is now in in her fifth season at Sport Central.
"So far so good, its early days so there's a lot to still build on but also a lot to take away from our performances," added Phillips.
"We're aiming to win everything again this year. We're getting better every week and working toward that end goal."
TN's next Super 8s fixture sees them take on local rivals Team Durham in two weeks' time at Sport Central.