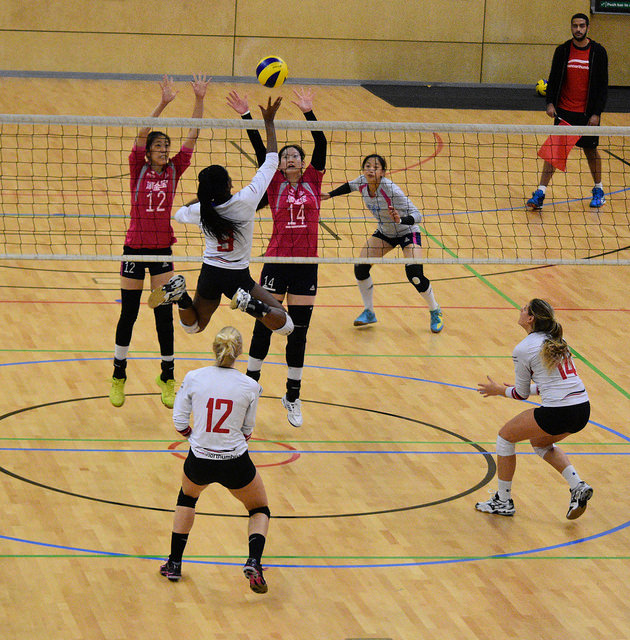 Team Northumbria men face a Super 8s double header this weekend after easing past derby rivals Durham to book their place in the next round of the National Cup.
And their female counterparts return to Sport Central fired up and in top form following a straight sets win at Salford.
As Tyneside's volleyball fans prepare for a jam-packed weekend of top class court action, TN veteran Darius Setsoafia said: "Both teams will only get better.
"Our passing was a lot better against Durham but we're experimenting with ideas to get more out of the team.
"Moving players around and letting everyone try something new is important at this stage of the season.
"Right now we're also trying to rest players as well so that was an extra challenge against Durham.
"We're trying to see who can fit into different roles within the team and understanding what we need to do as a team to take that step to make us better.
"We're working on our communication as a team and I think that's why we had such a good game against Durham.
"Every match is vital but in the grand scheme of things one match may not seem that important. That certainly wasn't the case against Durham - if we'd lost that one we would have been out."
Setsoafia knows a double header against bogey side London Lynx and fierce rivals London Polonia this weekend will ask more serious questions of TN's men.
But after a 3-0 victory against Durham he added: "It was a good win.
"They are our local rivals so it's good to put them in their place. They came up to our venue and we showed them how we play."
Head coach David Goodchild always had one eye on National Cup progress.
But attention has already turned to a brace of Super 8s clashes against the capital's heavyweights.
And he said: "We will show both teams the respect they deserve. Lynx turned us over at their place last season and Polonia are always a top team.
"The men will have their work cut out – no doubt about it.
"The women face a slightly different challenge as they will start their games against Tendring (Saturday) and Polonia as clear favourites.
"They are a very talented team and were fantastic at Salford. I'd expect them to win both games but I always expect the very best from my teams."