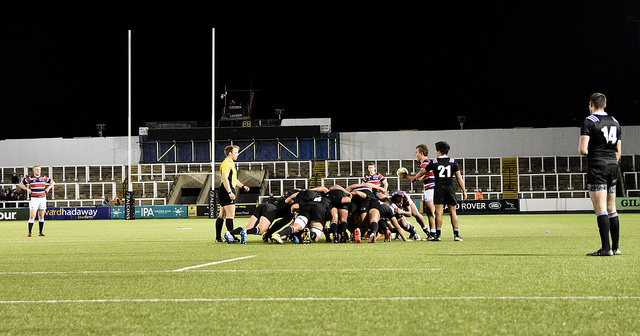 Northumbria University fell to a third defeat in their BUCS Super Rugby campaign against current champions Exeter.
Team Northumbria lost 59-12 in what was always going to be a tough game against a strong opposition.
"It was a heavy scoreline and they've got some experienced lads," said TN's coach Darren Fearn.
"At critical times, we lost the ball.
"They played territory rugby and hats off to them for that."
However, despite being outweighed by "a stone or two per man" Fearn was impressed with his team's effort in the contest. "At set pieces and scrums we were outstanding," he added.
"We should have scored four tries again to come away with a point.
"There are aspects of our game that have improved phenomenally.
"We're going slowly but surely, and we'll get there in the end.
"George Wacokecoke was injured in the first 20 minutes and he was a big loss for us. He's a talisman."
The TN coach also gave mention to the players who moved up the ranks to make their first team debut. "Fantini, who made his first start today, really threw his weight about," he added.
"We had three freshers who played second team last week step up to the plate against last year's champions and they were a credit to themselves.
"It'll be a big learning curve for them but I'm real proud of the way they fronted up.
"I wouldn't say we caused massive problems but there were some positives out of today."
With on eye on TN's next fixture, Fearn added that the new members of the squad can take their chances.
"We've got a lot of injuries but its a great opportunity and the lads are taking it with open arms," he said.
"These lads are performing and they're putting the effort in.
"It's not lack of effort, it's not lack of discipline; we are learning.
"There is nothing but positives."
TN have an extended break before their next fixture, when they host Loughborough University at Kingston Park on October 28.