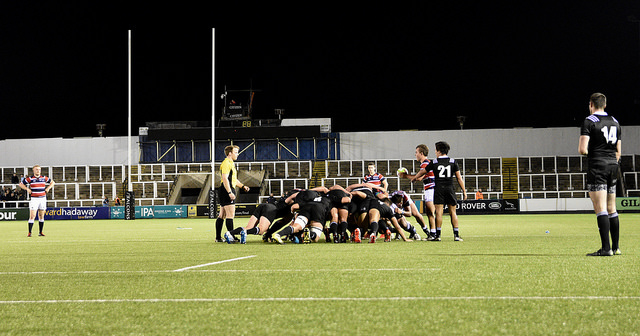 Northumbria University fell to a fifth consecutive Super Rugby loss of the season but are taking the lessons learned along the way.
A strong Hartpury side ran out 67-6 winners, in a game that saw Team Northumbria defend for long periods.
TN Head Coach Darren Fearn was looking for a performance akin to the narrow defeat to Loughborough last week and said: "We were aiming for the same end result but this time making sure we got the win.
"Our initial execution of certain aspects of the game - line-outs being one - wasn't where it needed to be.
"[Hartpury] didn't let us get our attack functioning properly and were very very clinical in what they did.
"There's no lack of effort because the lads are working incredibly hard,"
"Everything changed over the summer," Fearn said, speaking of his team's rise into the top level. "We're in this league for three years and we know this year will be a massive learning curve for us all. This is new to all of us.
"Exeter were last year's champions and they played Hartpury two weeks ago and got beaten by 50 points.
"That's the calibre of team we're playing against and we need to try and be there."
TN are preparing for the next game and in their ever-present positive fashion.
"We're not going to sit and feel sorry for ourselves," added Fearn. "The reality is we're going to Bath next week and we want to take something from them.
"We can't lose our heads after one heavy defeat against a team that's probably going to be winners, or up there with the finalists. We can't afford to do that.
In what has so far proved to be a tough season for Northumbria, the team are hoping to grow into the league and have the upcoming campaigns firmly in their plans.
"It's step by step, it's baby steps at the moment," said Fearn.
"I'd like to think that next year and the year after we're really competing.
"Every team within every sport has to start somewhere. There's not one team that goes from one level, to a massive level overnight, unless you pick Man City who have loads of money!
"Players have to learn, coaching staff have to learn, we have to all be on the same road and the same pathway.
"The lads have got heart and effort and they'll show that week in, week out."
TN visit Bath next Wednesday in the sixth round of the BUCS Super Rugby league.